15 Best Airbnbs in San Diego
See also: 15 Best Hotels in San Diego
Blessed with around a 70-mile-long coastline of the Pacific Ocean which accounts for its moderately cool weather throughout the year, the attractions- both natural and man-made- in San Diego are even cooler. Ranging from its numerous world-class museums to diverse beaches along the coastline, from its visually appeasing bridges to the breathtaking sunsets and sunrises around its Natural Reserves and Natural Parks, San Diego is a complete package in itself.
However, which trip to any of your dreamlands is complete without a cozy and peaceful stay while you are away from the comforts of your home? Well, thank God for Airbnbs! Half of your work has already been done by the most comfortable, modern, attractive, and luxurious range of accommodations Airbnb has to offer. And we are here to help you choose the best fit for your requirements. Check out the list of the best Airbnbs in San Diego and choose what suits you the most.
Affiliate Disclosure: As an Airbnb Associate, we earn a small commission when you book through links on this page.
Porto Vista Hotel Nearby Little Italy
If it happens to be so that Little Italy is the topmost on your list of things to do when in San Diego, Porto vista Hotel is one of the best available choices at Airbnb. Airbnb defines this hotel as an "ever-changing canvas" where the original murals and various other pieces of artworks soothe the eye of the visitors and the vibrant lobby is one of the best spots in the hotel.
The lobby is visually appeasing not only because of its beautifully styled interior, but also due to the initiative it took to display the works of local artists. Airbnb offers the room with a private balcony from where one could gaze at the beautiful sky while enjoying a cup of coffee. Pets, parties, and smoking are prohibited. The hotel is at a walking distance from the nearby attractions of Little Italy.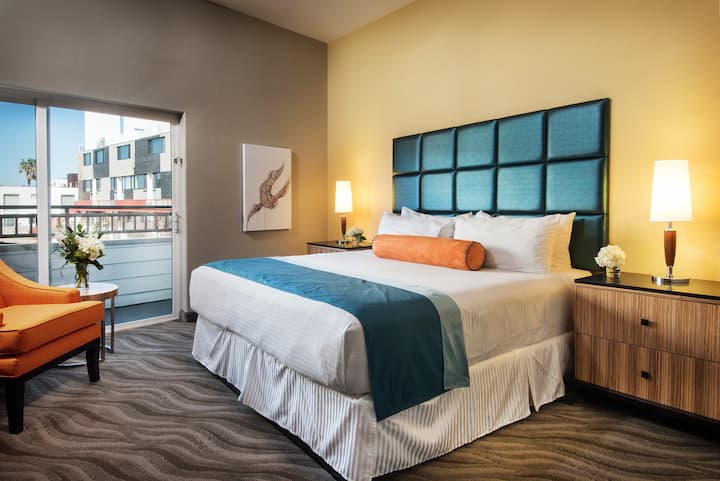 Designer Studio Near Little Italy
If a private stay is more of your thing, check out this beautiful Designer Studio next to Little Italy wherein you could enjoy a more private time during your trip to San Diego. This studio is a comfortable choice for those who prefer staying in style. The interior designing of this studio is as soothing as San Diego itself. However, there is a strict policy of no smoking and pets are not allowed. Even though there is a parking space available, former guests have advised not to take a personal four-wheeler as parking is hardly available. Apart from that, this place is a good choice.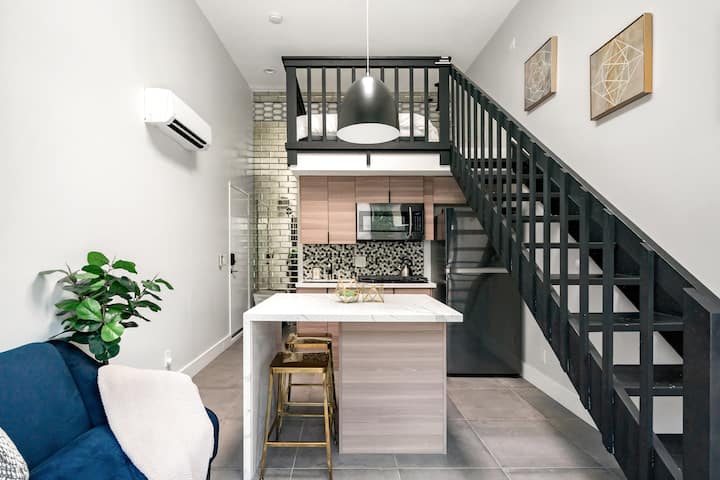 Explorer's Escape: Walk to the Beach
If beaches are more of your thing, you should totally check out this beautiful Explorer's Escape, as the host calls it. This sweet, little, but amazingly beautiful place is well-stocked with all the basic amenities. The host, Noah, is a very warm, and welcoming one and the house rules are also quite accommodating. Smoking and pets are allowed. This Ocean Beach home is just three blocks away from the beach and is quite easy to locate. The house also has a huge backyard where you can enjoy the beautifully managed garden and the chirping of birds while you stay.
Mountain View Retreat in A Private Gated Estate
This amazing place amidst mountains is a perfect place to stay for mountain and seclusion lovers. The entire guest house is yours to enjoy and the view of the mountains from the balcony is just what an ideal vacation should feel like. The place is at a center point from which all the main attractions of San Diego are quite close via a four-wheeler. This 5-star rated place by over 140 guests who have stayed here ensures that even while you are resting in your bed, you feel like it's a vacation for which a T.V. with Netflix and HBO has been installed. Smoking, partying, and pets, however, are not allowed.
Boholicious Urbanfarm Retreat Mid City
If you are a boho-lover and the din of the city life does not bother you much, this cute and beautiful private room in a house at the heart of San Diego is at the perfect distance from all the main locations of the city. There is a hot tub where you can relax after a weary day of site-seeing. However, the bathroom is a shared one and smoking, partying, and pets are not allowed. Downton, Mission Beach, Sunset Cliffs, etc., are all within a 20 minutes ride from the accommodation.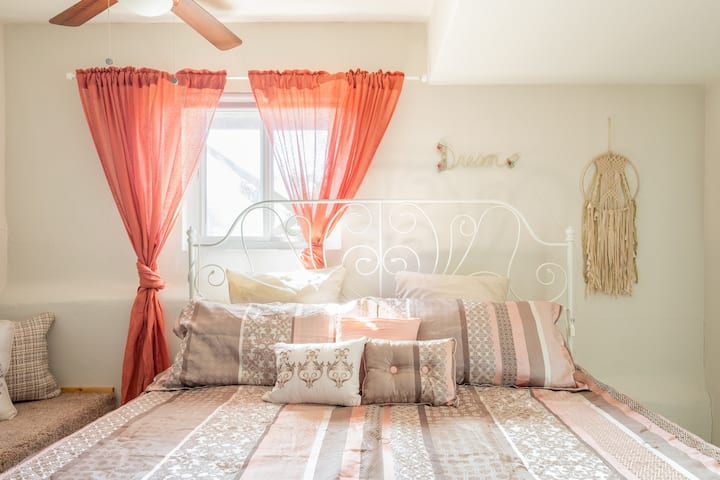 Private Room with An Attached Balcony Close to The Airport
Quite close to the airport is this beautiful and luxurious mansion hosted by Sam wherein you could have a taste of both grandeur and comfort. The host offers a very clean, spacious and a well-managed room with a private balcony. The bathroom, however, is a shared one. The place offers both minimalistic rooms as well as the ones equipped with a lot of furniture to leave it for the guest to choose between the two. Smoking, pets and parties- not allowed. Getting around the place is also easy enough as it is located quite close to the Trolleys, Trains and the Freeway, and of course within 2 miles of Little Italy, Downtown and Hillcrest.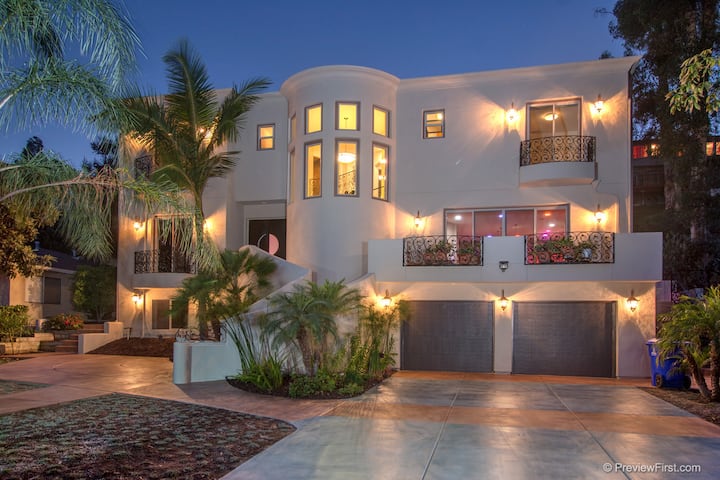 Camping in The City
If camping and tents is your preference, this gorgeous tent hosted by Kelly is what you must not miss. The guest will have the tent all by him/herself. This place is a perfect choice for those who wish to enjoy the perks of being in a city, yet do not wish to cut their ties with nature. The comforts of a jacuzzi, a barbeque, a patio, a strong Wi-Fi connection, a fully equipped kitchen, along with the bounty of nature is what this gorgeous place has in store for you. Smoking and pets are allowed, partying is not.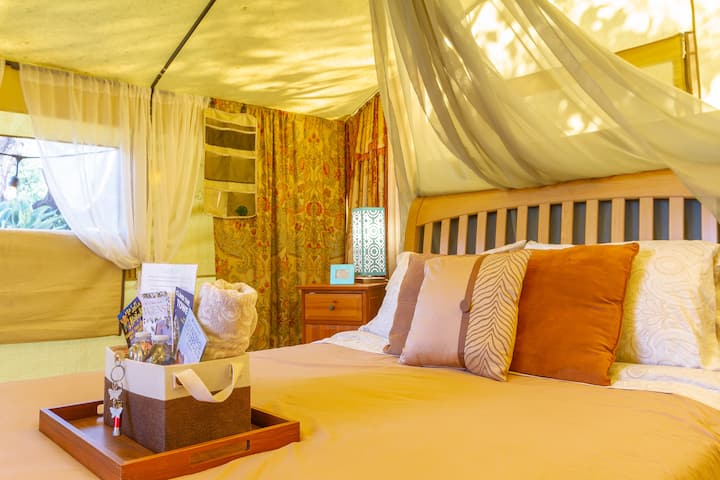 Luxury Studio Apartment Close to The Downtown
Perfect for business commutes and a jackpot for fitness freaks, this apartment offers a roof-deck spa, a 24-hour open gym facility and a more private stay in San Diego as you have the entire Studio to yourself. The place is at a walking distance from the Gaslamp district and a number of amazing restaurants and cafes very close to the location is an added benefit. The tram is also quite close to the apartment. Pets, partying and smoking are not allowed.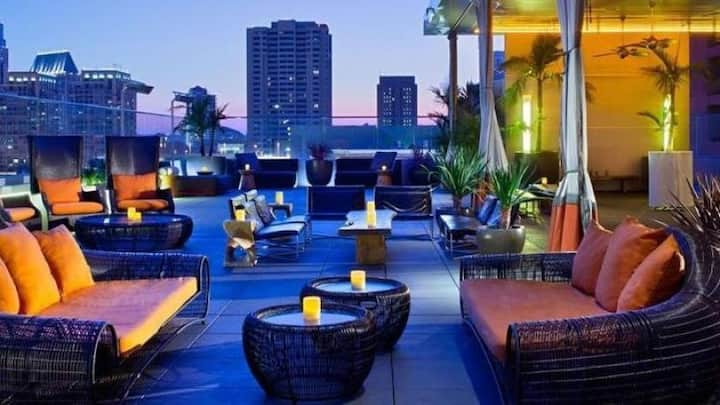 Secret Garden Guesthouse
This vibrant and beautiful resting place after a long, hefty day of exploring the diverse range of attractions in San Diego is just what you need. Located at a 15 minutes ride from the Airport, this garden guesthoues is actually at the heart of San Diego and is equidistant from all the major attractions. The Balboa Park and the beach are quite close to the accommodation. Smoking, pets, and parties are not allowed.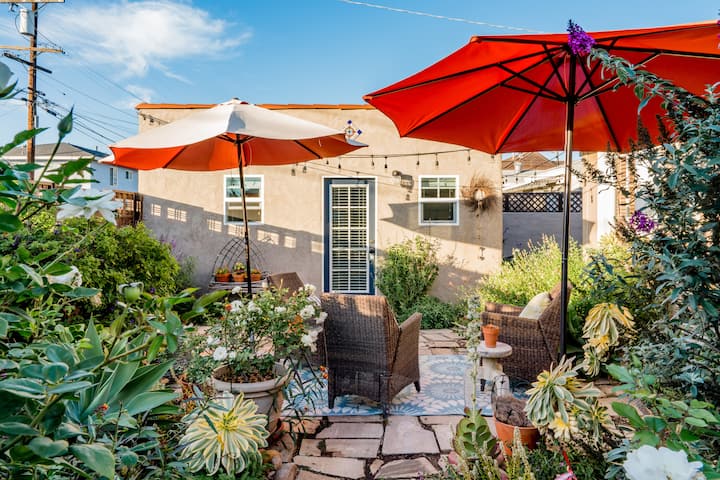 Cozy Studio Near Mission Hills
Hosted by a retired architect and an interior designer and photographer, this studio is bound to be aesthetically pleasing and equipped with all sorts of comforts you could think of as essential to one's home. This place has a private patio where the guests can comfortably sit-back and relax when they're not in the mood of going out. From the perfectly-built European style bedrooms to French style doors, from the indoor patio to the breathtaking views around the canyon, this place is a visual feast in a nutshell. Additionally, the studio is situated at a walking distance from a variety of local cafes, restaurants, shops, etc.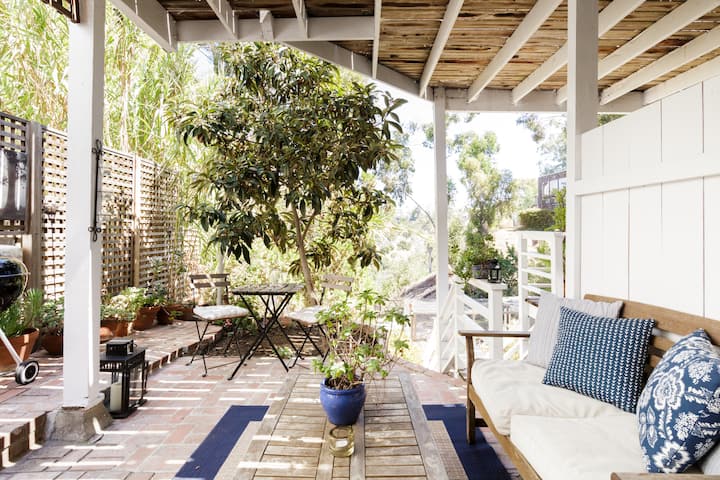 Contemporary Spanish Style Built 1 Bedroom Apartment
At a central location, this one-bedroom apartment has a personal patio, a fully equipped kitchen, a barbeque grill, and offers a private, free, and reserved parking. Even if you do not bring you four-wheeler around, the trolly station is just down the street. Everything central to San Diego is easily accessible from this location and a comfortable and more private stay during your vacation is an added benefit. However, pets, partying, and smoking are not allowed.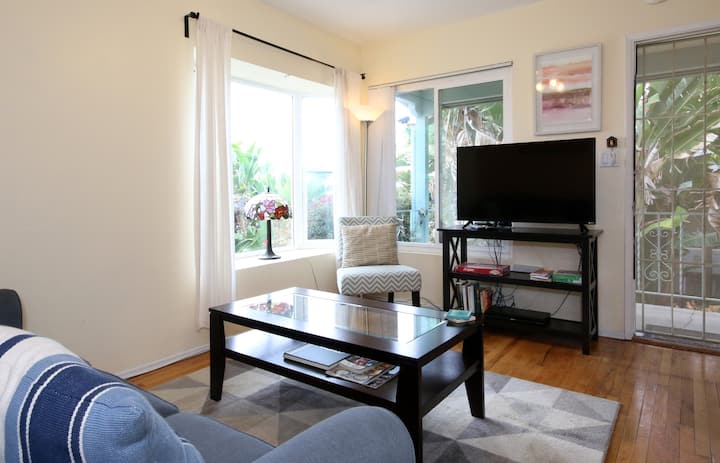 Casitas Felcidades, Old Town
At the heart of the historic Old Town of San Diego lies this beautiful apartment quite close to beautiful boutiques, shops, music on the streets and a variety of cafes and restaurants. The place is a perfect choice for a family travelling with a kid as it also has a cradle for an infant. The patio and the garden are the most loved areas of this apartment. Smoking is allowed, but only in the patio while pets and parties are not. The Mission Beach and the Balboa Park are very close to the accommodation. Finding a parking space or a perfect place to dine at would never be a problem here.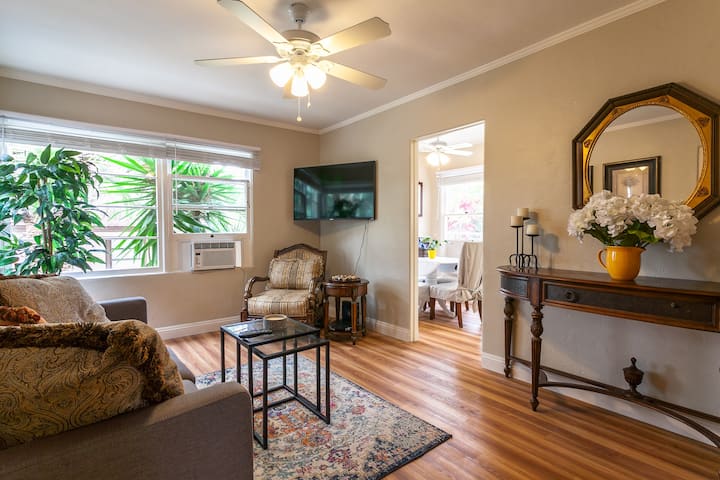 A Beautiful French Tudor Studio
Situated at a distance of some 15 minutes from the Airport, this French Tudor style studio is nothing less than a visual feast. This aesthetically perfect place is as comfortable as it is beautiful. This cottage-like studio is minimalistic in its interiors and yet contains every basic and essential amenity. The nearby cafes and restaurants are much recommended by the former guests, especially a cup of coffee at the Dark House which is at a walkable distance from the studio. Beaches and other attractions are just a few minutes' drive away.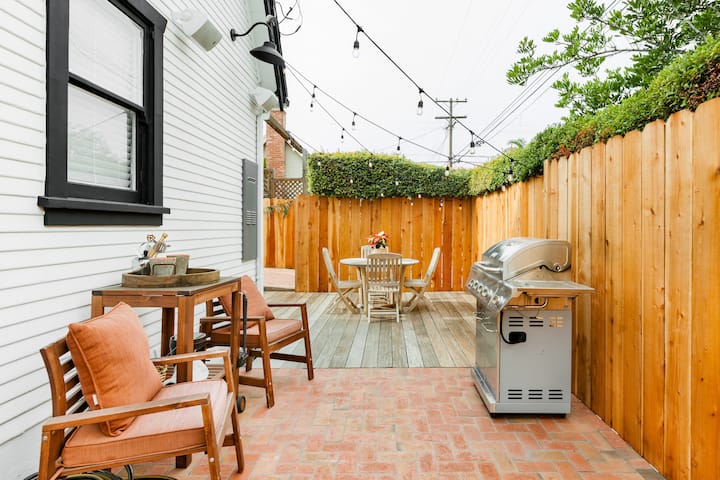 Crafstman Home Near the Historic Golden Hill
This 100-year-old craftsman home next to the Golden Hills is another home away from home hosted by a very friendly couple ready to help their guests any which way possible. The accommodation is very close to the Colorado Beach as well as the Gaslamp district. The pastel-themed insides of the house are enough to soothe your eyes and the cozy and comfortable atmosphere topped by the ever-helpful hosts is an added benefit.
Romantic Canyon Retreat
Enjoy a romantic canyon retreat with your better-half at this private studio located in a historic neighborhood of the Mission Hills. The place is a perfect choice for admirers of art as the studio is a part of a property designed by a renowned architect and is an exemplar of the architecture belonging to the Spanish Renaissance. The studio, however, does not have a kitchen. Nonetheless, there is a chain of amazing cafes and restaurants line up very close to the apartment. The views from the canyon and the pleasing patio are absolutely worth a shot. Smoking, pets, and partying, however, are prohibited.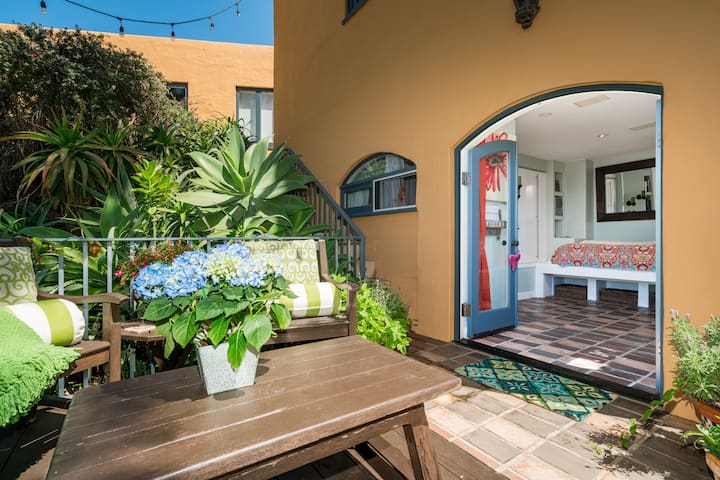 Well, that was a list of the coolest and the most comfortable accommodations that we think San Diego has in store for you. We tried our best to curate a list which has a wide range of options to choose from. However, places to stay in San Diego are as grand and diverse as San Diego itself and it might not come as a surprise if we missed out on some hidden gems. We would love to hear your amazing feedbacks and recommendations regarding some amazing Airbnbs in San Diego we might have missed. Hope this compilation helps you plan an amazing trip!