15 Best Airbnbs in Kansas City
Kansas City qualifies as Missouri's largest city in terms of its area and population density. This densely populated city in the United States is widely regarded for its thrilling Jazz music, stagecraft and the barbequed delicacies, followed by a variety of beer houses.
On that note, we know that you have already fallen for the city as it fills you with its art and the mouth-watering food. Oh! A freshly brewed drink too. Nevertheless, the city is not just about leisurely resources as sites like the National World War I Museum, Nelson-Atkins Museum of Art, Kansas City Zoo and Worlds of Fun, an extravagant adventure park, offer an exploration ride to its visitors.
All you need now is a viable accommodation to roll back in after surfing through this magnificent city and filling the pages of your travel journal. Your search ends here as we have worked on some of the most reviewed Airbnbs in Kansas City, and the compilation is here for you to make a hassle-free choice.
Spacious House in the Lap of Nature
While one of its visitors appreciate the house for its Nintendo extension, full of some nostalgic games, others are fond of its massive green yard. This stylish villa can host up to ten guests, at a time, and has made no compromise on the aesthetic features.
From curtains to floor mats and from the ceiling lights to the table lamps, everything contributes to the charm of this house. Apart from its remarkable interiors, this place is also very close to the markets and street life of the city.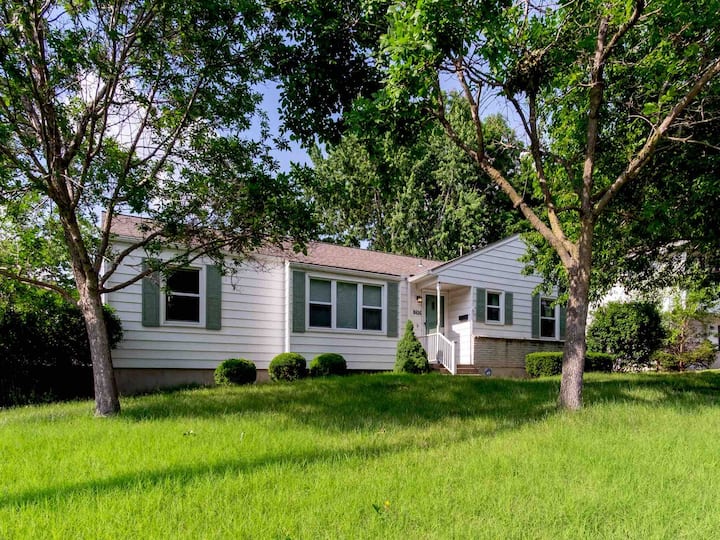 Charming Cottage in Roeland Park
Located in a green neighbourhood, this house is full of vintage style decorations and offers a place for eight guests with its three bedrooms, a living room, and an added upper floor setting. As soon as you enter this cottage, there will be so much to set your eyes on.
From the classic wooden cabinets to the quirky wall art and to ensure your comfort, there is a lot of furniture, starting from cosy beds to bed like sofas, footrests and to top them with, a bunch of cushions are all over the place.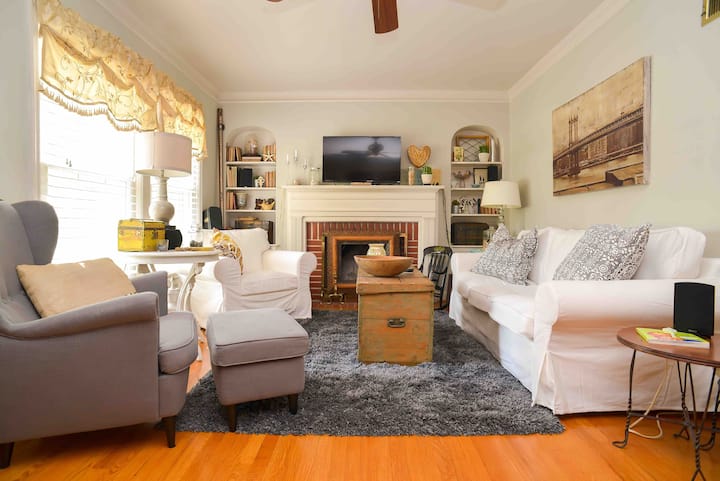 A Classic Bungalow in Westwood
This one is bound to win your heart at the very entrance of it as a wooden swinging chair hangs in the patio, facing towards the wonderful views of the neighbourhood, loaded with trees and shrubs. Are you convinced, yet? Let us take you to the back yard, then. Here, you will access an in-build playground with a climb-up wood hut and swings to engage the kids.
There is also a tree hammock with pillows to rest under the shade of trees, and seating space for evening snacks. Moving inside, there are three bedrooms, ideal for five guests. One of the rooms has a queen bed, and the other one has a bunk bed for extra space.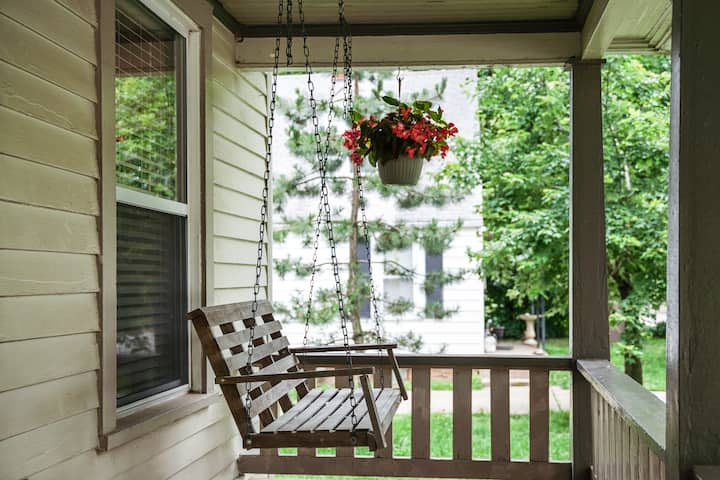 "The Eagle" – A Radiant Home
Permitting six guests in its three bedrooms, this stunning house meets all the needs that one could have while being away from home. One can spot luxurious linens on top of huge beds, classic black cupboards and drawers, subtle wall decorations, table lamps, bookshelves, and a lot of other attractive items. Overall, this property deserves to be called a sophisticated haven where luxury meets some charismatic decor.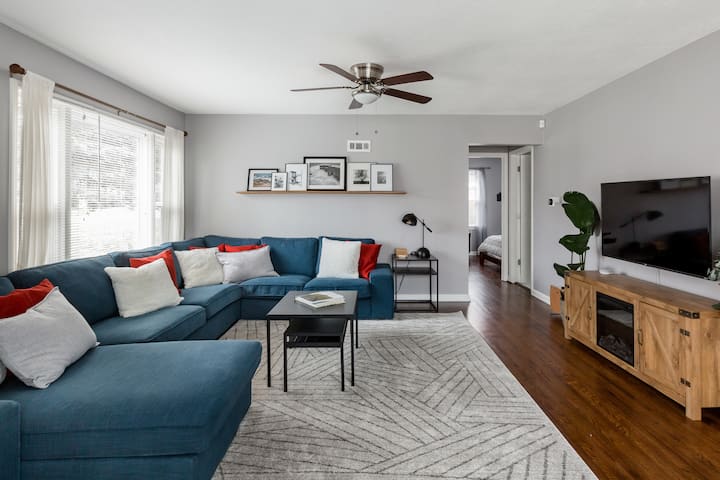 Boutique Apartment Stay in a Refurbished Victorian Home
This traditional apartment retains its minimalist approach while presenting at least one dominant colour in almost all its distinct spots. Whether you stumble upon the red entrance door, the quirky green couch in the living room, royal blue linens in the bedrooms or a dark blue bathroom, all are hard to remain unnoticed, and there is no doubt that they will add some sparkle to your everyday monotony.
Moving on, the living room, in our view, serves as the perfect lazy reading zone or a place to enjoy your dearest movie on the Netflix subscribed, television-set. Apart from the green couch, there is a lovely white lounge chair and a red armchair to fit yourself, next to the indoor fireplace.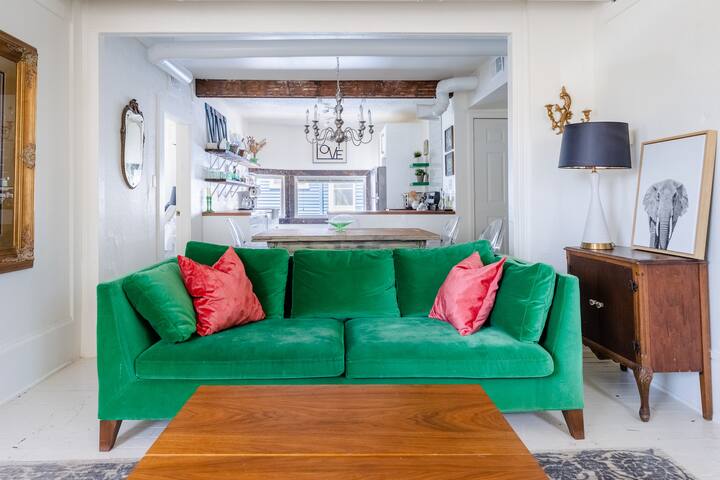 The Secret Service House in Downtown Independence
Wondering what the tagline of this house denotes? Let us quench your curiosity by telling you that in light of being situated right opposite to what was once President Harry Truman's house, this place was used as a restricted, confidential area to serve the leader in his conduct. Now you must be thrilled to stay in a shelter that once had such great relevance, don't you? Nevertheless, there is more than this that you can fall for in this house that is good enough for eight guests with its three bedrooms.
The entire place is cautiously planned in an all-white theme, giving it a sober look. The common space which features a study desk can be used as the fourth bedroom in case you need it, as a queen bed has been attached to it, recently.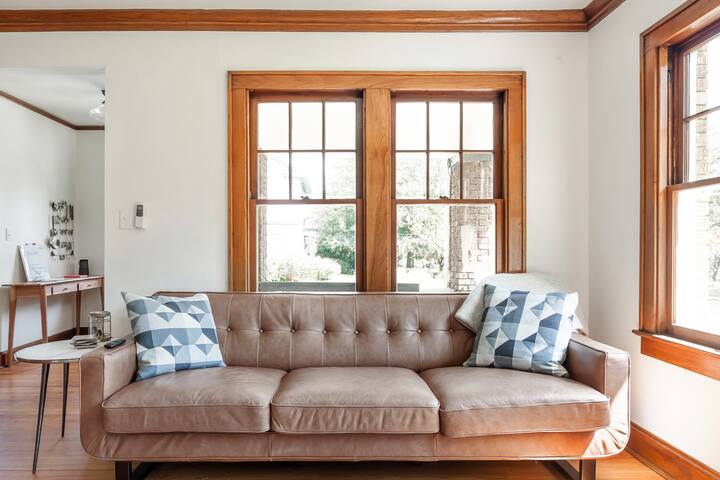 The Slow Space
The one thing that you will find here in abundance is the uncountable plant pots, specifically used to add an exquisite charm to this simplistic haven. There is an entire shelf exhibiting a variety of plants in the dining room. A little extra oxygen without any added charges cannot be neglected, right? All kidding aside, the house is decorated with a handpicked collection of articles to suit your needs while maintaining the basic outlook.
Apart from the living room and a two-bedroom combo, the house also offers a family room, covered with a sofa bed and green potted plants beautifully placed on an antique platform. Moreover, there are yoga mats in the room for a revitalizing meditation session.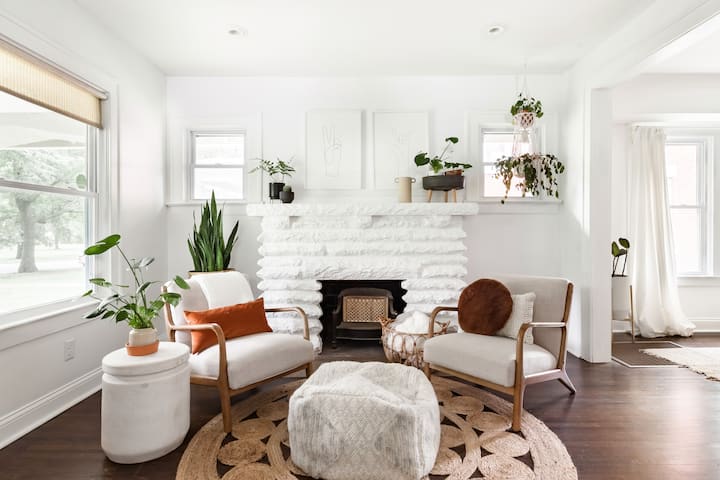 "Strawberry Chill" - an Exuberantly Decorated Boho House
By now, you must be imagining a yard full of strawberries or a house painted in the shades of pink as the name suggests it. However, you are not even close! This stunning two-bedroom apartment is located in the Strawberry Hill neighbourhood of Kansas City, and that is exactly where the title comes from.
Undoubtedly, your stay in this house could be summarised as "chill" time because of a queen sofa with a television in the living room, a pile of books for reading, a bathtub for a relaxing wash, and two queen beds in the rooms, await you. Furthermore, there is furniture on the patio to sit and relax, while feeling connected with the outside world.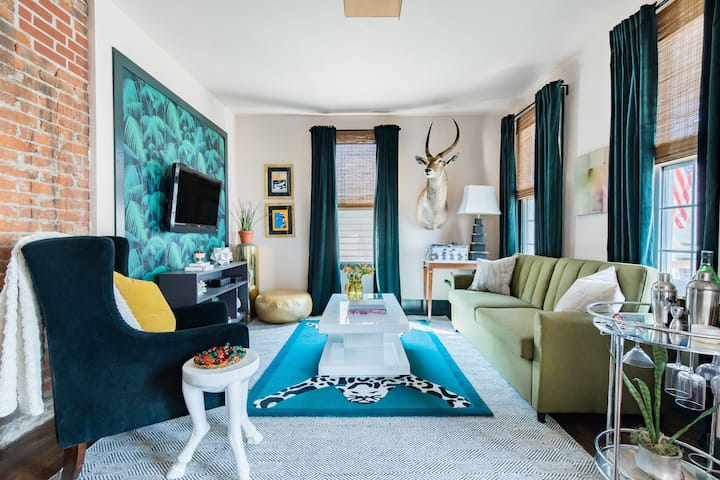 Hip South Plaza Pad near Whole Foods
Tess, the owner of this place recommends the guests to grab a bite of the most amazing ribs from Gates Barbeque, which operates just a few steps away from her Airbnb. Moreover, there are many other avenues to be visited nearby, including some great breweries and restaurants. As far as the interiors are concerned, the two bedrooms feature memory foam mattresses for a restful sleep, and the gorgeous ceiling fans ensure moderate temperatures during hot days.
The living room has a large smart TV and a bed sofa. There is a bunch of books to be read while resting on the cute yellow armchair, kept next to the fireplace. Additionally, the patio and the backyard are both installed with seating arrangements for some fresh air and outdoor brunches.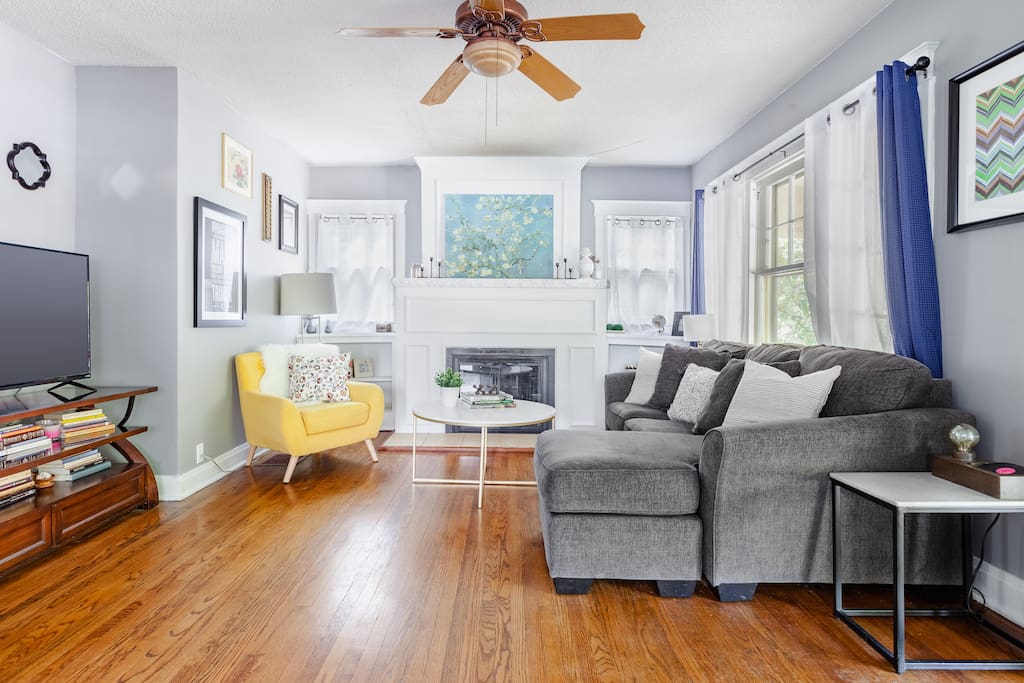 Relaxed Home near Westport's Shopping and Dining
Fairly ideal for about four-five guests, this house has an impressive living and dining area with some pretty armchairs, wall paintings and charming hanging lamps at the kitchen counter. The bedrooms have large wardrobes for ample space to accommodate your luggage, and there are bedside cabinets and light lamps for some extra leisure.
The house is close to some great bars, and the Kemper Museum of Contemporary Art. So, we can assure you that you will not have a moment to waste during your stay at this Airbnb as there is a lot to be covered. Another great news is for the guests who wish to travel with their pets as the host of this property permits a pet animal in the house without any additional fee.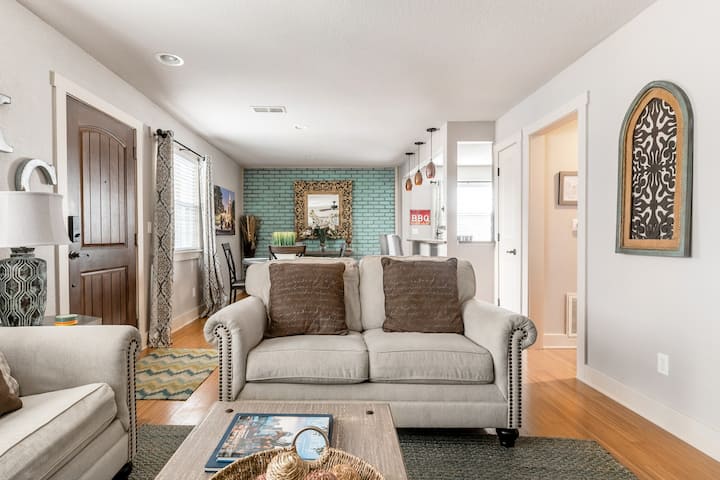 Lovely, Clean South Kansas City Studio
This one-bedroom studio is very viable for couples or a business trip because of its limited yet cosy space. The bedroom features glossy marbled floors, standing room lamps, a ceiling fan, and a personal television for relaxed streaming without escaping the comforts of your warm bed.
The living area has a bed sofa which can be extended to accommodate your visitors or a travel partner without any hassle. The kitchen is fully stocked, and its counter is designed with twin stools to make a lovely breakfast corner.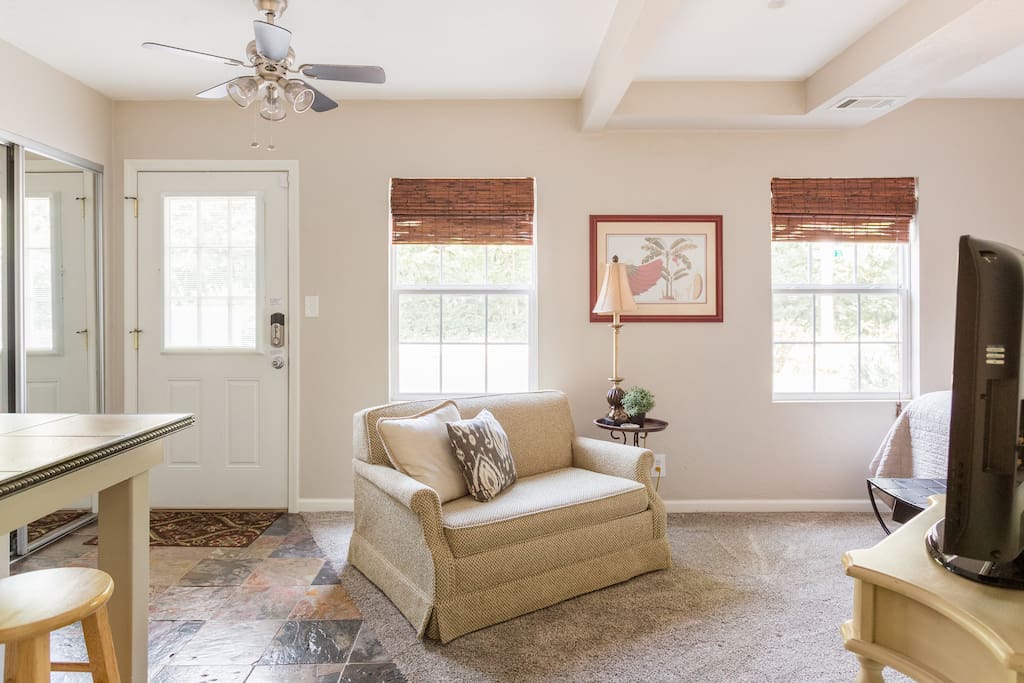 Walk to Bars and Restaurants from a Comfy Midtown Apartment
Fully covered in the grey tone, this two-bedroom apartment works well for anyone looking for a casual, homely stay. Its bedrooms have a dedicated study desk with an attached table light, full-body mirrors, soothing linens, floor rugs, bedside lamps, and a lot more. The wood flooring throughout the house gives it an impressive texture, and the furniture in and around the dining and living space compliments the overall set up.
Besides that, the paintings that hang all over the place, add some vibrancy to the solid shades. The entire house is loaded with natural light as the living room opens on the terrace through the convenient sliding doors. Apart from that, there is a dishwasher in the kitchen and laundry appliances in the utility room to pull off the load of daily chores from your back.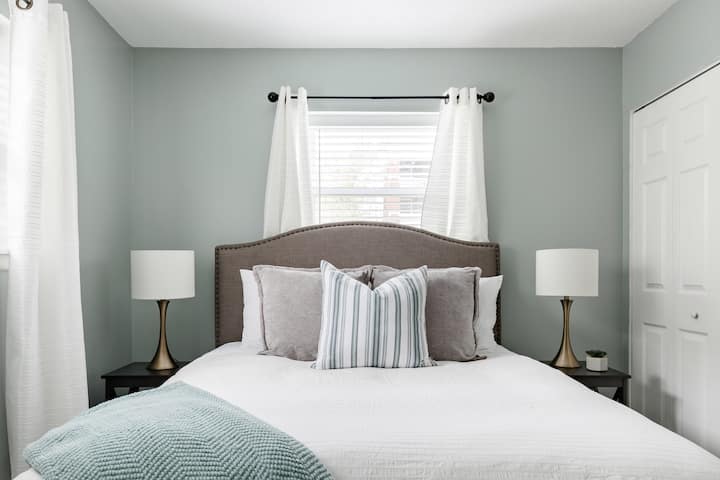 Little Ranch Guest Suite in Hyde Park
Centrally plotted in the Hyde Park neighbourhood, this property is a quick reach from the major attractions of the city, including the Nelson Atkins Museum, Kemper Museum, and the Country Club Plaza. That being stated, let us now check out some of the other features that this house might expose you to during your stay. After spending a tiresome day at the sites of Kansas City, unwind in this one-bedroom apartment, and stream one of your most loved movies on the smart television adapted with Amazon Firestick and placed right in front of a cosy queen bed.
There are a variety of attributes that distinguish this place from the rest, one of which is an iPod speaker, and to add more, there is a laser printer for your work-related usage. Are you impressed, enough? If not, you will also get treated with drinks, quick bites and hot beverages all served on the house. As we shift our focus to the bathroom, there is a facility of dual showers and a hair drying machine is also provided. There is a back garden in the house, arranged with chairs, barbeque grill, and your vehicle will not be a liability as there is free parking in this house itself.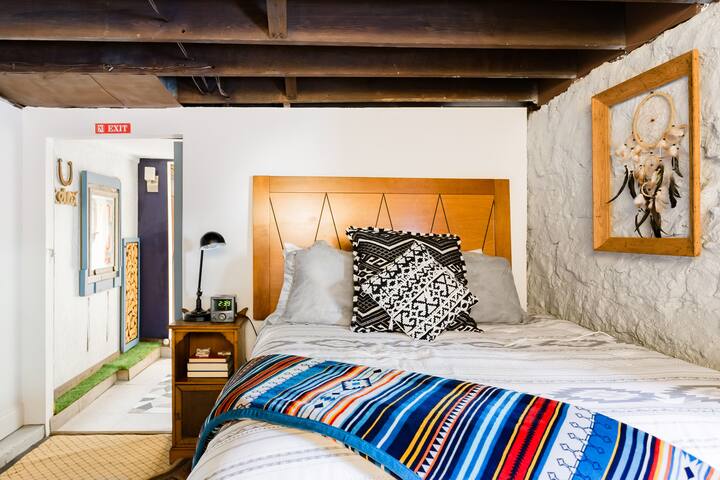 Explore Kansas City from a Mid-Century Home
The host of this three-bedroom house, Adam, is quite certain that his visitors will adore the subtle details that are very thoughtfully designed in this tranquil space. Whether it is the pairing of a yellow-chaired breakfast table, in contrast to the white walls or the combination of distinct furniture in the living room, everything stands out in this well-lighted, ventilated house.
All the bedrooms are air-conditioned, and feature queen beds for a peaceful stay.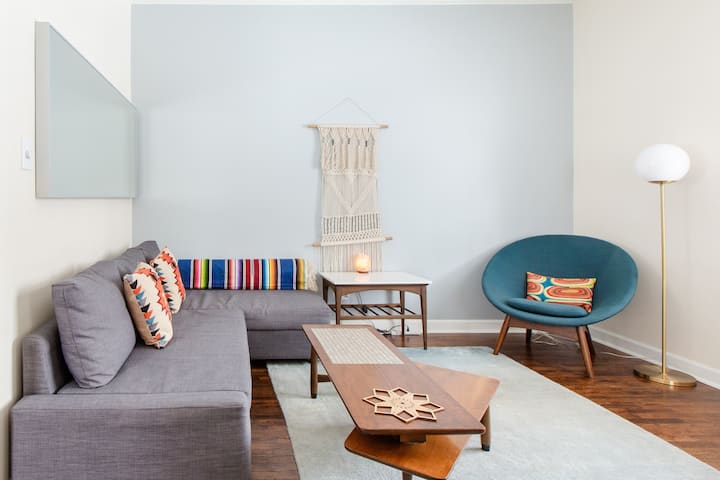 Exclusive Mezzanine Suite in a Historic Building
One of the most luxurious ones on the list is this apartment for its blend of sophistication and comfort, rightly ensured through its blue and white themed furniture and linens. The house is very spacious and comes with huge windows to avoid dampness. It is fascinating that there are separate television sets in the bedrooms and the living room so that you all can stream according to the individual preferences.
An add-on perk of staying at this property is its common, recreational area which has everything, from a pool table to a gymnasium, and to put some icing on the cake, there is a pool to dive in and have a rejuvenating experience.