15 Best Airbnbs in Palo Alto
Home to many multinational companies like Tesla, Ford, Skype and Hewlett-Packard, Palo Alto reserves its status as one of the most developed cities in the United States. Moreover, it is also ranked in the top five very expensive cities with one of the greatest numbers of literate citizens in the country.
A pioneer in the field of higher education, Stanford University also traces its roots in Palo Alto. The odds are high that you will be visiting this city for a tour/work at the University, yet many other attractions have the potential of sliding into your sightseeing checklist. Certainly, you would not prefer to miss out on all that this city has to offer.
Some of the major ones include the Cantor Arts Center, the Stanford Dish, Hoover Tower, Palo Alto Baylands Nature Preserve and the Computer History Museum.
We advise you to refer to the attached list of Airbnbs in Palo Alto to avoid the efforts of researching for a good accommodation in the city. The stays are curated while considering all the basic as well as unique amenities, suitable for all kinds of travel plans, from economical to the most luxurious one.
Affiliate Disclosure: As an Airbnb Associate, we earn a small commission when you book through links on this page.
A Classic Cottage
Hosted by Cathie, this stunning cottage is a small green land in itself. Whether you wish to sit outside or gaze through the windows in the living room and the bedroom, you will be blessed with the views of thick canopies and tall, branched trees.
The house serves two guests with a single bedroom, a living room, kitchen and a small dining area. For the entire day, the living room has a comfortable blue sofa, a lounger and other artistic chairs with a television, accompanied by a great collection of old movies. The bedroom has a spacious closet for your luggage, and there is a separate dressing area.
The outdoor area has a shared pool, sun loungers and a seating arrangement under the trees. This place is a perfect escape from the noisy city life.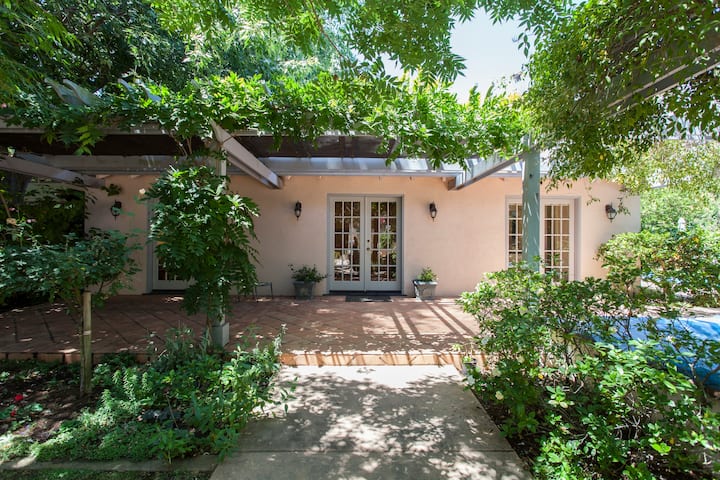 Gayle's Downtown Apartment
This property is marked very close to Stanford University, some great shops, restaurants and a park. Its is open for four guests as there is an additional sofa bed in the living room to accommodate two people while the other two fits in the bedroom.
There is another major perk of staying here if you are traveling with kids. The host offers a playhouse and a variety of toys to keep the kids engaged during the stay. Besides that, there is reliable Wi-Fi connectivity for the working professionals to rely upon. The bedroom also has a study desk amidst a properly lit room. A desk computer can be made available by the host on request and make sure you grab a pad and some pens from the desk while working on your creative insights.
Downstairs, a well-planned seating space, barbeque grill and a fire pit are provided. There are attractive fairy lights all over the patio for a lovely evening party.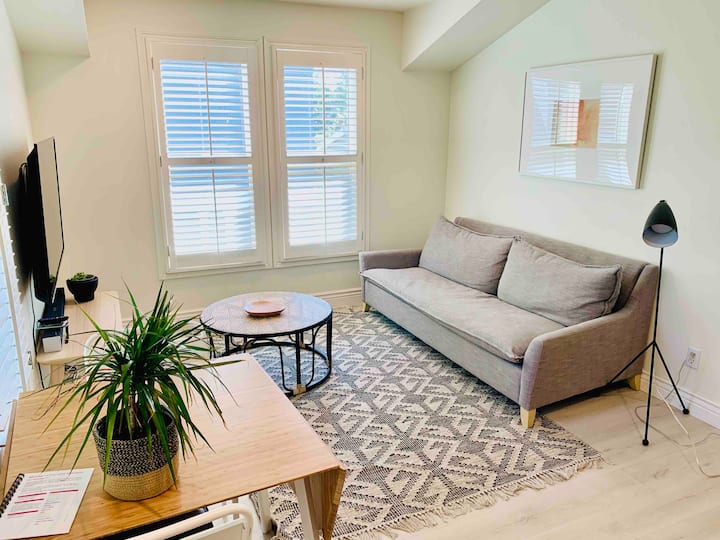 Yellow-Lighted House with A Storybook-Like Entrance
Guarded by two beautiful trees on both the sides of its entrance and a lot more in the background, this house looks no less than an incredible painting. It seems like one has found a haven in a dense forest, and now it is time for them to flush out all those piled up heaps of stress.
Talking about that, let us move to the interior space of this farmhouse. There are three bedrooms and a living room with an indoor fireplace, next to the attached dining space. Every single spot in the house looks out into the green vast green yard.
Nonetheless, the patio steals the show with minimalistic seating space, covered with adorable fairy lights. Throughout the day, the house gives an impression of a rustic cottage, and at nights, it turns out to be a fairyland palace. We highly recommend this house for a peaceful getaway.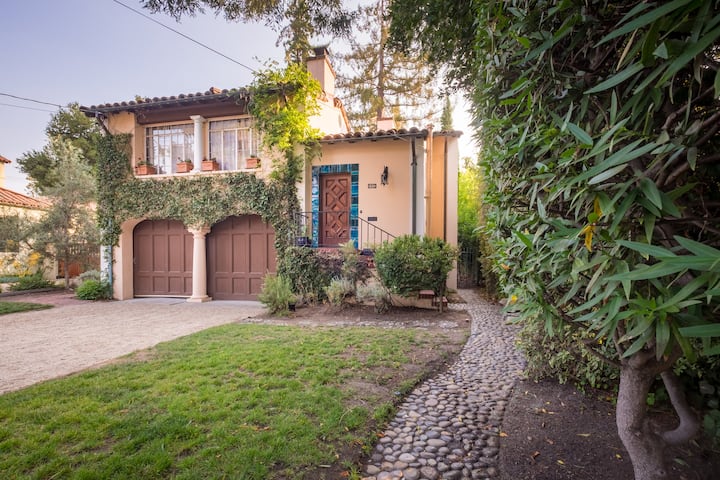 Palo Alto Victorian Property
Location-wise, this house can be found right in the middle of Silicon Valley and is just a few steps away from shopping complexes and restaurants. It is ideal for couples and individuals on a work trip as the house offers a single room.
There is a television in the room itself, and a study table is also present. Moreover, there are many windows in the house for ventilation and natural light. In the living room, classic printed sofas and standing lamps can be spotted.
Another interesting spot is the outdoor patio, set up with modern loungers, umbrellas for shade, and some artwork like the designer fireplace, a sculpture of Buddha and the candle holders.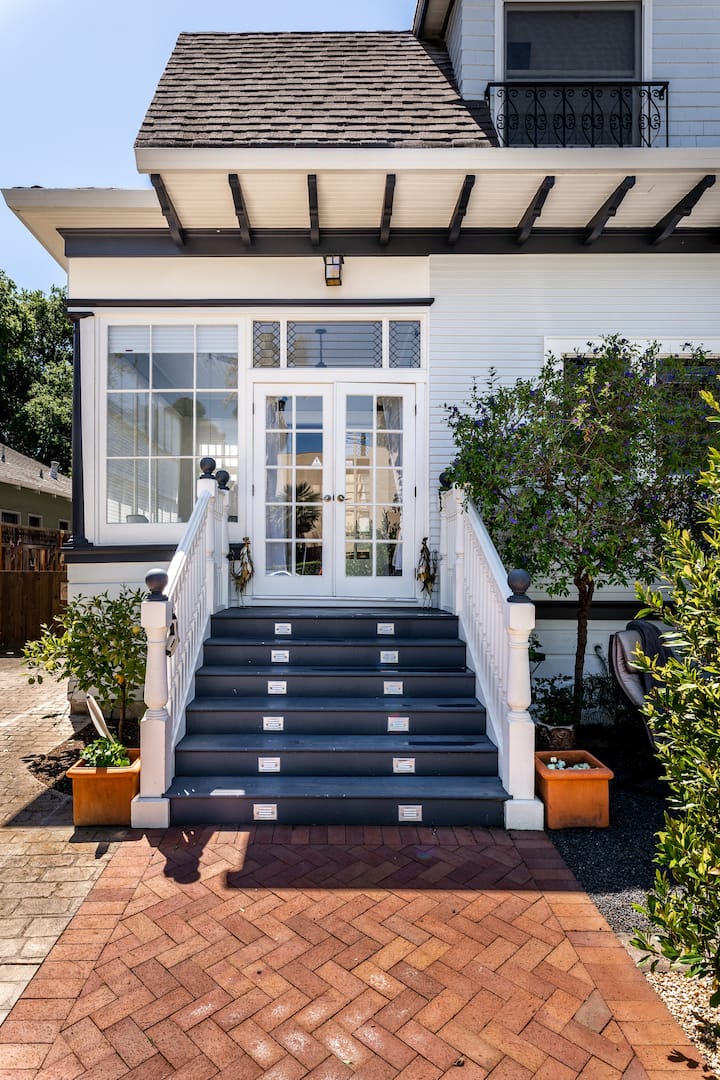 Beautiful Private Room in The Heart of Palo Alto
This white-themed, freshly renovated house can host about two people with its one-bedroom, and a living room. The bedroom is finely decorated with soft rugs, a couch, wall paintings, and stylish hanging lamps on top of the queen bed.
There are large windows in the bedroom, and thus, there will not be a dull moment anytime in this haven. The living room has two large sofas and a lounge chair next to the fireplace. That serves as an ideal spot for reading or relaxing with some music.
The patio is flooding with modern vibes. From its barbeque grill machine to the seating area with pretty lights and plant pots all around, this spot ensures the maximum level of comfort and convenience.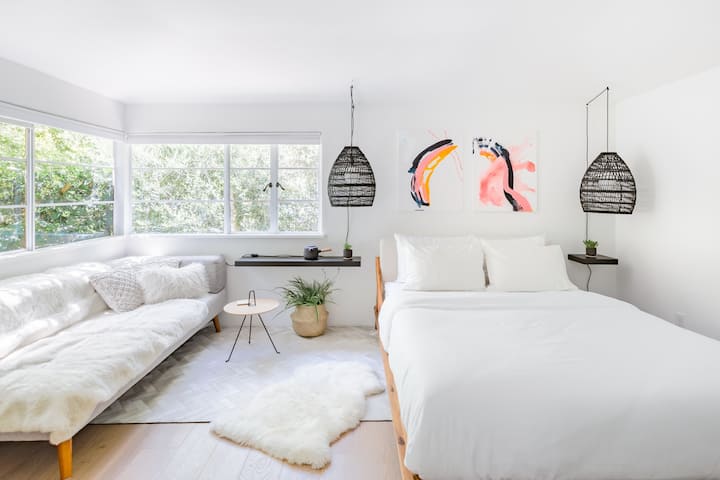 Monique's Exquisite Shelter
Permitted for a stay of four guests, this house is built above the host's garage area, and features all the facilities, except the washers and dryers. Nevertheless, there are many laundry rooms, shops and eateries nearby.
Despite being pocket friendly, this property has everything, from a balcony loaded with red blossoms and serene views to a room with spacious cabinets, and a living room equipped with a convertible sofa for the additional guests. The two-seater dining area in the kitchen is decorated with a delicate glass chandelier, adding beauty to an indoor date night.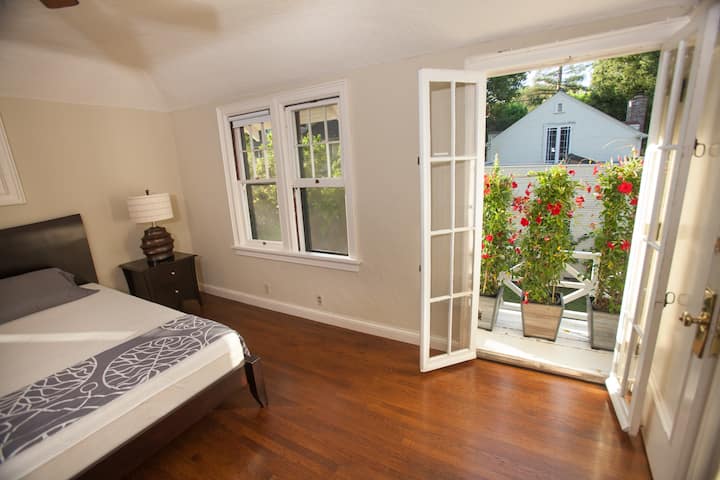 Luxurious Retreat Near Stanford
Here comes a massive property of four bedrooms with a capacity of hosting ten guests at a time. You will never know what you are missing in life until you dive into this charming house whose living room is enough to make you fall for it.
The fine choice of furniture, including a sofa bed and two cushioned chairs next to a large window, topped with attractive yellow lights, together make it a lazy vacation corner. However, the musician in you might take over as there are some guitars for you to fill the room with your jingles.
Then, there is a massive kitchen, accompanied by a classic breakfast counter with tall, wooden chairs. One of the four rooms has been specifically designed for kids, painted in all vibrant shades and themes. The other one has access to the patio through transparent sliding doors that permit large amounts of light and air in the house. The third one offers a study desk for your working hours.
That is not it! The patio has a sofa, glamorous chairs, facing towards lively views of the greenery spread all over the neighbourhood. Besides that, there are loungers in the back yard to relax while basking in the sun.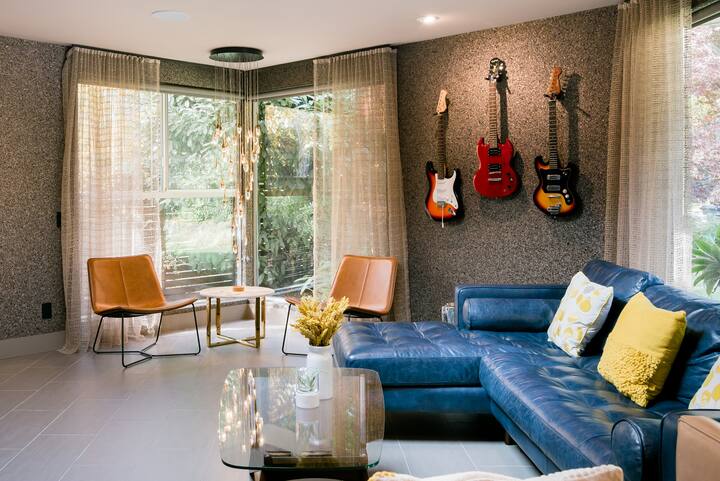 Spacious Top Floor Condo Retreat
An epitome of grace would be the right description of this splendid condo. Let us begin with the living room where a large brown couch is coupled with slouchy ottomans to raise the level of comfort while streaming Netflix on the smart television. And yes, there is a fireplace and large windows with great views, right in the corner.
The kitchen has some delicate wine glasses and some sparkling candle jars. It is fully-equipped with the latest appliances. Next is the dining area, beautifully decorated with a transparent chandelier and furniture of subtle shades. Moreover, the bedroom has a king bed, side lamps, a window, another television and a bookshelf, all of which accounts for some enjoyable time.
There is a patio with chairs to relish your breakfast while breathing fresh air and enjoying the magnificent views. The outdoor complex features a water fountain, a swimming pool and a hot tub, all surrounded by trees.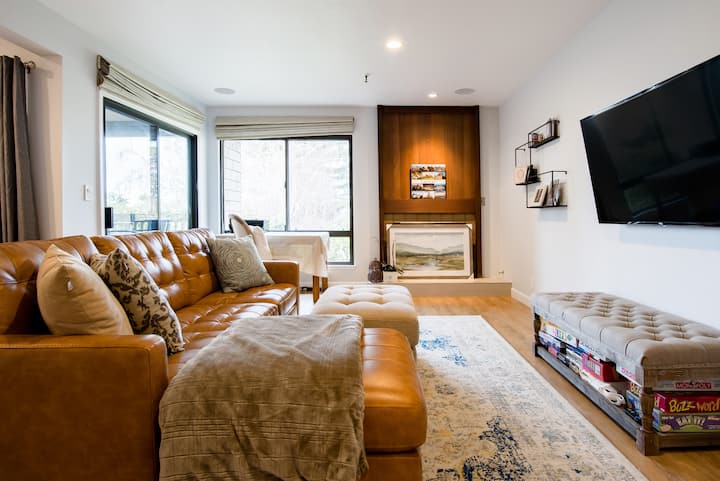 No-Fuss Menlo Park Suite
Marvelling at the art of simple living, this apartment has many interesting features, one of which is the bright living room with a dedicated work desk. Dive into your critical assignments while having access to outdoor views through the white windows.
The shiny red stools next to the kitchen counter make a perfect zone for grabbing a quick bite before setting off for work or city's exploration. Further, the bedroom is fully air-conditioned, and there is an attached balcony with it. It is fixed with chairs and a table to sit back and savour every sip of your morning beverage.
The common area has a swimming pool, gym, pool table and many sun loungers and couches for a beach party vibe in the residential premises. Isn't that a great deal?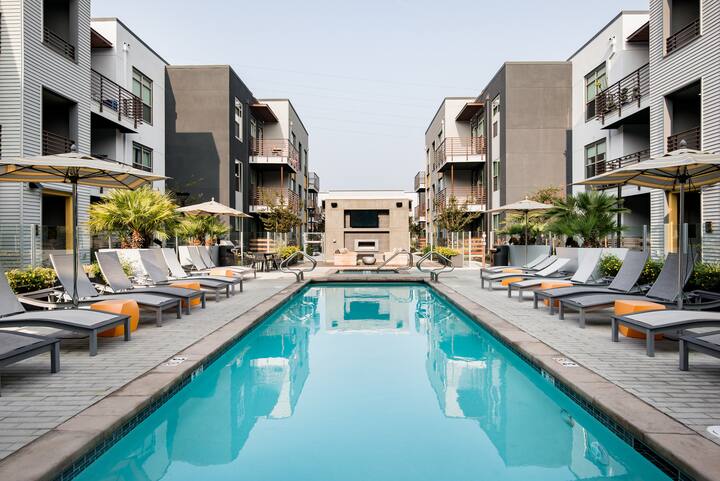 Palo Alto Treehouse
You would be astonished to know that your host at this property, Lisa, has "published a book that includes everything from the best restaurants, to accessible running trails, to fun outings for kids". What could be better than staying with the experts of a city that is unknown to you? It does not end here. The house is in a neighbourhood that is close to many breweries, grocery stores, parks and eateries.
The house is ideal for about six guests with its three bedrooms, fixed with two double beds and two single ones. Unlike many other Airbnbs, this one has a wine refrigerator and a bar in the living room. Other than that, there is a bed sofa, vibrant chairs, cushions and a television. All you have to do is grab a drink of your choice, and sit back in this cosy room.
The bedrooms are decorated with wall arts, plant pots, impressive cabinets, and windows with views of the garden. Additionally, you can immerse in the calmness of nature as there is a lush green entrance as well as a backyard.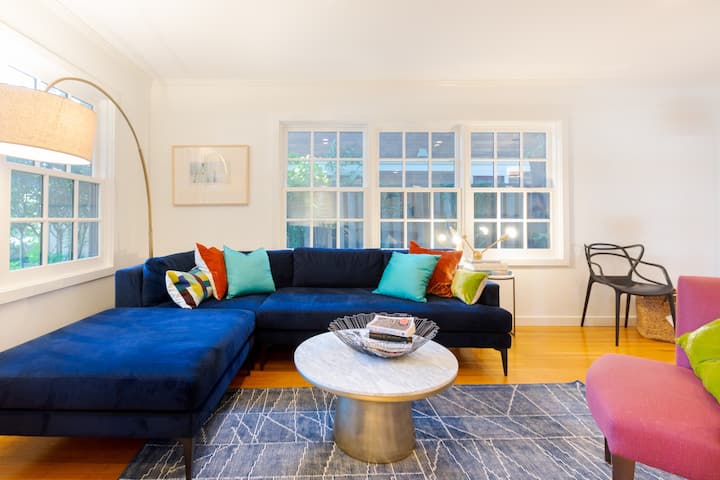 A Modern Stanford Studio
Good enough for two guests, this studio is very near to Stanford University and serves as an ideal spot for the prospective candidates.
There are a comfortable double bed and an attached kitchen. Further, dining space and a walk-in shower are provided. Also, there is a seating space in the outdoor patio.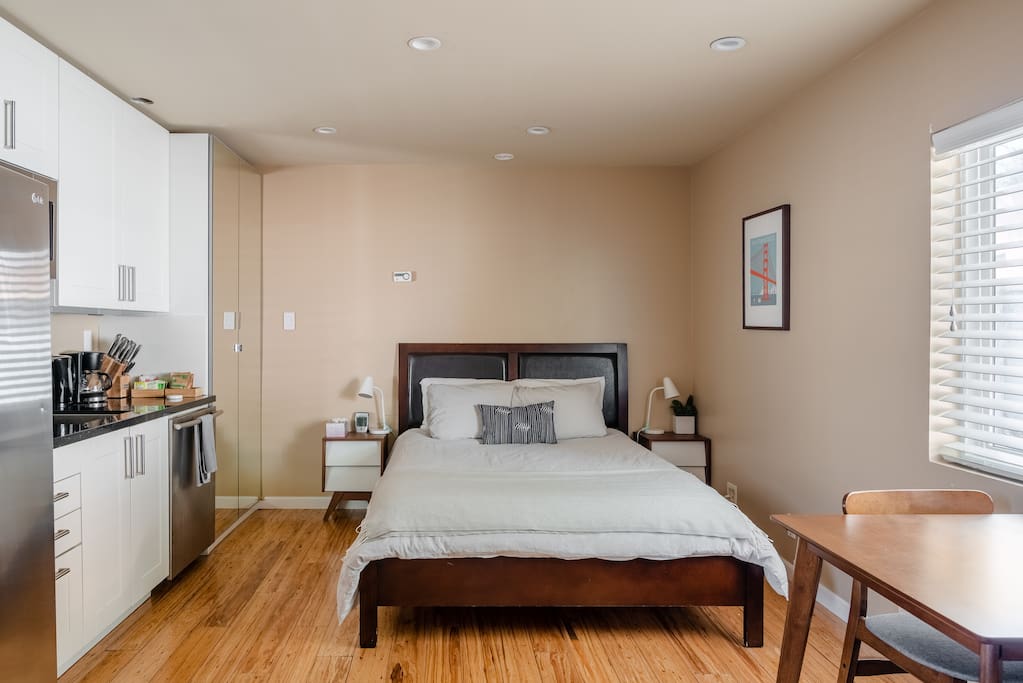 A Private Oasis for Kingly Feels
This stunning house will spoil you with the enormous facilities that it has to offer. Amidst a breath-taking garden, there is a shaded area with a swing chair, a lounger and a sofa. In the common area, a pond, a tennis court, heating lamps, and a fire pit await you. To sum it up, we will call your stay at this place, a getaway in the most exotic haven in the middle of an enchanted forest. No, we are not exaggerating, that is how it seems!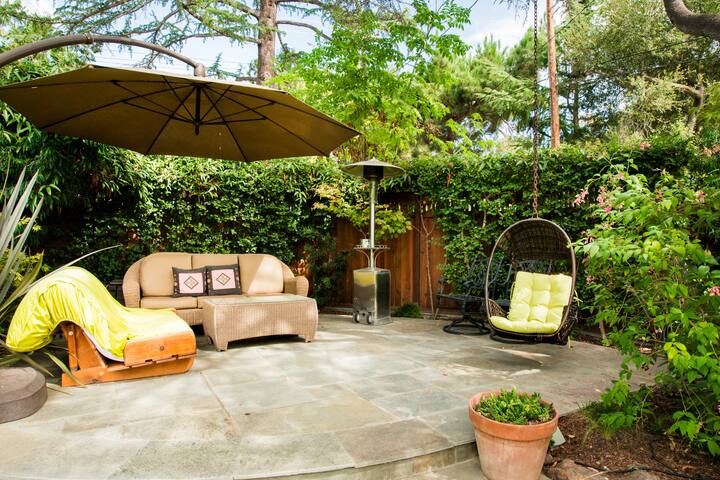 Private Comfortable Guest Suite
The living room in this property features an attractive red couch and chairs. There is also a dedicated study desk in one corner. Some animal sculptures and wall art, particularly fascinating for children, can be spotted in the room. There is only one bedroom suitable for two guests. Moreover, under the blue, vast sky, you will get to spend some leisure time in the pool, spotted in the backyard.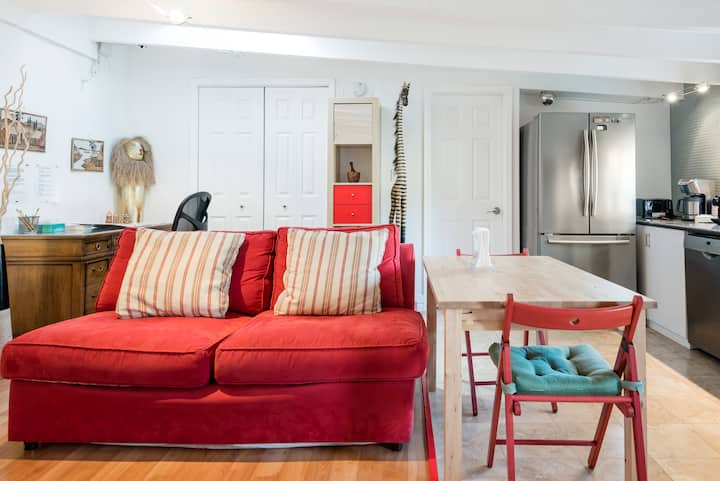 Mid-Century Bungalow in A Serene Garden Setting
A distinguished attribute of this house is that its host, Sarah, deals with poultry products and hence, you will have access to additive-free eggs and bread. Moreover, a stock of fresh coffee and tea can also be acquired.
Fairly maintained for four guests, this two-bedroom house has a perfect blend of red and white when it comes to the choice of furniture. The backside patio has beautiful flowery climbers under which there is a shaded place to sit and relax.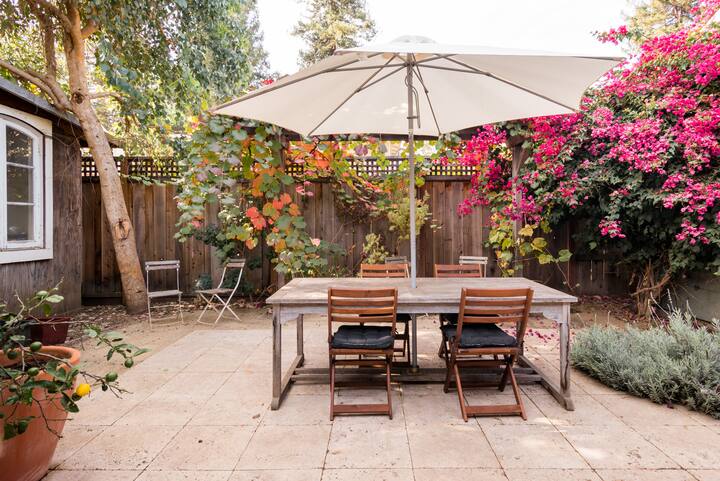 Stunning Art-Filled, Ecological Home
Located in the East of Palo Alto, this house is looked after by Todd, an enthusiastic traveler who has filled the entire place with paintings, sculptures, utensils, covers and a bunch of other art objects. Every room in the house is flooding with these collections, and they make it no less than a cosy museum for a fellow lover of art.
This two-bedroom apartment is so colourful that it will instantly land you in an ecstatic mood as soon as you step in it. The house comes with separate dining and study rooms, and to put some icing on your cake, let us reveal that there is a piano in one of the bedrooms. You should hurry and grab a few days in this one-of-a-kind Airbnb.