30 Best Airbnbs in San Antonio, Texas
One of the most popular places in Texas is undoubtedly San Antonio. People flock to the city to experience its beautiful history, culture and the unmistakable Southern charm through the list of attractions it offers. With so much to see and do, Airbnbs have been popping up all over the city. Those are certainly a better option than any other living accommodations, as they are homely, tasteful and simply amazing. And if you couldn't choose which Airbnb to stay at, given below are some of the best of them!
Affiliate Disclosure: As an Airbnb Associate, we earn a small commission when you book through links on this page.
Vibrant Downtown Bungalow
Just a little distance away from the main attractions, such as the Riverwalk, Convention Centre and the Alamo Dome, is one of the best Airbnbs San Antonio has to offer – the Vibrant Downtown Bungalow. Rated 4.98 on the website and hosted by one of the Superhost duos, Harvey & Sylvia, this Bungalow is perfectly ideal for a solo trip or a couple. It features a living room, a well-equipped kitchen, a bedroom, with a queen bed, full bathroom, dining room, BBQ grill, a private pool and a patio. Since the property sits in the Historic Lavaca neighbourhood, the house – a confluence of vibrant blue and white - is a perfect blend of vintage modern, promising an elegant but fun experience. Now, who wouldn't want to live in such a place?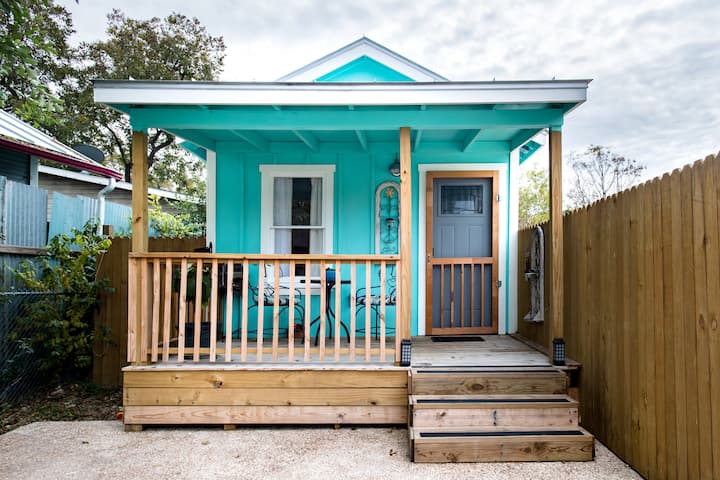 Cozy Quarters in San Antonio's Deco District
A cozy Airbnb for a couple looking to cozy up, the Cozy Quarters is located in the folds of San Antonio's Deco District. The place has a private bedroom, full private bath, outside decks and courtyard, not to forget the amazing pool. You'll have access to a refrigerator, microwave and a coffee maker as well as the pool – and the attached stone hot tub - if the weather permits. The Superhost, Craig, and his family lives in the main house and makes sure that your visit is as comfortable as possible. Vibrant plants and trees surround the place, while the outside space is decorated with beautiful, twinkling lights. Cozy quarters in every sense, this Airbnb is especially ideal for honeymooning couple!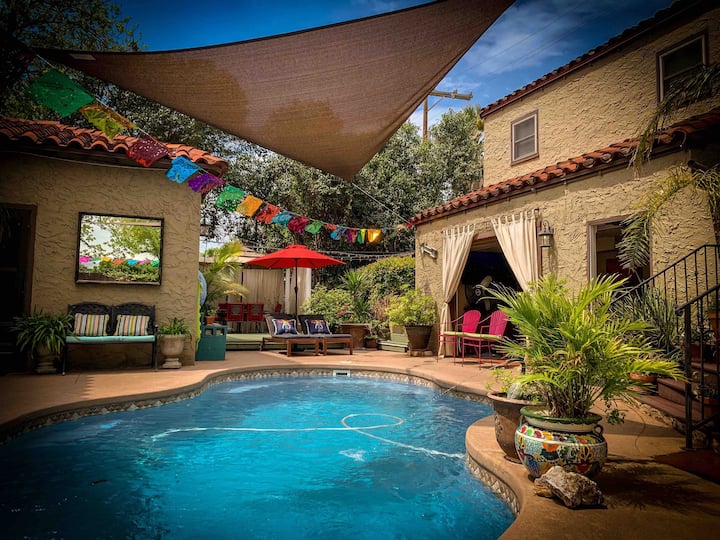 Tour Downtown San Antonio from An Upscale Apartment
Now is the time to experience the upscale luxury living in San Antonio, thanks to this Airbnb! Located in South Town, which is San Antonio's Arts District, with great eateries, shops and entertainment options nearby. This apartment is a part of a luxurious building just by the winding San Antonio River and comes with a fully safe private entrance. Once you are in, you will be greeted by a beautiful living room with a sofa bed, a full kitchen, a bedroom with a queen bed and a full bathroom. Perfect for four people, all of the guests get access to the recreational area, which consists of a swimming pool, exercise equipment and a lounging area. Superhost Jeremy's apartment is not an Airbnb, it's your own place in a strange city.
Private Studio Apartment
This beautiful Airbnb, located in the historic part of the Tobin Hill neighbourhood, is actually constructed above a woodworking shop! The apartment consists of a queen-sized sofa as well as a bed, a proper bathroom, a small but well-stocked kitchen and guest access to the front porch and the private table specially put for you in the read garden. The 'Superhost', Richard and his family stays in the property and are super friendly, enthusiastic and hospitable. Upon request, he can also arrange a little tour to his woodworking shop and the arts and crafts he passionately creates there. A quiet and amiable experience in the middle of San Antonio, this Airbnb is a perfect choice for a group of four.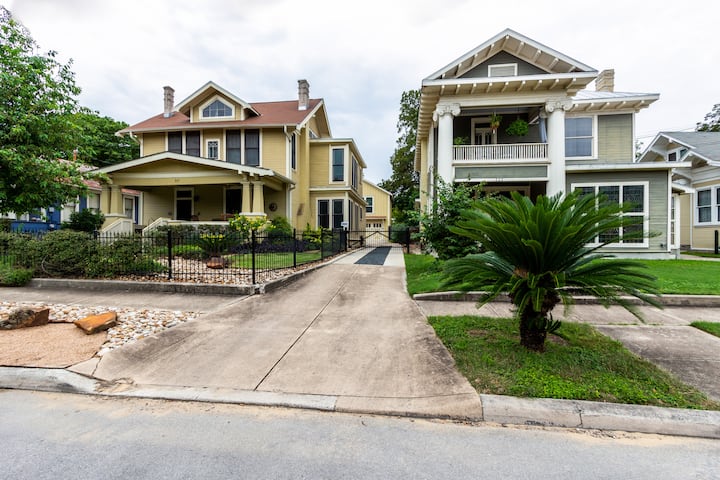 The Steel Haus
Perched on the banks of the winding Medina river is the perfect getaway for tourists, i.e. the Steel Haus. The property is located just a little distance away from the city, but the soothing natural surroundings make you forget that the city is right there, hidden from the view. The house boasts of three bedrooms, two bathrooms, a beautiful outdoor dining table for eight, a cosy fire pit in the middle of the oak trees, a private path straight to the river and last, but not the least, a screened porch to relax. It is hosted by Jenny and Clay and garners much attention as it is an Architect-designed Riverfront Home, promising warmth, peace and fun times!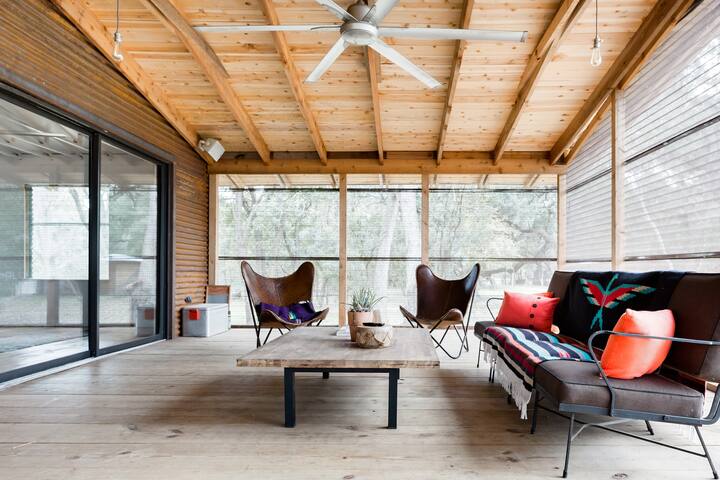 Exclusive Riverwalk Apartment
There is one way to live, feel and experience the royal life in San Antonio – and that is through this amazing Airbnb. Exclusive Riverwalk Apartment rated 4.85, is a royal-looking, cute little property in the King William Neighbourhood. This house, built in 1892, is one of the most popular historical properties of Texas. Don't let that fool you, as it has been maintained with love, care and efficiency. It has a beautiful sitting room, a small but well-stocked kitchen, a spacious front and back porch and a pretty garden, which has a private entrance to the apartment. The house is made even more fascinating by the fact it is river-facing and has loads of dining options around. 'Superhost' Gina's Exclusive Riverwalk Apartment promises a super amazing, historic living experience – and that too in the middle of the modern San Antonio.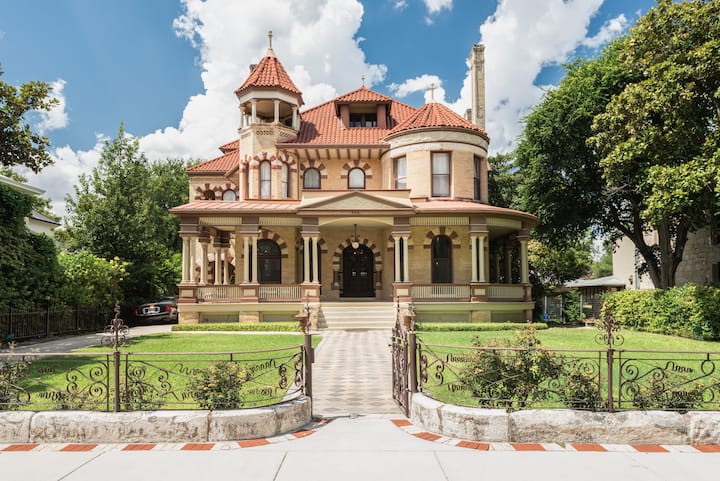 Ninja House Private Contemporary Suite in Rural Setting
Nestled in the folds of Verde Hills is this amazing Airbnb, very close to O.P. Schnabel Park, providing a rural surrounding to this place. However, it is equally modern from the inside, with a bedroom, a kitchenette, full bathroom and even a patio and a front garden. Mesmerizing shades of pastel blue and white adorn the place, complete with beautiful mirrors and amazing artworks. Superhost Nina is a traveller and therefore, knows how to handle travellers. She's amazingly friendly and makes sure that your stay is as comfortable as possible. A modern ranch in the middle of a traditional country setting, her Airbnb is not only a dream place but also is located conveniently from everything amazing San Antonio has to offer.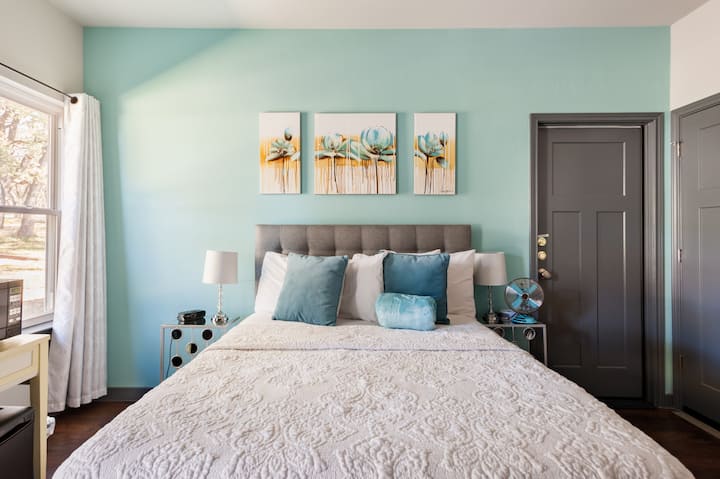 Enjoy Casa Blanca - Family Friendly, Hot Tub, Patio & BBQ
The far west side neighbourhood of San Antonio is quite a laid-back neighbourhood – and this is where the cosy and family-friendly Casa Blanca is located. A beautiful Airbnb, this space is characterized by pastel hues, dark-shaded furniture and wooden cabinetry. Ideal for groups of ten, it comes with a living room, a full kitchen and a dining room, four bedrooms with nine beds, two full bathrooms and a utility room. The place is kid-friendly and offers a number of amenities, some of which being coffeemaker, room-darkening shades and even a printer! The outdoor is as equipped as the inside, with cosy and private seating arrangement, patio furniture, BBQ and a private hot tub. Not only is the Superhost Arturo friendly and accommodating, but the neighbourhood is also relaxing and simply charming.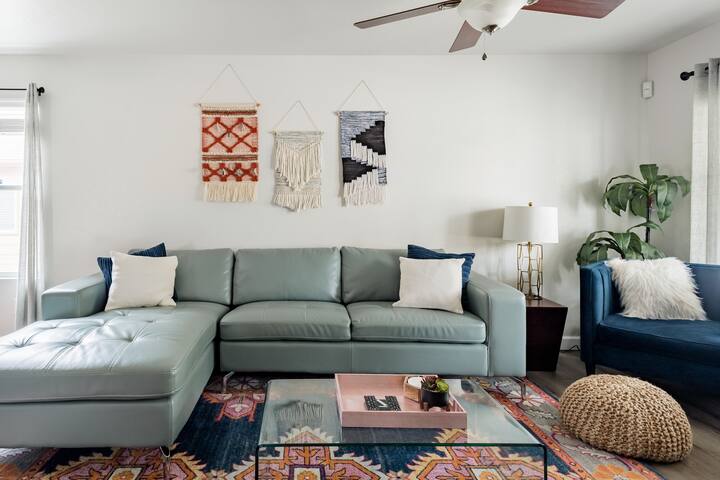 Townhome in Fenced Community Near Lackland
The Airbnb is in the middle of everything – it is literally at a crossroad of Evers Road and Wurzbach Road. This townhome is filled with white walls and brown décor and has beautiful and soothing artworks adorning every inch of the place. You get easy access to a living room, two bedrooms, a full kitchen and a dining room, as well as two bathrooms, a utility room and a back garden. It is exactly the way as shown in the pictures, with the highlights being the Keurig and the comfy bunk bed. Vicente, the host, will not be on the property but is amazingly attentive of his guests. Minutes away from Medical centres, Lackland Air Force Base and Fiesta Texas Six Flags theme park, this place is a fenced paradise!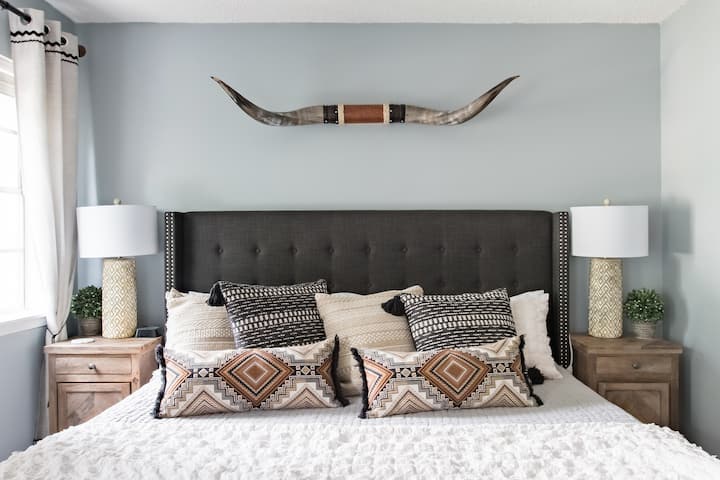 Architect-Designed Suite in A Historic King William House
Any house in the King William Neighbourhood is full of renovated charm – and this Airbnb is not that different. A beautifully architect-designed suite on the Alamo Street, it comes with a kitchenette, complete with a mini-fridge, a Smart TV and Netflix as well as a full bathroom and a bedroom with a queen bed, Smart TV and a mini-fridge here as well! The place is aesthetic and minimalist, featuring limed and rough-hewn wood panelling, black décor and comes with its own charming porch. Superhost Ryan has made sure to create a beautiful and cosy space, combining traditional and vintage elements with modern and contemporary ones. With its extremely convenient location – close to restaurants, shops and obviously, the River Walk – Ryan's place is quite the catch!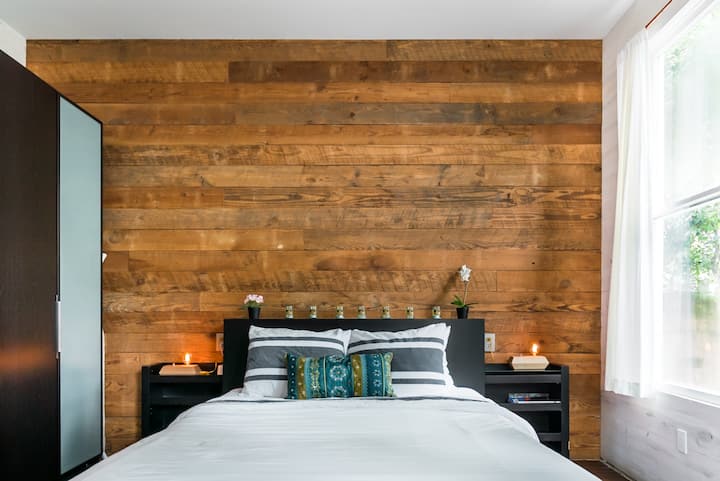 Revitalized 19th Century Riverwalk Home
King William neighbourhood, as mentioned above, has its own collection of revitalized apartments, one of them being this Airbnb. Located just one block away from the Riverwalk, this apartment is everything a tourist would need and love. Original and vintage artistic elements juxtapose themselves with a modern touch, contemporary artworks and aesthetic colours, making this place a heaven for groups of four. The place offers a living room, a full kitchen, two bedrooms, a full bathroom and a patio. Superhosts Jim and Debbie are cordial and friendly and will actually be available on the property so that you can contact them whenever you want. Cook your meals in the amazing kitchen, lounge around in the living room and use the patio to unwind and relax – the place definitely feels like a home!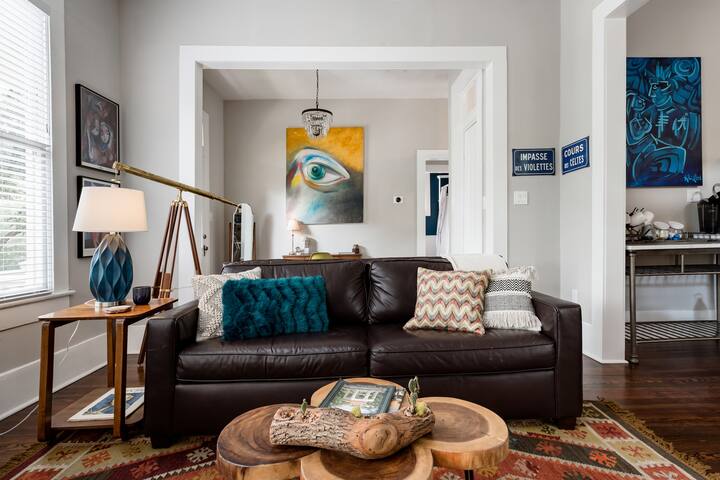 Butler's Attic in Refurbished Century Home
A neighbourhood of beautiful houses, Tobin Hill hides an amazing Airbnb in its folds. It is a contemporary and renovated attic. It belongs to a beautiful 1910 house and comes with an open-concept layout, which is filled with slanting ceilings, pastel walls and every single necessary amenity you can think of. It features a living room, a bedroom, a full bathroom, a full kitchen with a dining room and a utility room. There's a TV, high-speed WiFi as well as a coffee maker, a washing machine and dryer. Since there are also some long-term tenants living downstairs, there are some rules you'll have to follow. Superhost Chad will not be available on the property but makes sure that each stay is as best as possible – maybe, even better than that!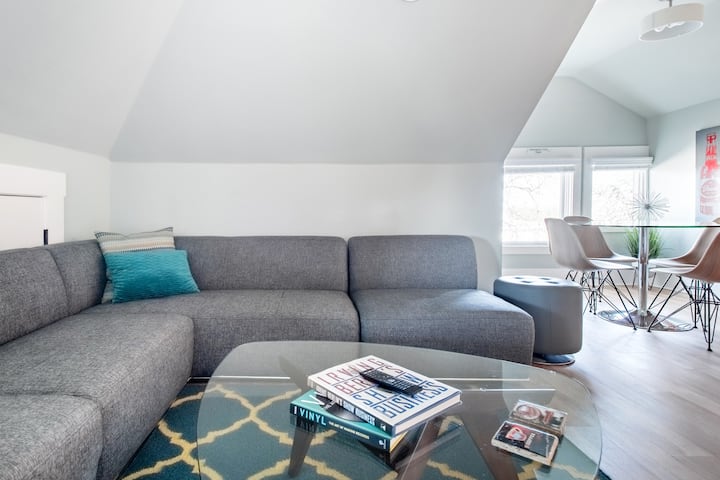 Luxury Home only Three Minutes from Riverwalk and The Pearl
This Airbnb is located in one of the trendiest districts of San Antonio – Pearl District. It is a huge place, able to accommodate around ten guests quite comfortably. The place features a living room, a full kitchen and a dining room, three bedrooms - with a king bed, a single bed and a bunk bed and a queen bed respectively – two full bathrooms as well as front and back gardens and a cosy patio. Not only is it child-friendly, with children's books and toys, but also has something adults will enjoy, including a hot tub and a fireplace in the living area. Superhosts Kendall and Nichellie are friendly and thoughtful, which reflects in the way they have decorated and maintained this lovely Airbnb.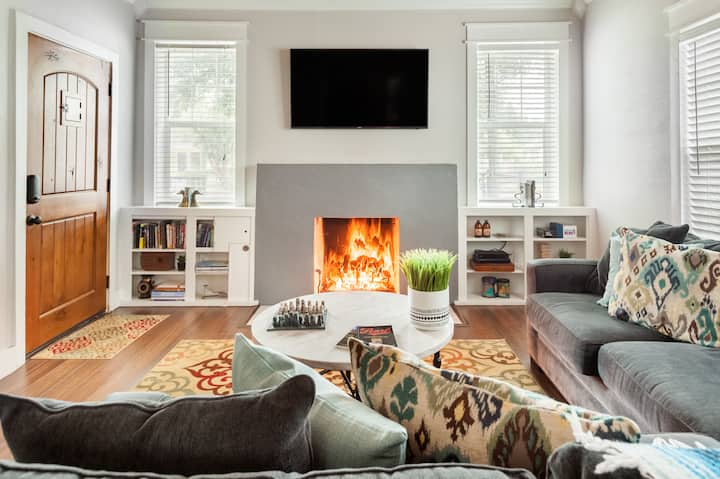 Walk to Pearl Brewery from An Apartment in A Historic House
Looking for a place in a calm and quiet neighbourhood in San Antonio? Then you have stumbled on the right Airbnb! Quite close to the San Antonio Museum of Art, this place comes with a living room, a full kitchen and a dining room, three bedrooms and two full bathrooms. The outdoor space is tastefully decorated, which comes with a self-check-in and private entrance. Pastel hues, minimalistic artworks and wooden panelling are the aesthetic features of this old and historic house. Superhost Fernanda has done a great job remodelling the place, which looks straight out of a modern fairy tale. With its strategic location, modern upgrades and traditionally elegant charm, the place promises to offer a comfortable living experience.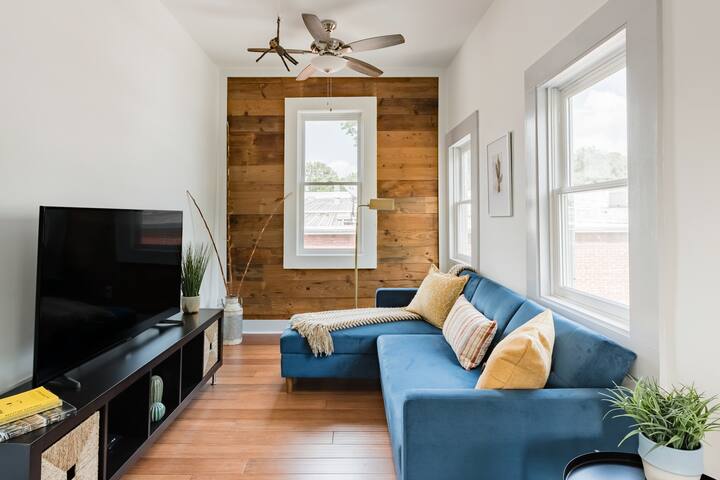 Explore the River Walk from New Designer Retro-Chic Home
Located in Dignowity Hill is this amazing and aesthetic Airbnb, designed to provide a classic and comfortable living experience. The place can accommodate up to nine guests at a time, complete with modern amenities, mid-century furnishings, locally sourced art and blue and yellow shaded walls. There's a living room, a full kitchen, a dining room, three bedrooms and three bathrooms and not to forget a utility room. Some outdoor furniture adorns the space outside, where you also get a covered area for parking. Superhost Ana Rebeca is thoughtful and includes a welcome package that includes "local tips and hidden gems!" Conveniently close to important places in the city, you can cook in this Airbnb, do your laundry and lounge around watching Netflix – it'll become your home!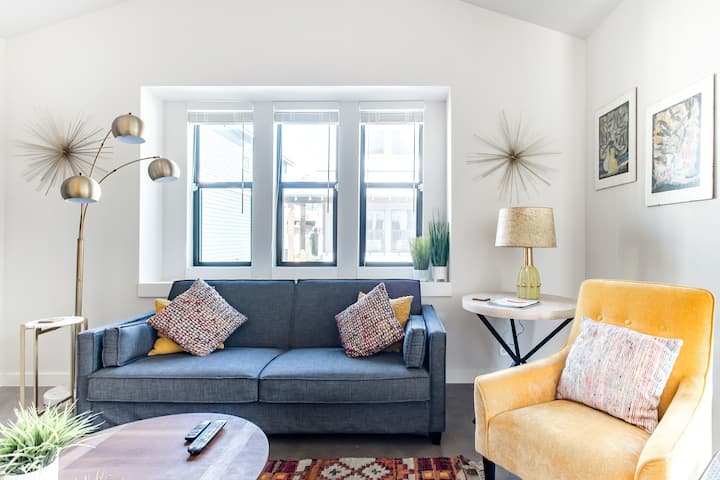 Casita Delmario
San Antonio's Denver Heights is blessed with a number of beautiful places to live – and one of the best Airbnb seems to be Casita Delmario. One to three adults can live comfortably at a time in the Airbnb, which boasts of a sleeper sofa, a queen bed, along with a fully-equipped and well-stocked kitchen and smart TV. Casita Delmario, with the ratings of 4.98, is hosted by a local and 'Superhost' Josh. The house gives off modern vibes, with its white-and-grey themed décor, neon blue chairs by the entrance and the list of amenities available for the guests to use. It is right in the middle of the city, meaning you'll get a cosy home to call your own while exploring the area.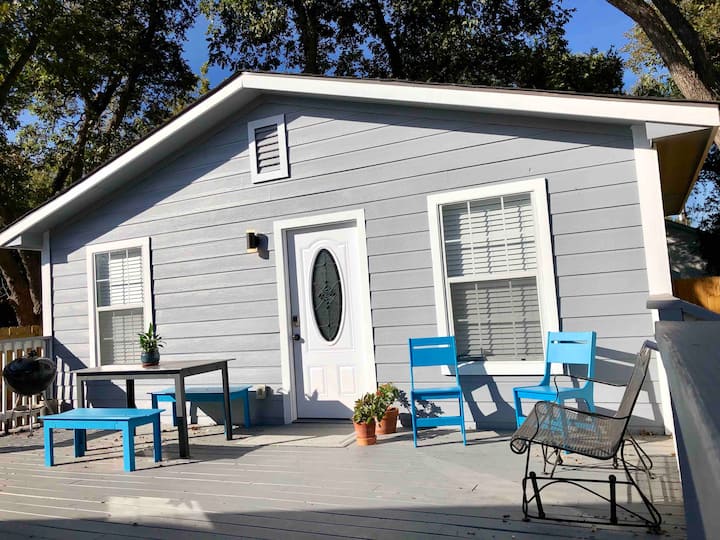 Quality British Tent
Now living in a tent could a regular way of living, all thanks to Catherine Covita, a local and 'Superhost'. This Airbnb is a quality tent, located on an expansive 5-acre estate, Deerhaven Retreat. Since the canvas of the tent is British-made, the house is perfectly sturdy and able to withstand every weather. The tent is spacious, having a large Queen bed, 2 convertible futon chairs and fast WiFi. A little distance away stands a private and properly sanitized bathroom, complete with hand shower and a soaking tub. A fire pit is provided near the tent, along with a shared BBQ-picnic area. The place has an additional appeal for nature lovers, as this oak-tree-shaded Airbnb lies comfortably amidst thriving wildlife.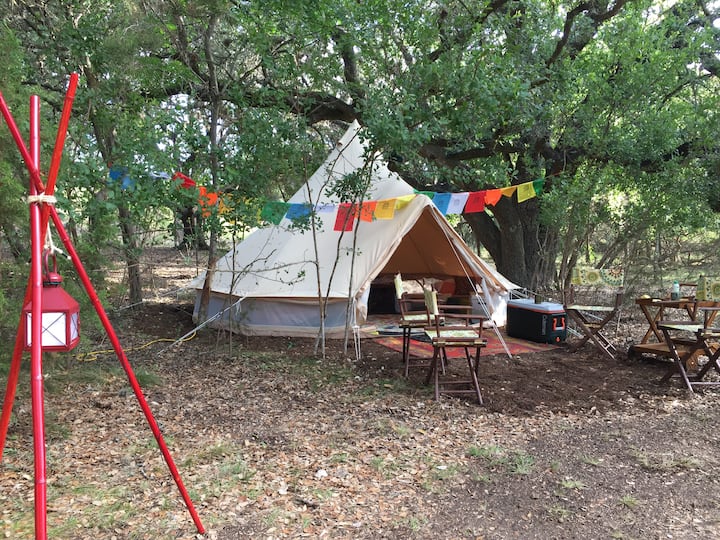 Red Oak Bungalow
Who wouldn't want to live in a property which will be quite central to most of the attractions of the city they are in? That's what Red Oak Bungalow in San Antonio – conveniently located and absolutely amazing! The property contains 3 bedrooms, full kitchen, a laundry area, 2 full bathrooms and last, but not the least, a modern lap pool, built in 2018. The yard has a small house, which has a comfortable hot tub for your ultimate relaxation. The 'Superhosts', Tess and Randy, make sure that the pool is heated during the winter season. The amazing property is located in an efficient and safe neighbourhood, complete with grocery shops, restaurants and big parks– which works like a cherry on top!
Yellow Door Apartment
Located just a short distance away from Pearl Brewery is a beautiful Airbnb apartment, Yellow Door Apartment. It is one of those properties which are conveniently close to many exciting attractions, making it one of the best choices to live in San Antonio. This historic place is almost 100-year-old, where you can rent a private room, which is extremely cosy, modern and packed with amenities. The 'Superhosts', Lacy & William, are amazingly hospitable and are quick to fulfil any of your requirements. Their dogs are equally friendly and quiet – one of them might just come to help you unpack, if left unsupervised! The Yellow Door Apartment is all about the promise of a home in San Antonio.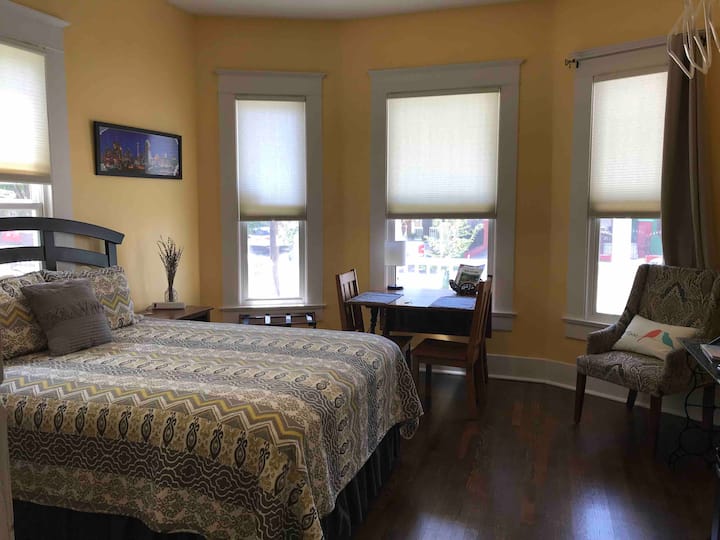 Grey Forest Cottages
On the outskirts of San Antonio, is a historic, quaint little Airbnb, called Grey Forest Cottages. Rated 4.94 on the website, it is a historic limestone loft, giving off rustic but relaxing vibes. It is located just beside the main house, which belonged to Robert Wood, one of the popular landscape painters. You'll get to live in his actual art studio upstairs, transformed into a beautiful bedroom, complete with a number of windows, a King-sized bed and a shiny, tin roof ceiling. The downstairs comprises of a living room, a well-stocked kitchen, a renovated bathroom and big French doors to step into the rock-courtyard, filled with shady trees, a rock fire ring and a waterfall fountain. Hosted by a local and 'Superhost', Kate, Grey Forest Cottages is a rocky but comfortable paradise to live!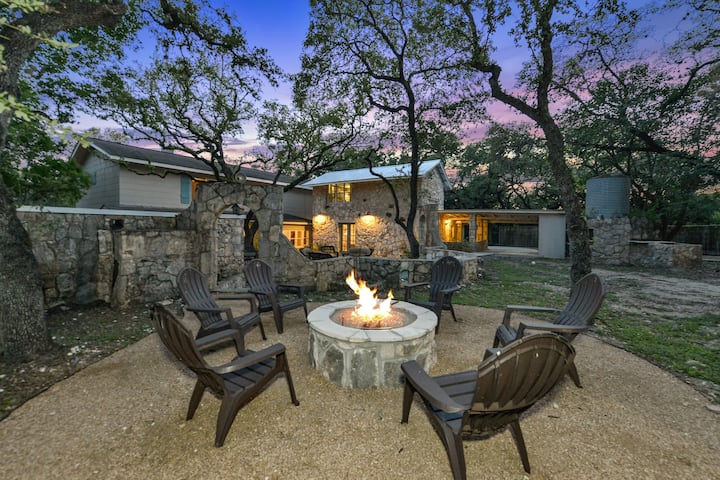 Comfortable 1950s Family House in a Park-Like Setting
San Antonio's Airbnbs range from historic and vintage to modern and vibrant. This Comfortable 1950s Family House falls in the latter category. Located just a short distance away from the San Antonio International Airport and North Star Mall, the place is just teeming with vibrant colours and an inviting atmosphere. It can comfortably host 8 guests at a time and features three bedrooms, three bathrooms and an average-sized pool. Additional facilities include access to the backyard, which comes with a covered patio and an enclosed Florida room. This beautiful confluence of orange, blue, white and mesmerizing artworks is brought to you by Esteban, a world traveller and one of the 'Superhosts' on Airbnb.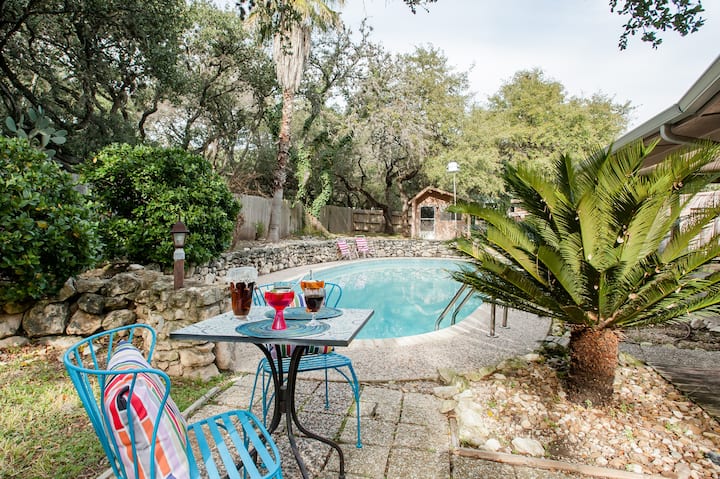 Architect Renovated Historic King William Home
This amazing Airbnb, called Architect Renovated Historic King William Home, is located in the historic King William neighbourhood. It was built in 1907 and has been given a breathable renovation by the 'Superhosts' and architect-builders, Ryan & Ashley. The house can hold up to 12 guests, which doesn't include the guest suite and the backhouse, present in the premises of the property and which can be rented separately. The house features a living room, a dining area, with a wall-to-floor sliding window and four bedrooms, five beds and four bathrooms. The original brick walls and vaulted ceilings now hold modern wood furniture, contemporary art and inviting vibes, standing amidst the cool shade of surrounding trees.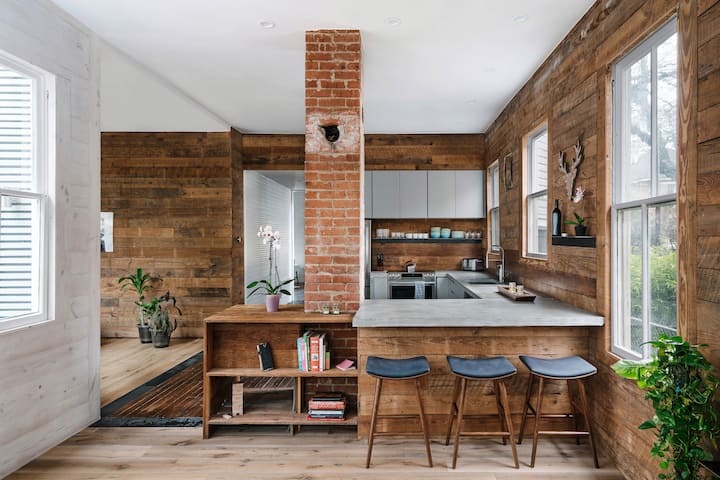 Upscale Historic Home
How would it feel to experience living in an ultra-modern setting? To answer this question, you'll have to choose this amazing Airbnb in San Antonio – Upscale Historic Home. Located at a walking distance away from The Pearl, it is a tastefully decorated place, featuring four amazing bedrooms, six beds, three bathrooms, a utility room, a well-equipped kitchen, a living room and front and back gardens. The place is ideal for a group of ten – however, it can be paired with the Superhost Kyle's Guesthouse to have 14-15 people living comfortably. Contemporary arts and fixtures adorn every corner of this place, where you can enjoy a luxurious and relaxing time with your loved ones.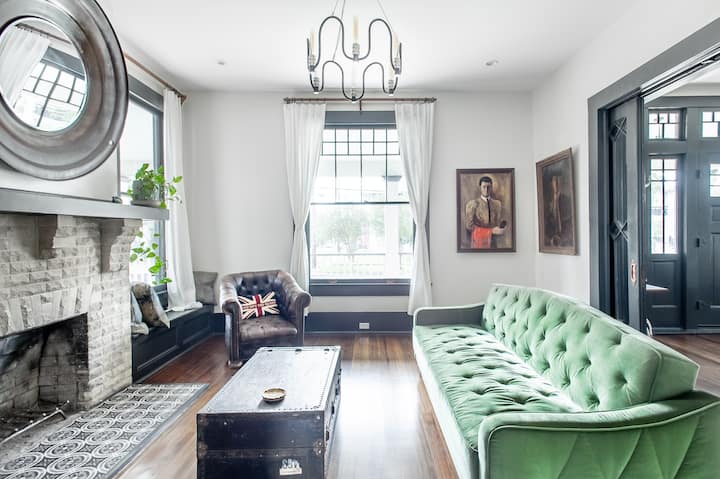 Rositas Home Rooms
If you need to feel at home in San Antonio - somewhere far away from your home - then Rositas Home Rooms are the best way to experience that. There are three Rositas Home Room, rated 4.87 on the site, all of which are hosted by a lovely local, Rosa, who makes it a point to keep her Airbnb clean, hospitable and simply amazing. People who have lived before actually come back again – and then again – which has led Rosa earning the badge of 'Superhost' on the site. The rooms are nicely maintained, well-lit and have a couple of fast food joints in the vicinity. There are certain restrictions but those are negligible as compared to the seamless living experience Rositas Home Rooms provide.
Downtown Convenience in A Historic River Walk Loft
Looking for an amazing stay in San Antonio? Well, stop looking – this is one of the most amazing Airbnbs in the city. Located in King William district, this Airbnb is a loft, complete with a living area, a kitchenette, a bedroom and a full bathroom. Ideal for two people, the place is situated right in the middle of San Antonio attractions, including the River Walk, the silent and historic neighbourhood and downtown's best spots. The backyard is equipped for enjoying a barbecue, whereas the entrance has free on-street parking. Thanks to Superhost Shelley, the place – characterized by soft shades, wooden décor and minimalist adorning - is always spectacularly clean. This Airbnb is definitely a beautiful choice, not only because of its safe neighbourhood and convenient location but also because of its elegant living experience.
The Elvis Room/red Room
If you even remotely like Elvis, then this Airbnb is perfect for you. Located in the vicinity of Riverwalk and The Alamo, this houses a Sears house, at least a hundred years old. The place available for you is the second-floor room, which not only has a number of windows but also is themed around Guitars and Elvis. The room is coloured in red and black shades and contains two beds and basic amenities, including washing machine, the two shared bathrooms and kitchen, whose access will be granted upon request – however, you are free to use the front porch for relaxing anytime. Superhost Jana is extremely particular about keeping the place immaculate and as hygienic as possible, meaning that you are in for a clean and comfortable stay.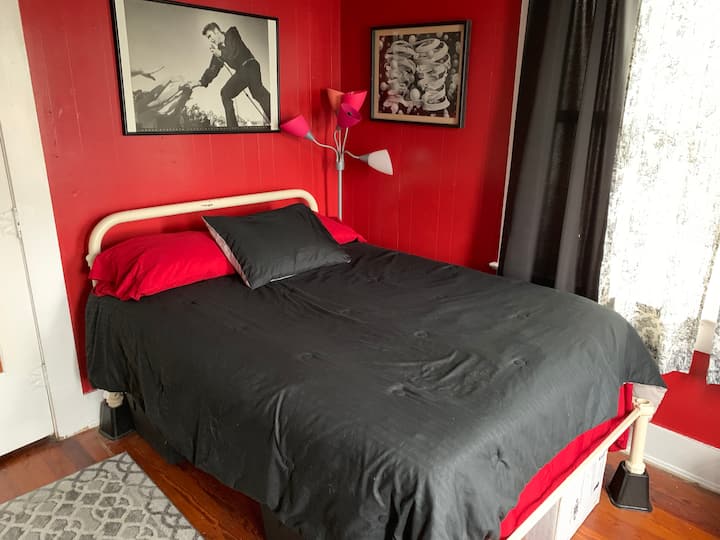 Meowgical Mermicorn
Even the name of this Airbnb is enough to pique interest in this amazing place. Located just at a little distance away from Mission Reach Riverwalk, this backhouse features minimalist artworks, tall ceilings, sleek design of the space and soothing shades of black and white. The place has a small kitchenette, a bathroom and two comfortable beds. The kitchen not only has a stove where you can cook your meals but also has a microwave, dishwasher and even a small but proper dining seating arrangement. The washer and dryer – white in colour as well – are accessible at any time during your stay. The place is also pet friendly but will charge an extra fee for your furry friend. Superhost Natalie is friendly and informative when it comes to San Antonio's best places for everything.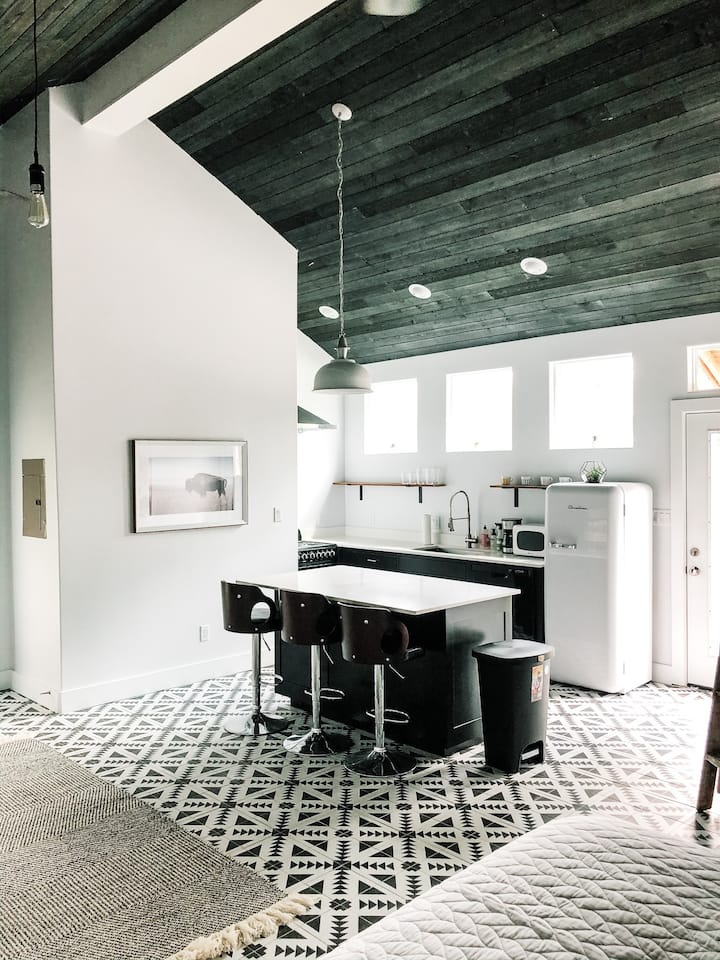 Studio Private Entry-Breakfast + Snacks
Superhost Raquenel knows the importance of breakfast and therefore, includes it in the features of her Airbnb. The studio is actually a renovated double-garage, whose entrance is on Whitson Street through the private backyard. Two queen beds, a bathroom, and some necessary kitchen appliances adorn the space, where you also get other basic facilities, including a Cable TV, dedicated workspace and high-speed WiFi. This Airbnb comes with breakfast services and also provides additional snacks – which is one of the best things about this place. You can also access the backyard patio, which is decorated with your convenience in mind. Not only the studio is always thoroughly cleaned, but space itself is cosy and tastefully decorated – a perfect stay, you might say!
Casita Ybanez at Mission Reach
This Airbnb is actually located in an area of one acre, just minutes away from Mission San Jose, which is largest of the five Missions, all being the only UNESCO World Heritage Site in Texas. A cosy cabin in the middle of greenery, Casita Ybanez comes with a queen-sized bed, a full kitchen and a bathroom. The screened-in porch is perfect to enjoy the BBQ grill and the one acre of surrounding nature, which is sprinkled with running and cycling trails and even the swimming pool. The place is perfect for two people and even more special if they are avid nature lovers or outdoors people. Superhost Armando makes sure that your stay is as amazing as possible, leaving helpful notes of the Casita and even San Antonio.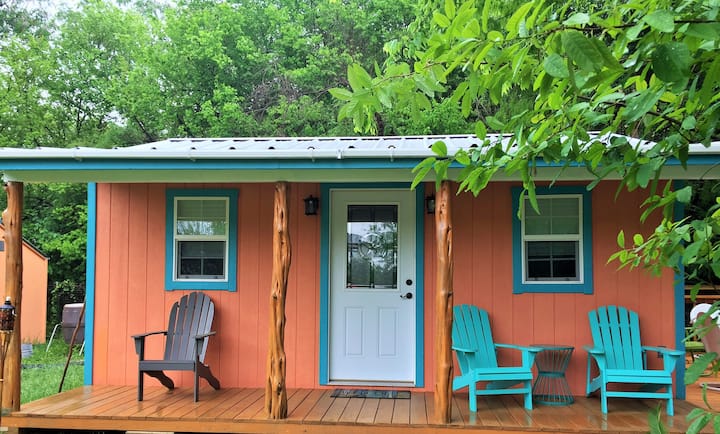 San Antonio's Airbnbs are available in an impressive variety too, where you can choose the one which fits your travel style, personality and more importantly, your budget. A curious confluence of historic and modern, elegant and affordable, all of the Airbnbs of San Antonio offer an amazing living experience.