15 Best Airbnbs in Pittsburgh
See also: 15 Best Hotels in Pittsburgh
Pittsburgh already has its own set of amazing attractions – and now, it's slowly but steadily making itself known for its unique and affordable Airbnbs. There is a whole range of it – from being located in the heart of the city to a quiet getaway, from living in a lavish, modern apartment to a renovated factory – and all of them really do offer a perfectly seamless living experience. And what's more, the price range of these Airbnbs is pocket-friendly!
Affiliate Disclosure: As an Airbnb Associate, we earn a small commission when you book through links on this page.
Adorable North Side Carriage House
Not only most of the Airbnbs of Pittsburgh are amazing but also are centrally located. This adorable Airbnb is one of those, where you have to walk just a block away from all the North Side attractions. The entire house is about 800 square feet, but with the help of thoughtful planning and designing, groups of four can live here rather comfortably. The house is a beautiful blend of white modern walls and exposed brick walls and is decorated with wooden décor and useful amenities. These walls house a well-furnished living room, a kitchen, two bedrooms, three beds and one full bathroom. Superhost Daniel lives nearby and along with solving any problems you might face, promises to provide a beautiful living experience.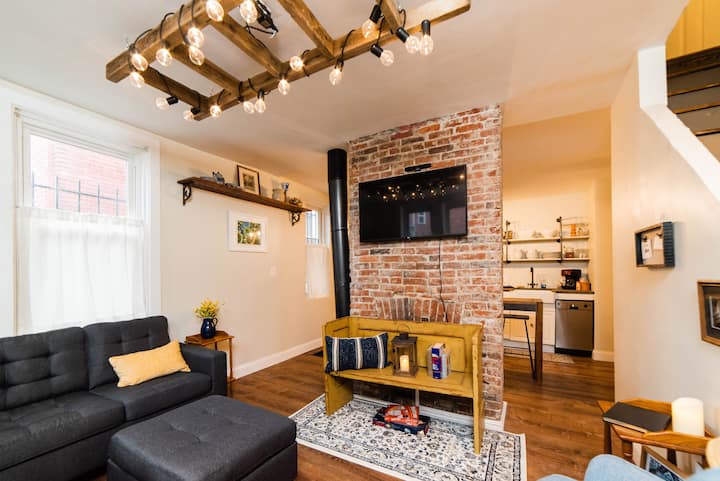 Pittsburgh's only Tiny House
There is an abundance of Tiny Houses in and around Pittsburgh, but for it to be listed as an Airbnb is a pleasant surprise! Located in the Beechview neighbourhood of Pittsburgh, this Tiny House provides a tiny but unique living experience. The 200 square feet main floor features a living area, a full kitchen and a full bathroom. There are two sleeping lofts, one of 64 square foot with a queen-sized bed and the other of 32 square foot having a comfortable twin bed. The house, perfect for five people, has a full pantry cabinet and also comes with a clothes closet with bars and multiple shelves. Superhost Casey's tiny house is blessed with 200 square foot of private courtyard around it, where you can use the outdoor patio and gas grill.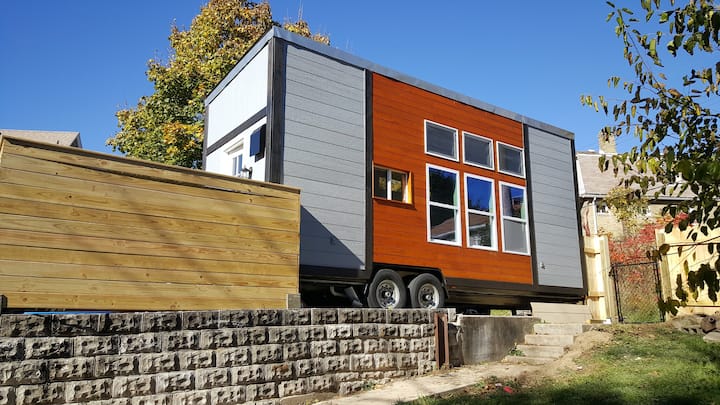 Former 1895 Electric Shop House
You have tiny houses and factories as Airbnbs in Pittsburgh – now get ready for living in an electric shop. This Airbnb, located just half a mile away from Heinz Field, is a renovated house, promising modern and chic living experience. The house features a living room, full kitchen, dining room, bedroom and full bathroom as well as ample outdoor space and a patio. The structure's industrial past peeks in through the aesthetic off-white walls, white quartz countertops and ultra-modern fixtures. Superhost Greg keeps the place clean and stocked with modern amenities, including iron, hair-dryer and not to forget high-speed WiFi. The neighbourhood is brimming with things to do and places to visit, including shops, restaurants and entertainment options, offering a wholesome living experience.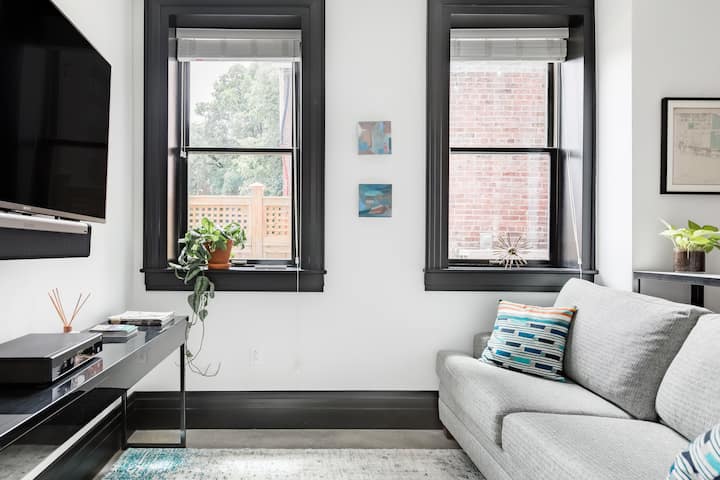 The Ultimate Urban Loft
The Strip District can be said as the trendiest neighbourhood of Pittsburgh, featuring amazing shops, restaurants, cafés and bars and not to forget the unforgettable nightlife experience. This Airbnb, located in this district and hosted by Superhosts Cathy and Jerome, therefore, comes across as an amazing catch! It is ideal for four guests and has a beautiful open floor plan, with high ceilings, huge windows, hardwood floors and exposed brick walls. You get access to the entire loft, which comes with a living room, a well-stocked kitchen, a bedroom with a queen bed and a full bathroom. Modern artworks adorning the walls and the inclusion of a number of amenities makes this place even more appealing and charming!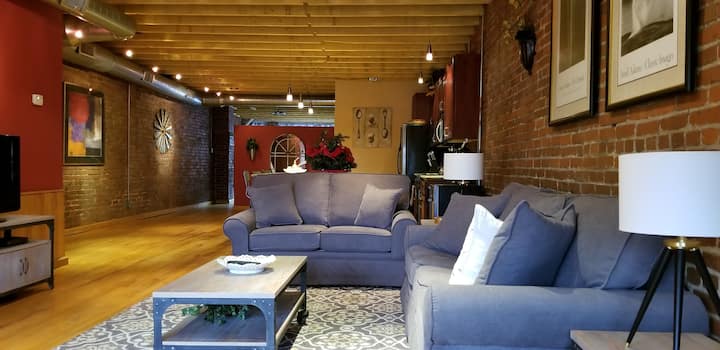 Pittsburgh's Bella Vista
Located in the park district of Mt. Washington is one of the best Airbnbs Pittsburgh has to offer – Pittsburgh's Bella Vista. The entire house can be rented at once, which comes with four spacious bedrooms, three full bathrooms and a well-stocked kitchen, which is a huge space and comes with everything the chef inside you might need. It also boasts of a number of windows, an indoor fireplace, a huge TV projector and a game room, filled with heaps of games for you to entertain yourself with. The house also has two amazing decks, furnished with cosy chairs, offering picturesque views of the city. Comfort and inviting vibes ooze out of Superhost Gene's Airbnb, perfectly ideal for groups of eight.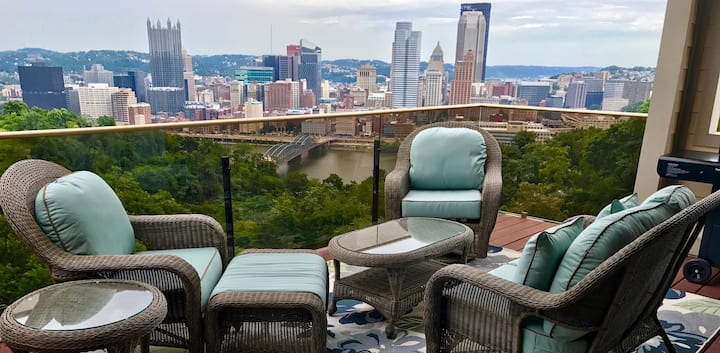 Hamilton 'Poet's Library' Flat
This Airbnb, located just at a little distance away from Heinz Field, comes with a history never heard before. The building was the home of William Hamilton, who manufactured and shipped coffins for the war. It was Birgo Realty who decided to renovate the entire place, without compromising its original historic charm. Superhost Shannon turned her flat into a Library-themed place, so as to celebrate Irish poets of Mr Hamilton's time. The Airbnb nicknamed the 'Poet's Library', comes with a beautiful living area, a bedroom with a queen-sized bed, a well-stocked kitchen, dining room and a full bathroom. Guests can also access the lounge, common for the residents of the building. Complete with wooden floorings, beautiful artworks and unique décor and its strategic location, the Airbnb is a perfect blend of vintage and modern!
Stylish Vibes in a Renovated Flashlight Factory
How would you like living in a renovated flashlight factory? No, it was not a joking question! This Airbnb - located in Allegheny West, the historic neighbourhood of Pittsburgh – is a stylishly dreamy place. The loft has a tastefully decorated living room, a full kitchen and dining room, a bedroom and a full bathroom. There are obvious tellers of the factory, such as the exposed brick walls, hardwood floors, and industrial-décor of the place, but even then, you won't believe they are living in an actual – though renovated – factory. Superhosts Elaine and Mitchell will be present on the property, ready to answer each and every query of yours and recommend great dining, entertainment and shopping places nearby.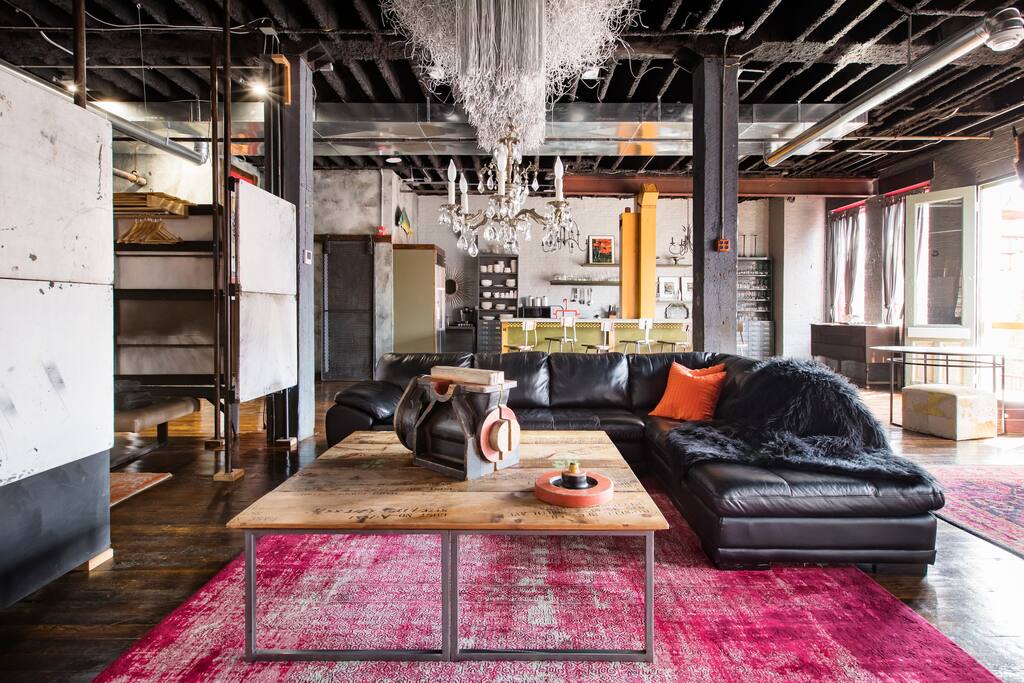 Exquisite 4Bed/3.5Bath Home W/Garage +Rooftop Deck
The Southside area of Pittsburgh is blessed with quality Airbnbs – and one of those is this Airbnb, an exquisite home, filled with many admirable facilities. This elegant house is of four levels and consists of four bedrooms, one of which is doubled as a living room and a kitchenette/wet bar. The other bedrooms have two queen beds, two queen futons and a full bed – all of which can be used to accommodate around 10 guests. You will also get access to a well-equipped kitchen, three amazing full bathrooms and a walk-out rooftop deck, providing picturesque views of the surroundings. Not only does it come with a garage and two free off-street parking spots, but is also located quite close to a number of great amenities!
Private Large Open Plan Monthly / Long Term
This Airbnb is one of the amazing and cosiest Airbnbs Pittsburgh has to offer! It is a 3-area studio with an open plan – the only door inside the apartment is just for the bathroom. The place has a spacious living room, where you'll find a twin bed, a double air mattress, a small bedroom with a double loft bed and a bathroom. The apartment is tastefully decorated, blessed with lovely artworks and a cosy atmosphere. More than perfect for two guests, you will get your own private entrance, as the apartment is located on the ground floor. It is hosted by Kelly, who lives on the same street as the apartment and will be, quite literally, a call away!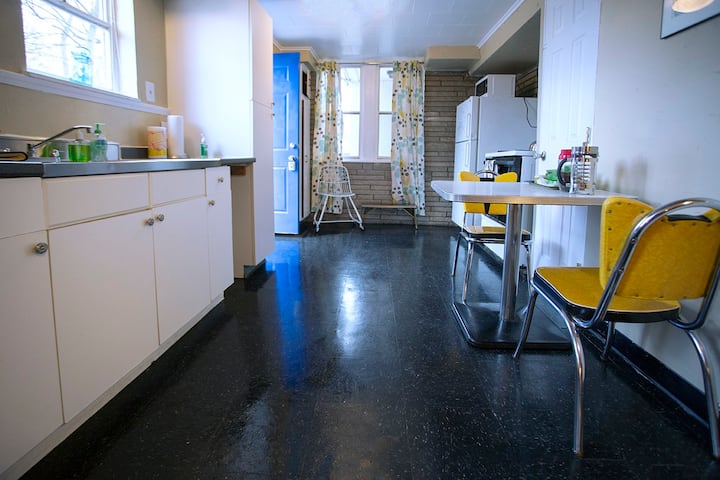 Pet-Friendly Studio + Free Parking
Located near the peaceful towns of Crafton and Green Tree little away from Pittsburgh, this Airbnb is a studio apartment, modern and beautiful. This loft comes with a one-bedroom, complete with a king-sized bed, lounge chair and mounted smart TV, a full bathroom, along with a well-stocked kitchen and dining area. This Airbnb comes with tons of free parking space and what's more? It's absolutely pet-friendly, complete with a dog park and a dog spa! A fitness room, laundry facilities, resident lounge and a pool are other exciting inclusions of the Airbnb – though, to ensure the utmost safety, access to the last two places is not allowed. Full of soothing shades and contemporary artworks, Superhost Shannon's loft is perfect for people with pets.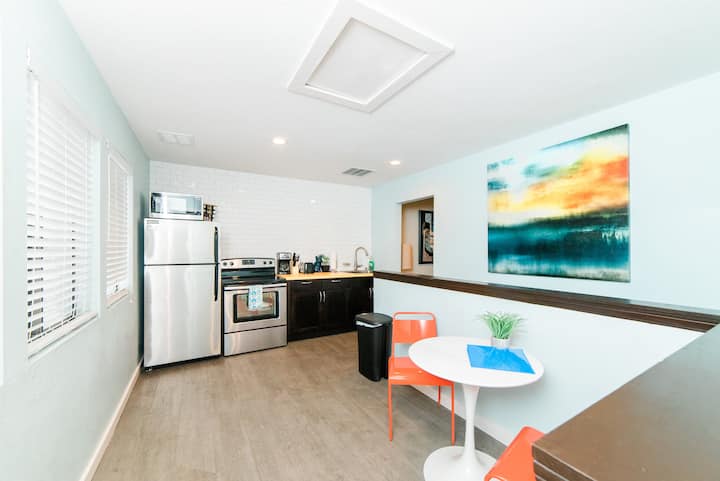 Rooftop Tranquility! 2-Car Garage! Sleeps 2-12
Close to a number of amazing restaurants, bars and other amenities, this Airbnb is the definition of tranquillity in the middle of Pittsburgh. Accommodating up to twelve guests per booking, the townhouse comes with amazing four bedrooms, furnished with five beds, three full bathrooms, a spacious family-style kitchen, 2-car garages and the start of the show – the amazing rooftop deck! The house stretches up to four levels and has an open floor plan, characterized by exposed bricks structure and lovely wooden fixtures. The brown shades of the house are comforting, and with the fourth bedroom transformed into a game room/bar, Jefferey's place is just amazing, promising a relaxing time with your family or friends in Pittsburgh.
House with Backyard Deck, BBQ, Parking
This Airbnb one of those renovated ones, full of southwest vintage charm and modern amenities. The entire house is up for grabs, which comes with three bedrooms and three private bathrooms. Along with that, you are free to use the fully-stocked living area, a well-equipped kitchen and a seating arrangement for six. The best part of this Airbnb is the backyard deck, which has a dining table, BBQ and a sitting lounge area. Superhost Michael keeps his place clean and comfortable and according to the visitors, is extremely thoughtful about how to keep his place impeccable and appealing. It is a perfect getaway for large gatherings, where you can have uninterrupted fun with your loved ones!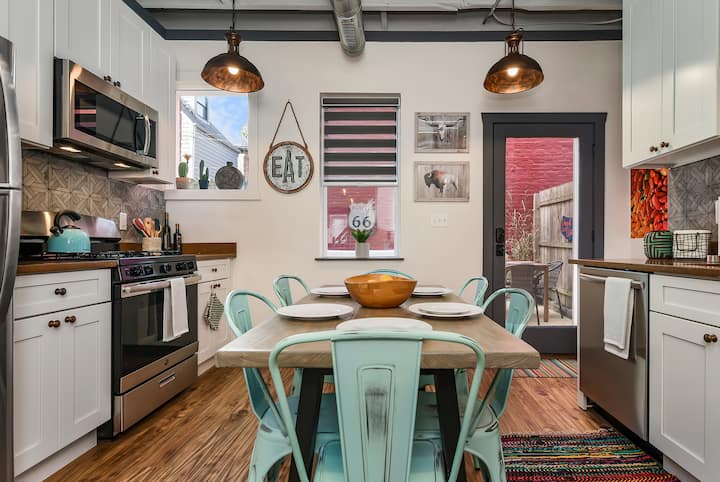 Modern & Bright 1BD/1BR Centrally Located Apt
Even if most of the Airbnbs on here are family-sized – don't let that fool you. There are a lot of cosy gems in Pittsburgh, including this modern and chic Airbnb. It lies close to the Monongahela river, meaning all of the South Side's facilities are literally at its feet. The apartment has a beautiful living room, with TV, a fold-out couch, a treasure chest-like table and a dedicated workspace. You also get access to the small kitchen, a bedroom, a bathroom and even the patio. The place comes with an actual designated parking space and is perfect for four guests. Superhost Katie is known to keep this place as clean and comfortable as possible and is quick to suggest things to do and places to visit nearby.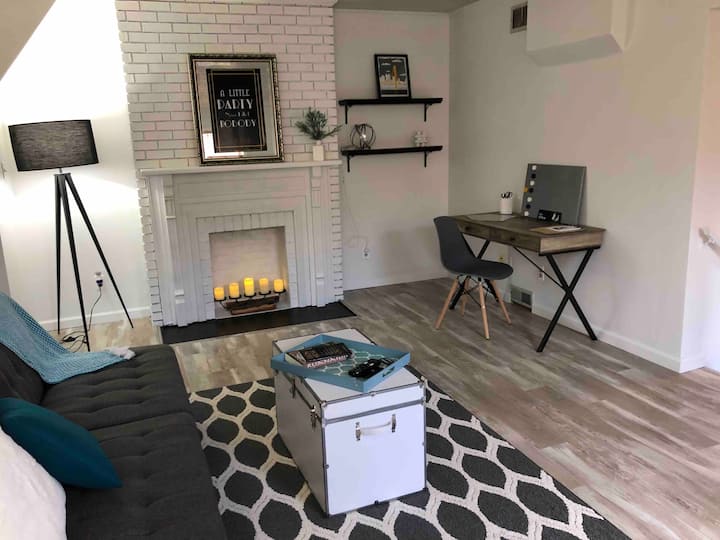 Industrial Vintage Stunner
How would you like to live in an Airbnb which is hosted by the highest-rated Superhost in Pittsburgh? Well, no one is going to say no to that paradisal property! This Airbnb, hosted by Chad, is a beautiful house in the North Side area. It is a two-storied house, complete with a full kitchen, a bedroom with a queen bed and a full bathroom. You can reach the floor above with the help of an amazing spiral staircase – perfect for taking pictures! Modern amenities adorn each and every corner of this Airbnb. To help ease you in, Chad provides a house 'manual', consisting of everything you'll need to enjoy this place, including information about dining and entertainment recommendations around the area.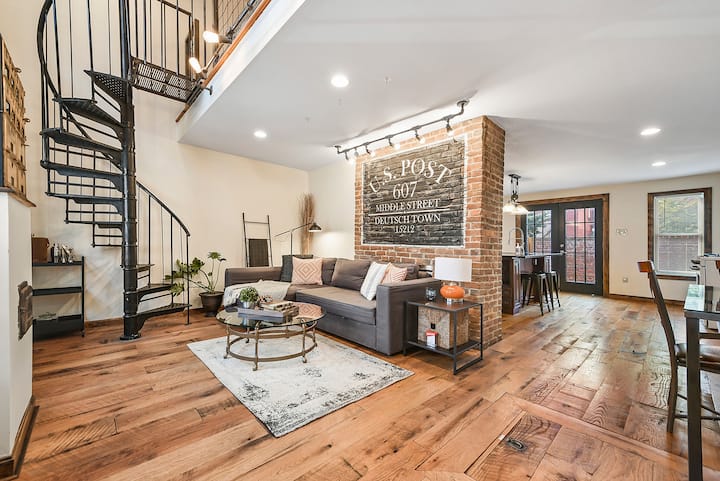 Entire Townhouse in Lawrenceville, walk to everything
Lawrenceville is one of the largest neighbourhoods Pittsburgh has to offer. It doesn't, therefore, comes across as a surprise to see amazing Airbnbs in this area. One of them is an entire townhouse, just a little distance away from Butler Street. This Airbnb consists of two bedrooms, one full bathroom, a living room and a well-stocked kitchen, with dining seating arrangements. A group of five can live comfortably in this three-storied house, which comes with its own private entrance. You also get easy access to parking, laundry and high-speed internet. This tastefully decorated Airbnb is kept thoroughly clean by Superhost Chad. Close to many bars, restaurants and other facilities, this place is quite a catch!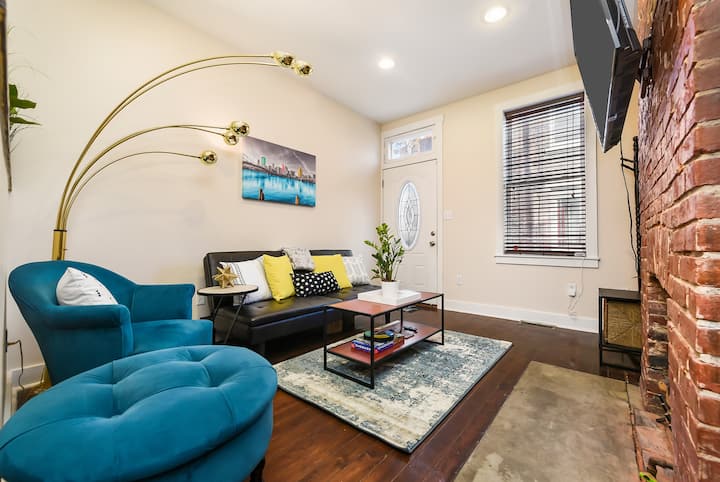 As mentioned above, this Steel City has a pleasantly surprising list of ultra-cool Airbnbs, all of them catering to different tastes. With its gradual development into a proper tourist spot, these Airbnbs comes across as a literal blessing to the people who visit this historic and fascinating city of Pittsburgh.