15 Best Airbnbs in Maui
Maui, a beautiful beach destination is the second-largest island in Hawaii. With its world-renowned picturesque sunsets and views, Maui is popular amongst families and couples from all over the world.
Alongside its stunning beaches and landscapes, Maui is also home to some of the most exceptional accommodations. Whether it is a spacious suite in the centre or a quaint condo by the beach, we have compiled a list of all the best Airbnb's available for tourists who wish to stay in this ethereal destination.
Affiliate Disclosure: As an Airbnb Associate, we earn a small commission when you book through links on this page.
Relax at The Spa in Luxury Cottage
Travelling can get chaotic, dealing with receptions, tickets, planning, and often long flight durations. Therefore, many tourists desire a retreat when they pick an appropriate accommodation. Look no further than this luxury cottage. With a short walk from the beach and various diners and local shops offering delicacies and souvenirs, this cottage is the perfect place to relax and unwind.
One of the cottages' most authentic features popular amongst previous guests is the host's very own saltwater spa. The cottage offers its own private deck and jacuzzi allowing guests to have a drink and watch the sunset.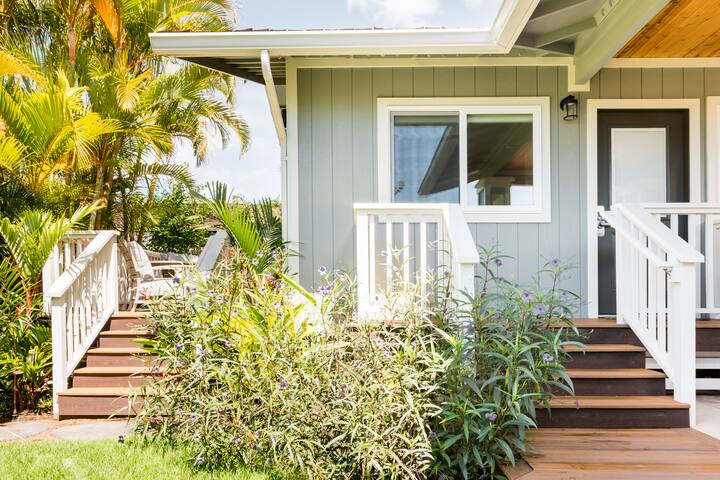 Relish the luxury at the Kulani Maui
Craving the experience of luxury living ? Constructed with natural elements and perfected with cultural interior designing, this bungalow is a modern piece of art in itself. Kulani Maui is situated close to the beach, offering guests picturesque views and opportunities to partake in endless recreational activities, such as snorkelling.
As for the nighttime, there are countless restaurants, bars and clubs nearby offering beautiful food and an evening of entertainment.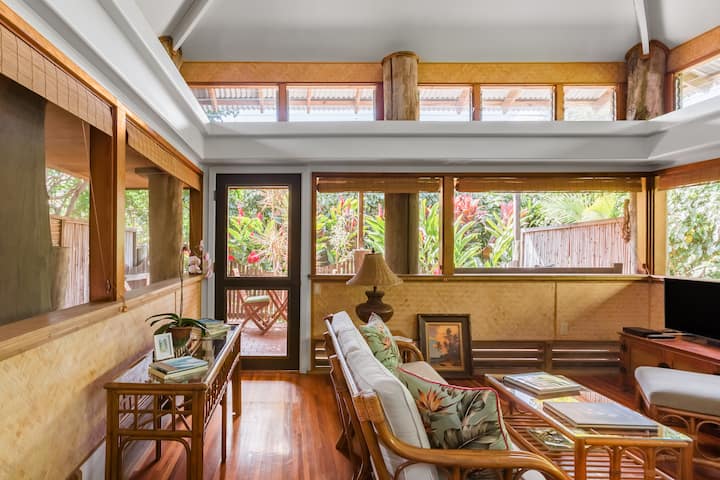 Blue pearl condo a budget friendly experience
This condo offers some outstanding facilities such as an ocean view pool, a spa and modern interior for a reasonable price. Hawaii isn't usually an inexpensive destination, and hotels specifically will be expensive. This condo offers everything a tourist would need from modern appliances and fast service to a breathtaking and accessible location without breaking your bank.
Whether you're travelling alone or with your special someone, due to its close vicinity to the beach, shops, restaurants and all the primary need facilities, it is an excellent choice to consider.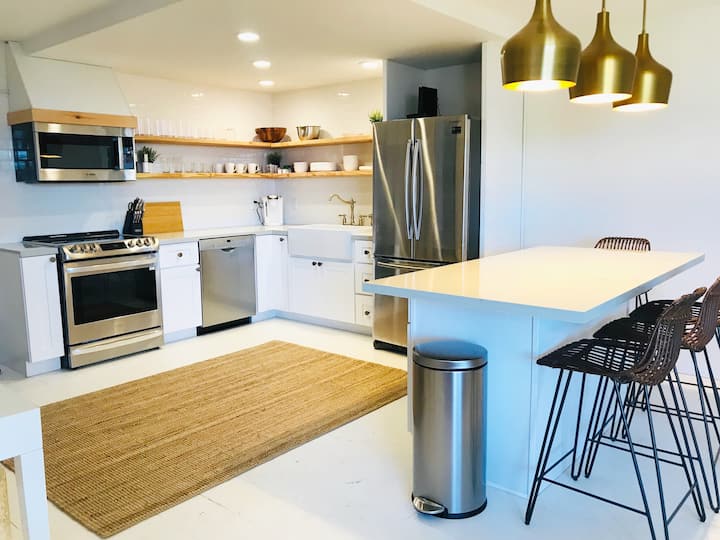 Stay at Vans Maui Suite
This unique camper van allows tourists an authentic opportunity for their stay in Maui. With top-quality appliances and picturesque views, tourists will have everything they require for their trip. This experience allows tourists to have flexibility and control over where they go,  as they can travel through the island at their own pace, with the comforts of a hotel at their disposal.
The host will even stock food preferences prior to arrival to ensure guests are happy and satisfied before they hit the road.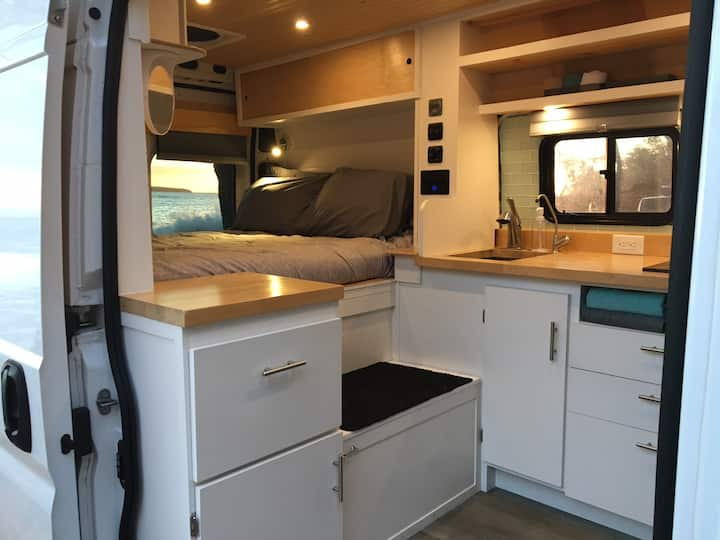 Live Close to Waterfall at Bamboo Temple
This next accommodation is the perfect place for a honeymoon, offering the most exceptional views of the surrounding area. Designed in a Temple structure and made mostly of bamboo, this authentic palace is the ideal place for a unique island experience. It has exquisite decor and expensive top range appliances.
Full of scenic beauty, the location is incomparable, with many recreational activities being available.
Stay Near the Beach at A Tropical Resort
If you wish to stay at the heart of Maui, this next tropical resort is for you. Residing next to the best beaches and finest eateries, this is the best place to try local delicacies. It has considerably good reviews among its previous guests for its breathtaking views and safe neighbourhood. Some of the best facilities of this exotic resort include a heated pool, a spa, and a variety of bars.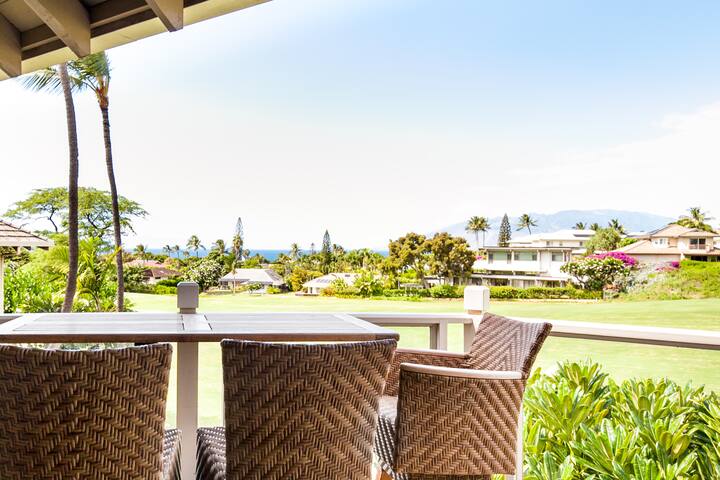 Airy Condo of Kihei
A beachside condo with gorgeous views. Featuring a deluxe pool, spacious interior which is artistically designed and in the vicinity of golf courses, surrounded by beaches and many natural habitats for you to visit. If you are a traveller looking for a place in Maui near beaches, choose this breezy condo as your retreat, it's one of the most affordable Airbnb verified sites in the area.
Looking at the various reviews will help you understand that it is quite popular among the previous guests. Barely a 2 minute walk from the beach with a refreshing spa and a regularly cleaned pool. There are even grocery stores nearby, and all the basic necessities can be acquired from the nearby shops.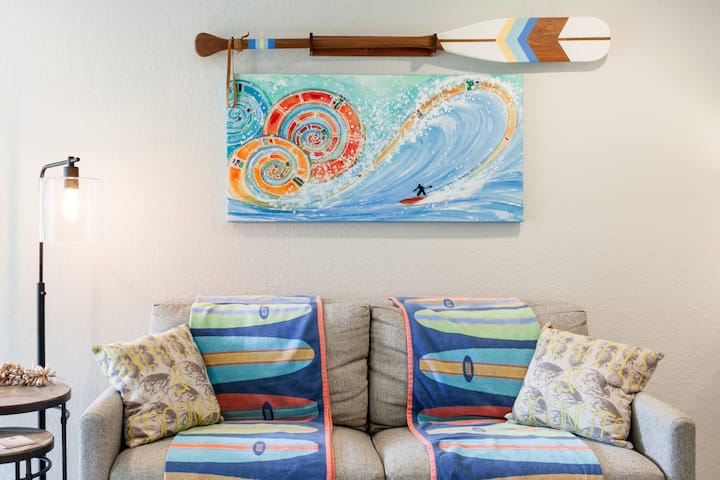 Rent by the waterfront at Paia beach
Best known for being family-friendly, this listing has a five-star rating on Airbnb.
The interior is bright and welcoming, the rooms are spacious, and the accommodation offers 3 separate bathrooms all-around 2000 square feet. Previous guests have praised both the modern furnishings and the location, with an array of shops and fine dining restaurants nearby.
Best known for its family accommodation speciality and the space it provides. It has a five-star rating on Airbnb. The interiors are bright; it has three spacious bathrooms with all amenities required. For those who desire a bit of luxury, if you can afford the expense, then perhaps you need not look further.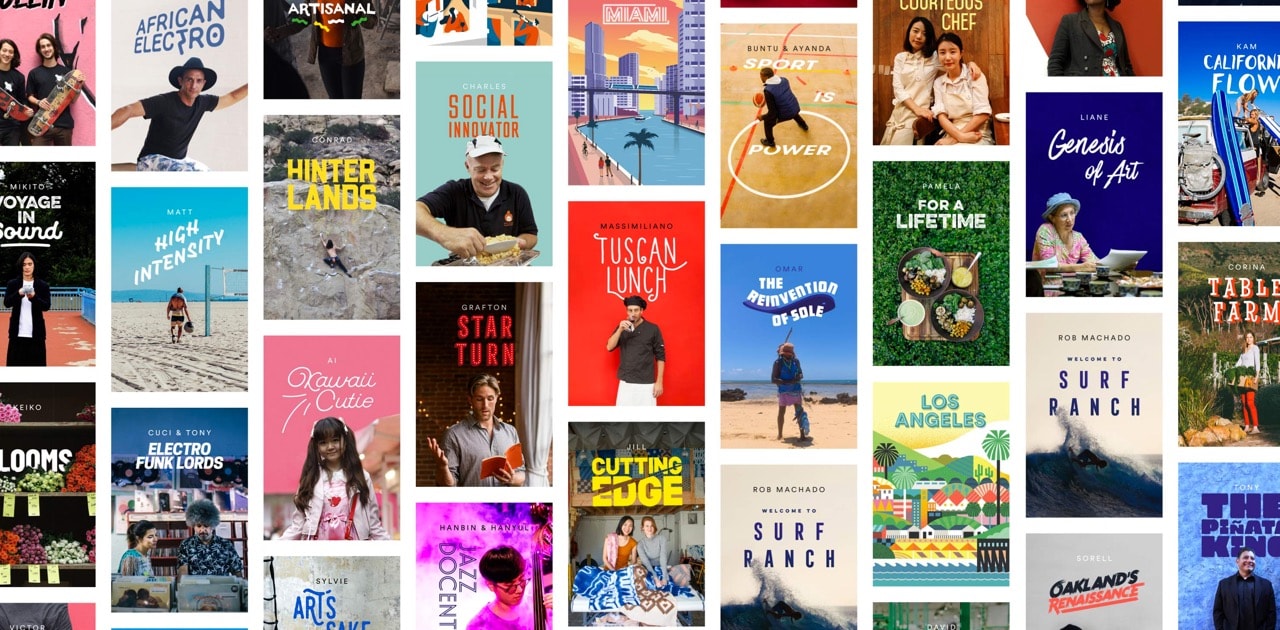 A natural studio at Kihei
Modern, spotless, efficient. The interiors were designed to keep up with current trends. Newly renovated and in close proximity of all the shops and restaurants in the area, this studio is an outstanding value. The beach is but a mere walk away, and public transport is efficient and reliable in this area.
The studio offers an array of facilities, such as laundry services, a jacuzzi, a tennis court and free parking for all guests. Previous guests have rated this studio exceptionally well, in fact  it is one of the most highly rated on this list.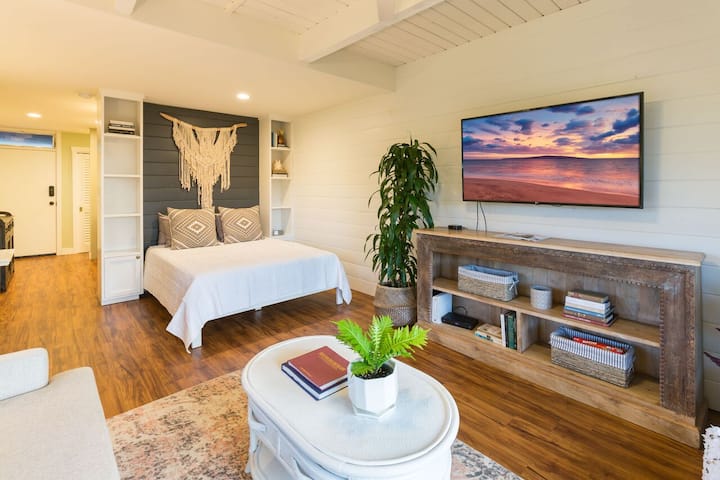 Coastal Themed Resort at Kihei
For all the ocean lovers out there,  the tourists who love to hang out at the beach or the surfers from distant lands who relish riding the waves, this coastal themed resort at Kihei is perfect.
There are a pool and a hot tub in the complex you will be given total access to. If you are travelling with your family, then basic necessities adjustments can be made by the host. It is a homely and accepting resort with friendly staff and an ideal location as it is only a 2-minute walk from the beach.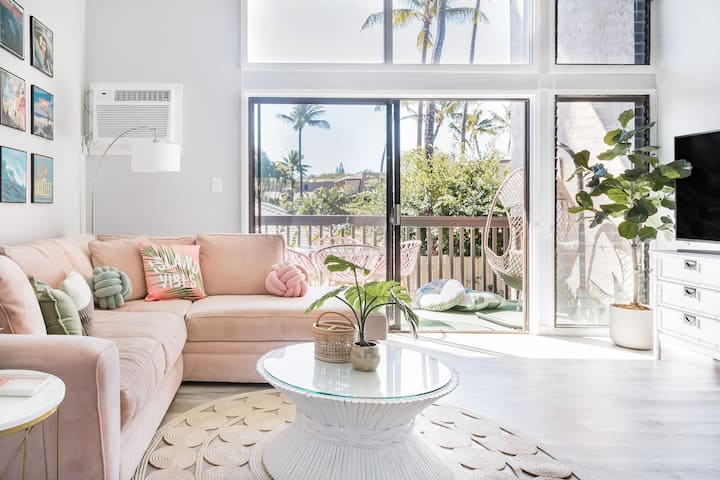 Live in Luxury at Sugar Beach
It's located at the world-famous site known as sugar beach at Kihei. The studio is newly renovated and features stunning views from a personal balcony and a comfortable, cozy bed with modern interiors. One of the special things to note about the space is, there is a resort pool which is shared, as well as barbecue options available.
For nightlife, the studio is only a small drive away from the urban area with bars, pubs and restaurants found everywhere. The studio is also only a short walk from the beach. This listing is well rated by previous guests and is located in a safe and secure area.
Breezy Bunglow at Halama Street
Have you thought about merging the luxury living experiences of the urban hotels and the thrill of adventure in outdoor camping? Featuring ample space, it has three bedrooms, a modern kitchen filled with up to date appliances. The bungalow also has its own private garden and comfortable living areas. One of it's unique attributes is that the rooms are all air-conditioned and the bungalow is solar powered.
The bungalow resides near popular beaches and many hiking trails. Additionally, there is a farmers market nearby, providing guests with the opportunity to buy fresh produce and souvenirs to take home. There are also restaurants nearby both affordable and high end. This listing is perfect for families as it provides ample space and facilities for all ages.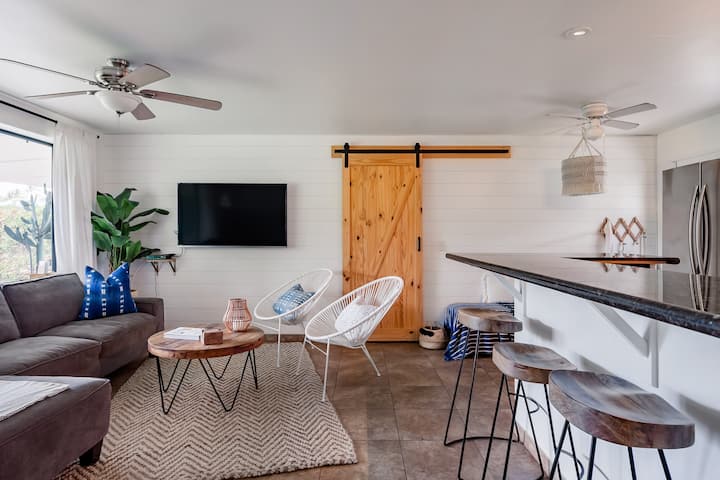 Studio Cabin | Malu Manu
One of the most popular places to stay during their vacation in this region.
This is a place with rich history, dating back to the 1920s. If you are looking for a quiet place to stay then this is a piece of paradise. The  log cabin is 3800 ft high up and provides splendid views of the nearby landscape. Although it is not in the vicinity of the urban and busy area, if you're looking for a personal space away from the chaos of the city, then this is perfect for you.
Oceanfront Apartment at Lahaina
If you are looking for a place with exceptional coastal views then this is a modern designed and spotless apartment located at Lahaina in Maui, is a listing you should definitely look at. It's an Ocean front studio apartment with air conditioning and spectacular decor. It offers guests a luxury living experience and provides a lot of entertainment through the recreational activities available.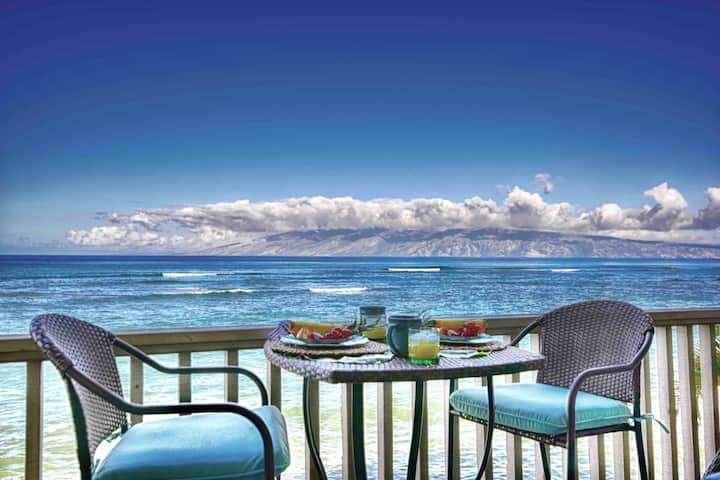 Ocean Resort of Kaanapali
From tennis courts to modern gardens, three gyms,bars with pools and plenty of the recreational activities these are some of the accessible features of Westin Kaanapali ocean resort studio. This place is known for its comforts and various amenities. The resort gives guests remarkable ocean views and perfect picture locations. Good service and friendly staff are also one of its many attributes.