15 Best Airbnbs in Manhattan
New York is divided into five different boroughs – guess which one is the most-visited? (Hint: read the title) It's none other than Manhattan! It is well-known as New York's centre of theatre, visual arts and museums, among other things. This has certainly developed the number of accommodations tourists can select from, including the Airbnbs. With so many people choosing them over hotels and lodges, it is necessary to bring Manhattan's select Airbnbs in the light.
Affiliate Disclosure: As an Airbnb Associate, we earn a small commission when you book through links on this page.
Great Deal - Entire Apartment in Manhattan
The Mount Morris District of Manhattan is blessed with a beautiful Airbnb, fairly close to the Historical Gospel Churches, Studio Museum and Apollo Theatre, among others. It is designed to hold four guests comfortably, where you will get the entire 2nd floor in a historic Brownstone building all to yourself. The place consists of a large living room, two bedrooms - with a bunk bed in the larger bedroom and a full-sized bed in the smaller one – a full kitchen, and a spacious bathroom with a bathtub. You will also get access to common laundry facilities, which are located on the 3rd floor. Superhost Benat's place is an amazing confluence modern and vintage, and with excellent eateries and stores around, it is really a great deal!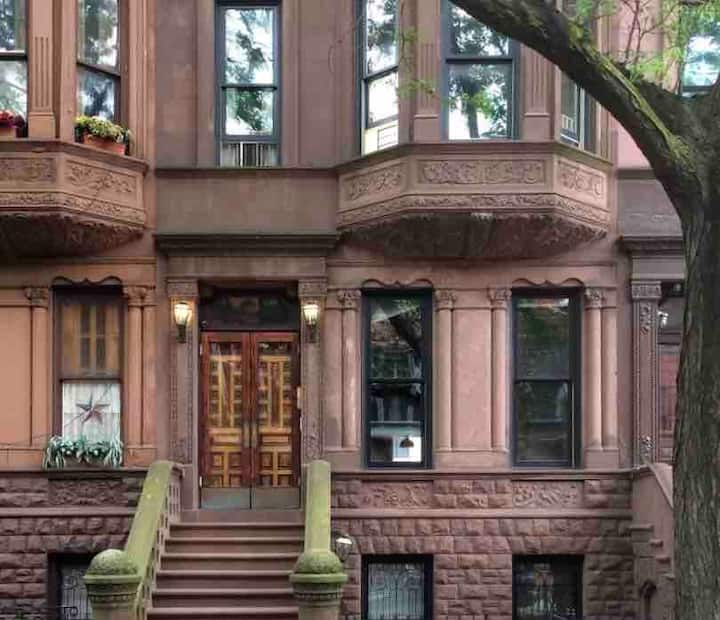 Cosy room in Midtown Manhattan
Getting a cosy room in the middle of Manhattan is a blessing – even if doesn't come with a kitchen. This Airbnb is adorned with a bed, a private half bath and other necessary amenities. Superhost Zena treats all of her guests like a friend and makes sure that your living experience is as smooth as possible. Available in the space is a toaster as well as a fridge – and a whole amazing selection of restaurant and grocery stores around the place. If the bathroom is not good enough for you, Zena also provides a pass to a gym half a block away, where not only can you resume the workout, but also use the gym's shower. This room is one of the best Airbnbs for a tourist in Manhattan!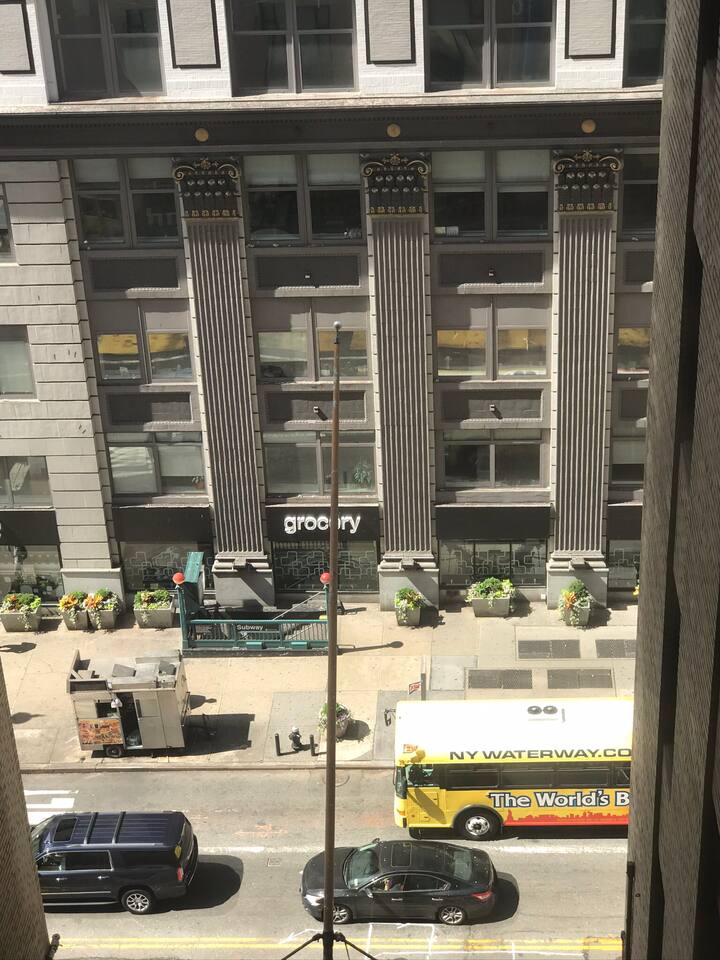 Modern 1 Bedroom Apartment – Trendy & Historic Downtown
Make your way to Manhattan's historic Lower East Side and you will come across this amazingly modern one-bedroom apartment Airbnb. You will get one bedroom, two beds, a well-stocked bathroom and a lovely kitchen. The apartment is appealing in its modern, aesthetic décor and comes packed with amenities, including two AC units, free-on street parking, and high-speed WiFi. Groups of four can live comfortably in the space and can even cook whatever they want, thanks to the well-equipped kitchen. Superhost John is friendly and caters to each and every need of the visitors. He even mentions that you don't have to worry about carrying everything with you – his Airbnb, and the amazing facilities around, will take care of the rest!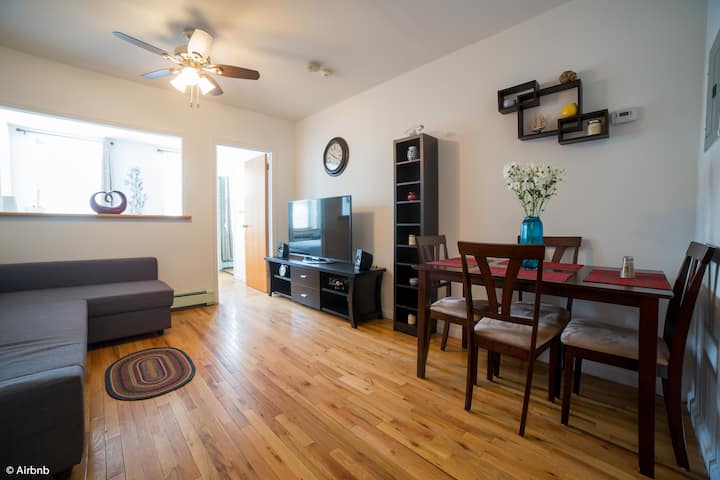 The Small Chateau in the trees
Manhattan's East Village is one of the most dynamic neighbourhoods you'll ever come across – and to get an amazing Airbnb in this place is like a cherry on the top! This Airbnb is a small Chateau, surrounded not by the usual the city noises, but by chirping birds, rustling trees and peaceful silence. It is rather a cosy place, complete with a bedroom, two beds, a bathroom and a kitchen; you'll also get high-speed WiFi, Netflix as well as a coffee maker. The apartment boasts of a French-style Décor, with artworks adorning the walls, large windows for the nature to peep in, and an amazing fireplace. Stefanie Elizabeth's Airbnb also has an amazing selection of dining and entertainment options around, making it a perfect getaway for two people!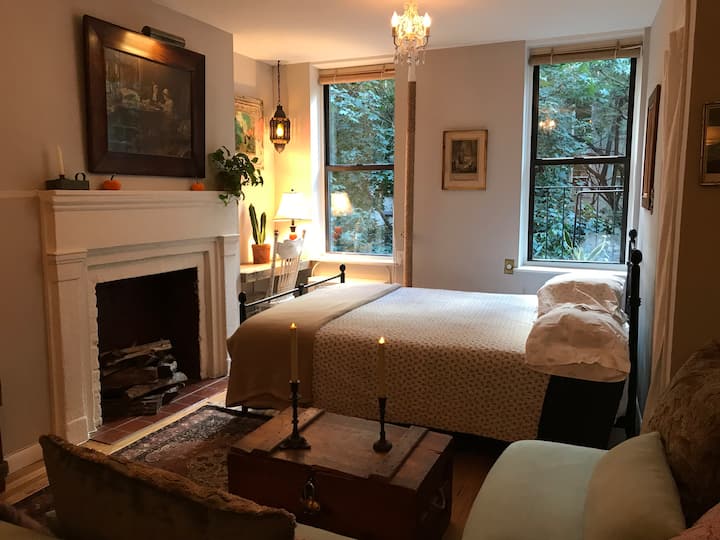 Charming Artist's Flat, East Village
Right in the heart of the East Village, you will find this charming Airbnb, providing an amazingly authentic New York experience. There is a living space, complete with a TV, a sofa, a table with two chairs; a bedroom, tastefully decorated with a bed, twinkling lights and plants; a bathroom and a small but comfortable kitchen. The place is called an 'Artist's flat' for a reason – every inch of the apartment is covered with gorgeous artworks, whether it be American paintings or antiques. Those are seemingly infinite; however, fortunately, they are not at all overwhelming. The flat, hosted by Sarah, is on the fifth floor of an old tenement building with no elevator – but don't worry, the surrounding restaurants, bars and entertainment options are enough to make your stay worthwhile.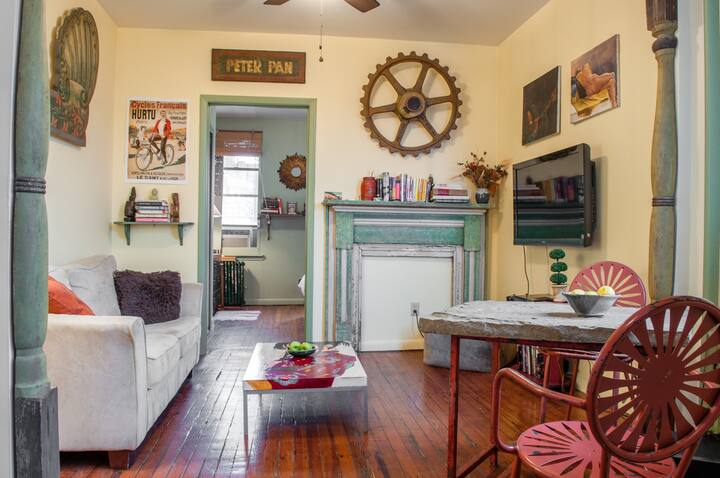 (Entire Space) Luxury Views Empire State Building
Living in the apartment with ceiling-to-floor windows has always been the dream, hasn't it? Well, it can come true now! This beautiful private Airbnb, located close to Times Square, is exactly the apartment of our dreams. The windows offer a beautiful view of the Empire State Building and NYC Skyline, while you lean back on your comfortable bed and soak in the sunlight. The apartment comes with a chef's kitchen, a full bathroom and other amenities, including a futon, a multi-purpose table, high-speed WiFi and a Smart TV. Superhost Luis's place is one of the most sought-after Airbnbs in Manhattan, especially because of its simply amazing location as well as his hospitality and his efforts to offer a beautiful living experience.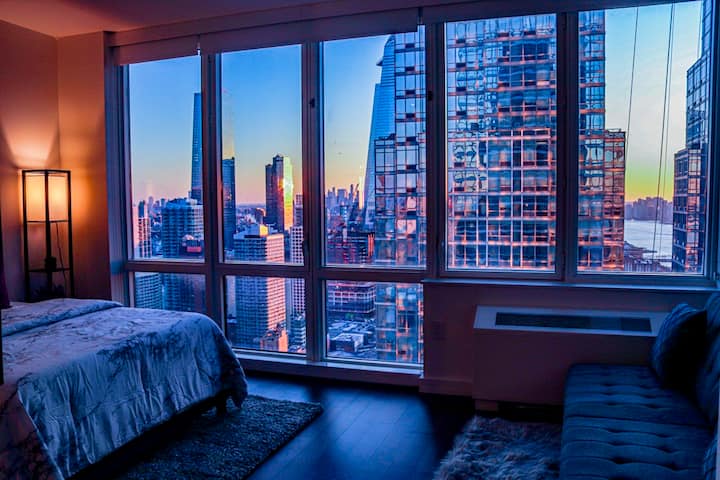 Charming East Village Studio
A recently renovated place in the charming neighbourhood of East Village, this Airbnb is a cosy dreamy paradise for two. Exposed brick walls, hardwood floors and tasteful adorning resonate through the place, which boasts of a comfy, queen-sized Tempurpedic bed, a bathroom with stand-up shower, a proper kitchen and big wardrobe. In this apartment with Anthropologie décor, you will get access to a TV, washing machine, refrigerator and high-speed WiFi.  It is Superhost Erica's own home and therefore, she can get quite picky with the guests. However, those who do rent this place never leave it sad-faced. One can even rent this Airbnb for more than a month, making it one of the best places for tourists in Manhattan.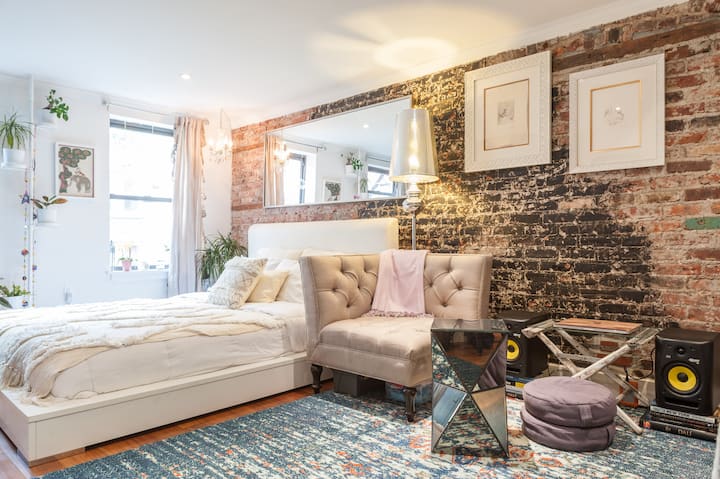 Private & Beautiful West Village Townhouse 2BR
East Village definitely has a charming selection of Airbnbs, but now is the time to check out this amazing Airbnb of West Village, Manhattan. It is a private townhouse, where the host Alexandre urges you to bring nothing but a toothbrush, so properly equipped is his place. Most of the place is recently renovated, with keeping the guests' comfort in mind. There is a living-cum-dining area, with TV, fireplace, dimmable lighting and amazing wall mirrors. The kitchen is perfectly stocked, with many amenities, whereas the two bedrooms and the full bathroom completes the features of the house. The place is aesthetically designed, with natural light trickling in through the large windows. Though the neighbourhood is a quiet one, you will just be a few moments away from all the exciting things Manhattan has to offer.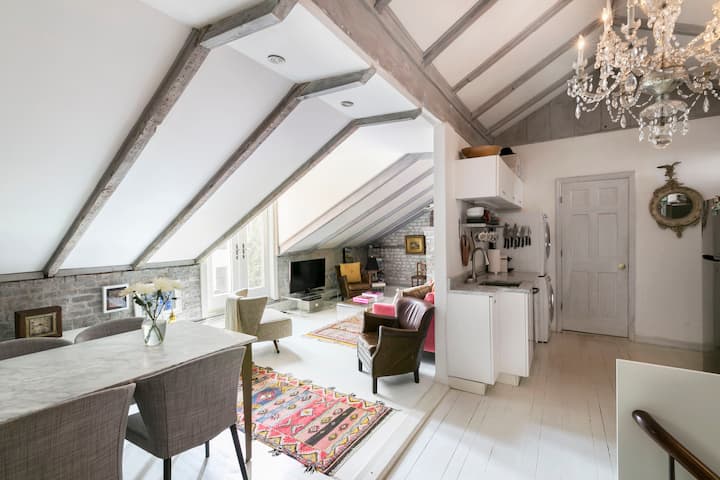 Amazing panoramic view floor through loft
Getting an Airbnb that not only offers sweeping views of the Manhattan but also is as same as it features in the pictures – now that is one marvellous deal to get! This Airbnb, hosted by Manon, is the one that fits these criteria, located in the lower east side neighbourhood. There is a spacious living area, with large windows and an indoor swing; a corridor from the living area is partially transformed into the kitchen, all the while leading you to the tastefully decorated bedroom, complete with a beautiful double bed, a stocked bookshelf and plants; two bathrooms and a dedicated workspace completes the basic features of the place, not to forget the common roof deck, providing unobstructed views of Manhattan.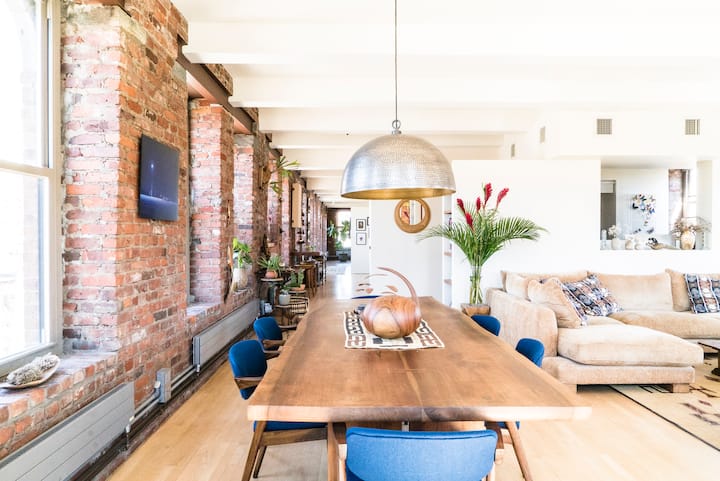 Simple, clean and reasonably priced in Chinatown
If you have decided to explore Downtown Manhattan, then this Airbnb is absolutely perfect for you. The host Sommay has joined rather recently – however, she and her place are slowly but steadily being noticed by the tourists. It is a small but clean place, with a bed, a dedicated workspace and a bathroom with reliable hot water. Though there is no kitchen provided, the host provides breakfast upon the guests' request. The decoration is no-nonsense, minimalist affair, which actually bodes well for long-term stays, allowed by the host. The area is just a short distance away from the subway line to go to other neighbourhoods of Manhattan and with a handful of eateries available around, it definitely happens to be a good choice.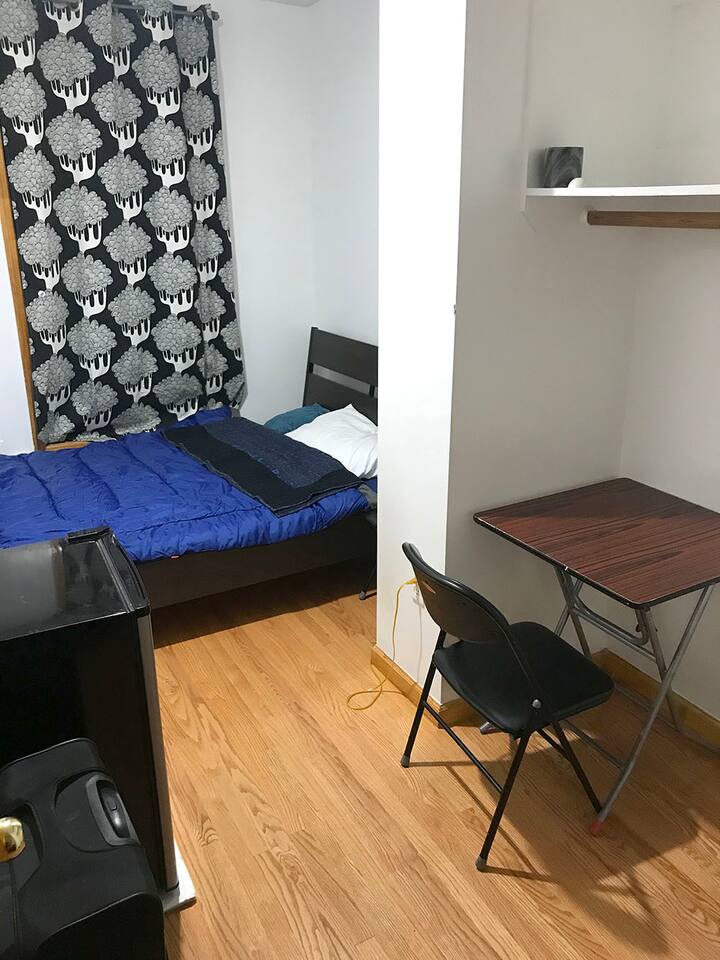 Entire Studio Apartment
Even though all the Airbnbs in Manhattan are smaller - where not more than three guests can live comfortably - all of them happen to be some of the best living spaces. One of such beauties is this beautiful studio apartment Airbnb, located in lower Manhattan. This space has an open-concept layout, where you can enjoy a comfortable bed, a small kitchen, and a clean and hygienic bathroom. This cosy space, adorned with elegant fixtures, also provides a washer, dryer and high-speed WiFi. The apartment is hosted by Kaycee, who not only provides clean amenities but also provides detailed instructions, candies and a card when you check-in. With such a thoughtful host, the strategic location of the place and compact but comfortable living experience, this Airbnb is simply one of the best!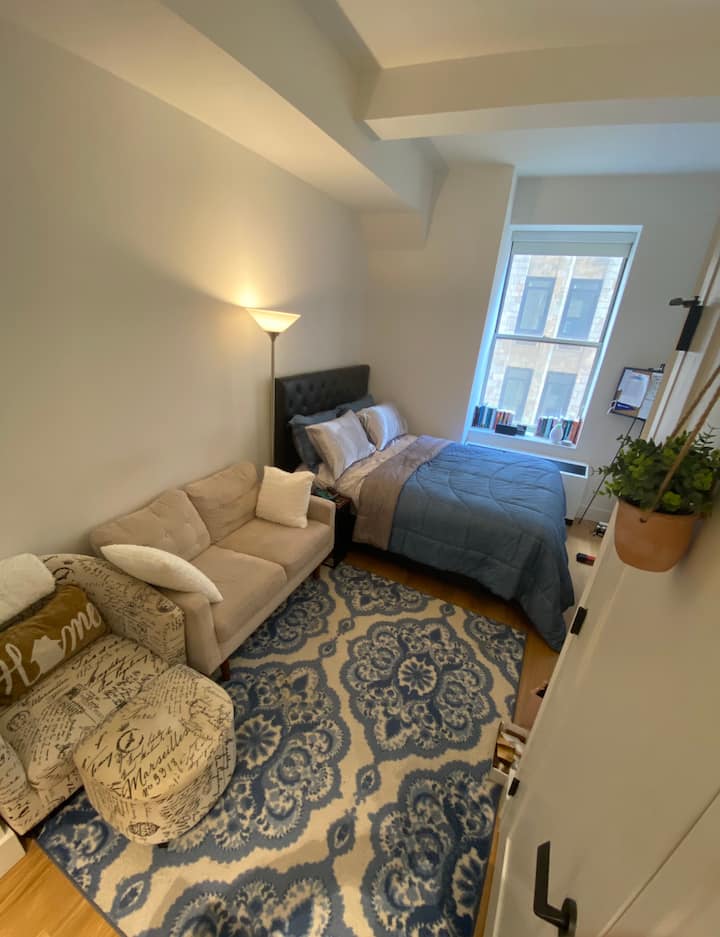 Bright Upper East Side Park Avenue Beauty
This Airbnb is one of the cleanest, aesthetic-looking you'll ever come across in Manhattan. Located in the Upper East Side, a beautiful living space, which has a spacious couch, a cable TV and a table; the full kitchen is a compact but amazing one, with a refrigerator, coffee maker and other necessities. The bedroom has a beautiful queen-sized bed, whereas the bathroom also comes with a washing machine, among other things. The entire place is a confluence of pastel shades, made all the more exotic with the sunlight streaming from the large windows. The area is quiet and also happens to be close to shops, subway lines and more importantly, Central Park. Superhost Maggie not only responses quickly, but also makes sure that you experience an amazing living experience.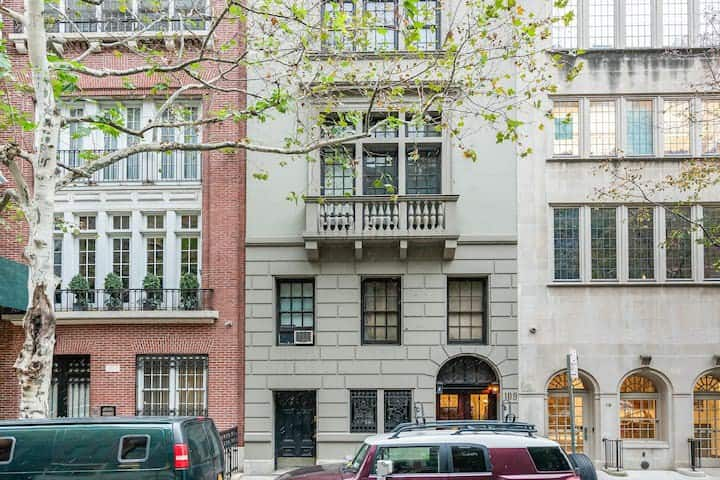 Dunndee's Bungalow. Your best New York getaway
This tastefully decorated Airbnb is located in Upper Manhattan, and as the Superhost Darin assures, your best New York Getaway! Perfect for two, this townhouse consists of two beds and one bathroom. There is, admittedly, not a kitchen, but you'll get access to a microwave as well as a refrigerator. As for your entertainment, you'll definitely get a TV and WiFi, but the real entertainment begins once you step out of the apartment's private entrance. There are a lot of amazing places around, including Yankee Stadium, as well as fabulous dining options, such as The Chipped Cup and The Hand-pulled Noodle, among others. Dundee's Bungalow might be tiny, but comfortably, cosy and perfectly ideal for couples, artists and solo travellers.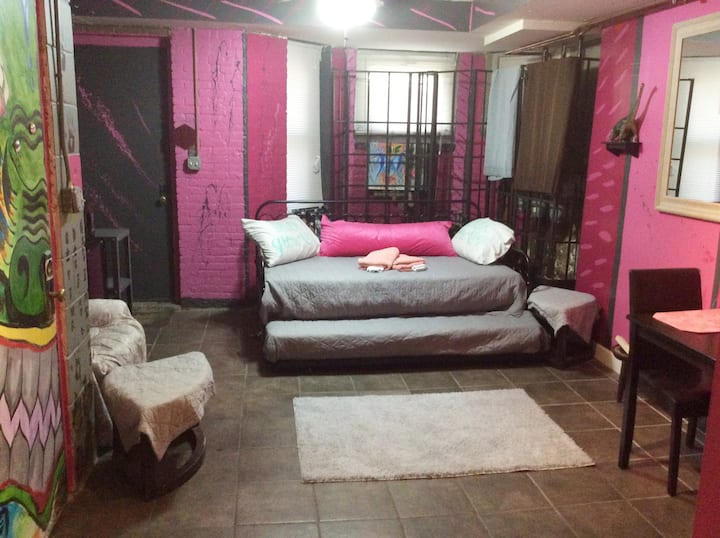 A slice of clean luxury In Cozy Chelsea loft
Experience how living luxuriously feels like in Manhattan! This Airbnb is a cosy loft, right in the heart of Chelsea and is a paradise for two. It comes with an open living area, filled with a comfy couch, a 55-inch TV with Roku, a kitchen with necessary appliances as well as a bedroom with an award-winning Casper Queen Bed and a well-maintained bathroom. The place is decorated luxuriously, all the while maintaining the promised cosy vibes. A plus point is that the place is a little distance away from the Chelsea Market, Chelsea Piers, a host of other entertainment options and eateries, including the one right below the apartment. With such amazing features, there are hardly any days where Superhost Asia's Airbnb is not booked!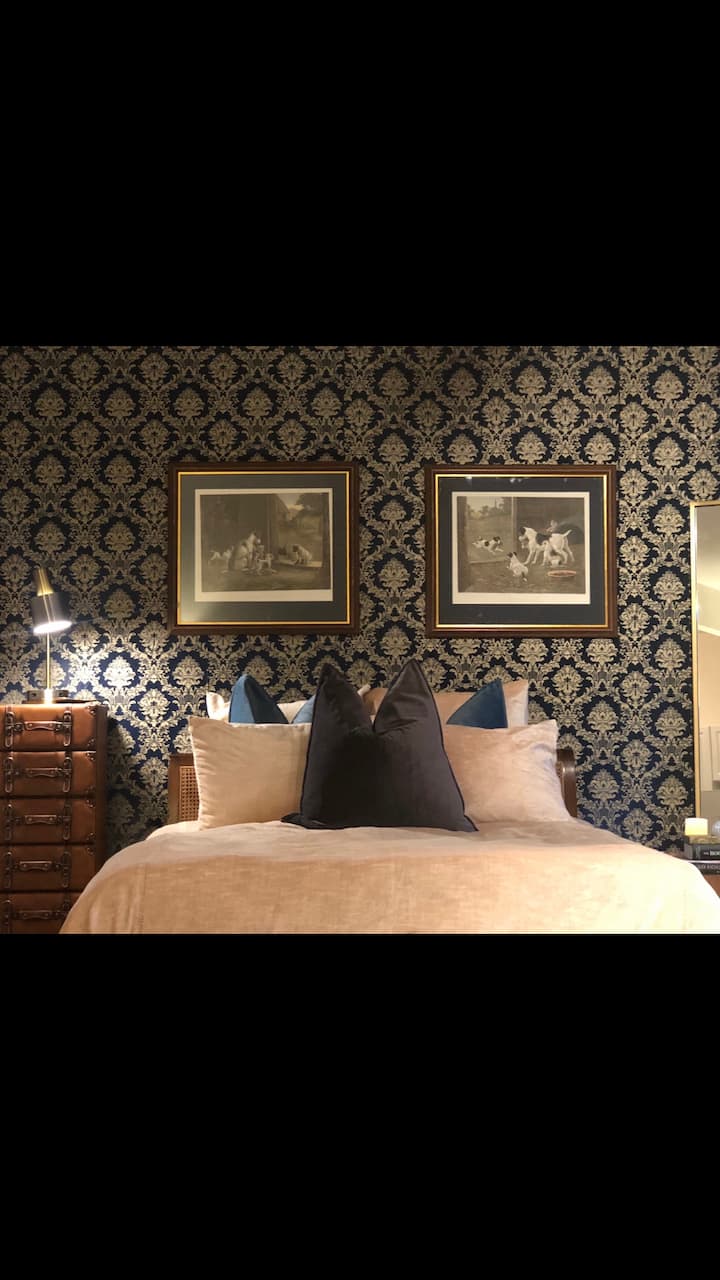 Cozy and quiet with secret garden
Getting a townhouse is obviously okay, but what if it comes with an amazing secret garden? This Airbnb, located in the Historic Hamilton Heights in Upper Manhattan, actually boasts of a secret garden. It is a small, renovated townhouse, with a private entrance, a full-sized bed, a full kitchen and a bathroom. Since it is on the garden floor level, the apartment comes with its own beautiful garden, with a small pond. There is free WiFi, coffee maker, and a remote-controlled indoor fireplace. Superhost Federico refrains from inviting elders and children to the place, just because of its complicated entrance. However, it is perfect for couples, who wish for an apartment which is not only centrally located but also a piece of calmness in this bustling city.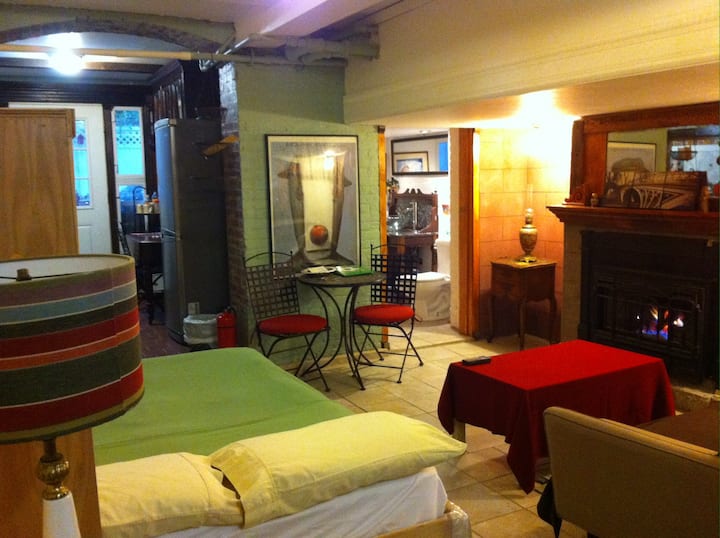 There are not many which offer accommodations for large groups, but as for the smaller groups, it's the perfect place to explore. Manhattan's Airbnbs are not only beautiful but also strategically located, making them a great catch. Select any one of them and most of the Manhattan will literally be at your feet!