15 Best Airbnbs in Long Beach
The sun makes its water shimmer like gold during the day, and the city lights paint it like a starry sky every night. This is how Long Beach, a city in the state of California, U.S., welcomes you to its majestic world. Widely known for being the busiest container port in the country, the city is also registered as one of the world's largest shipping harbour.
There is no doubt that Long Beach is already in your list of travel destinations, with its waterfront attractions, especially, the RMS Queen Mary and Aquarium of the Pacific. Besides that, you cannot possibly miss out on the Grand Prix, an IndyCar race series, usually held in April, and the Long Beach Pride Festival and Parade, a celebration to felicitate the LGBTQ communities and the ethos of the city, in general.
With semi-arid climatic characteristics, the city occasionally offers hot and highly humid conditions during Summers. However, the rest of the year, the temperature remains moderate, following a regularly blowing sea breeze.
So, now as you plan to travel to this beautiful city, let us take care of your housing arrangements by presenting these carefully shortlisted accommodations by Airbnb that are bound to make your trip a memorable one. Finalize one of them, from the following list, according to your individual requirements:
Affiliate Disclosure: As an Airbnb Associate, we earn a small commission when you book through links on this page.

1930s Garden Guest House in A Historic Neighbourhood
This property is just a stroll away from the shoreline of Long Beach waterfront. Ocean Boulevard and Bluff Park are also just a few steps from here.The house welcomes its visitors with a "rugged-tiled" garden area and leads into a comfortable, well-furnished interior. Dominantly designed on the black and white theme, the house has ample amenities and carefully chosen décor.It is a single bedroom space, with a bathroom that features classic tiles, flooring and a hot tub. This vintage house is a win-win with its antique accessories.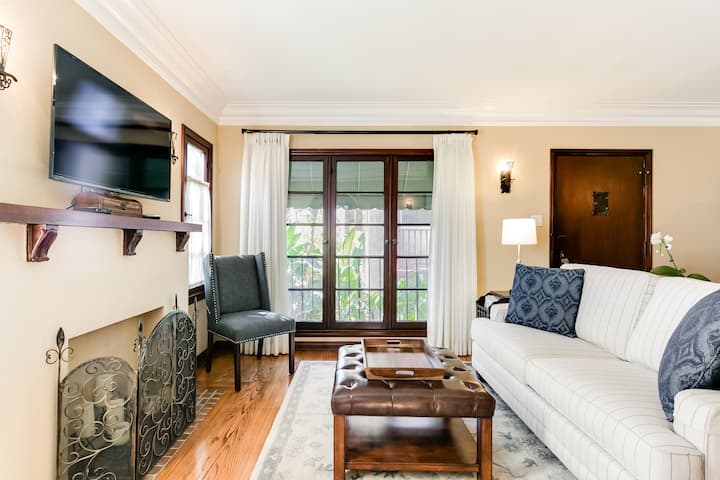 Craftsman Home with A Modern Charm
Closely linked with the Long Beach, Downtown, Pine Avenue Promenade, and the Drake Park, this house is a great getaway spot.The property offers three spacious bedrooms, which make it quite a family destination. The host has provided four beds, and the house is suitable for around 6-7 people. There is a separate study room in here, combined with proper furniture and a printer. This home is beautifully decorated with stylish furnishings and indoor plants.Whether it is a work-from-home visit or an escape from the daily routines, this house has everything covered for you. It is time for you to surprise your family with this place's cozy, modern charm.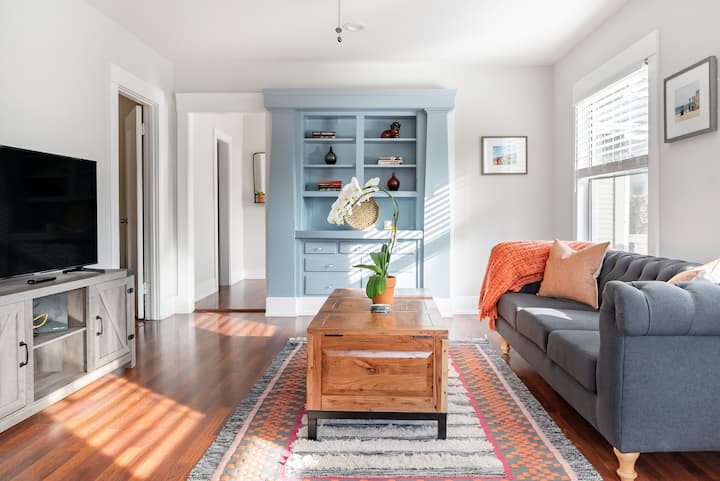 Cozy, Private Room in Long Beach
A studio for two guests, this little space is just five blocks away from the beach. In about 45 minutes, you can reach to Disneyland, from here by accessing the easily available buses, trains, and shared bikes. Besides that, there are many restaurants and coffee shops nearby, for evening hangouts in the city.The single room comes with a full bed and a couch, ideally serving two-three people. There is no kitchen in the house, but a mini-fridge, tea and coffee maker, and a microwave are provided. There is a seating arrangement with a garden view in the attached patio, for recreational hours. This is a perfect place for short work trips or getaways.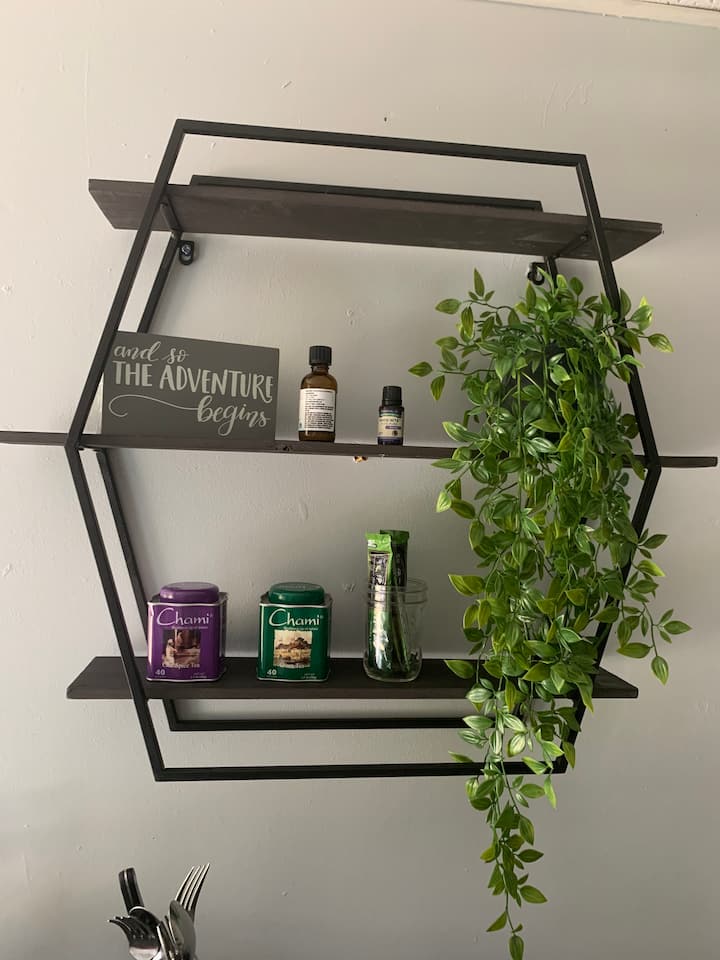 An Eclectic Private Bungalow
Located at a walking distance from the beach, museum, coffee houses and shopping corridors, this bungalow is a two-bedroom space, with an occupancy of four guests at a time.The entire house is very well-lighted throughout the day, thanks to the number of windows that open up in a vibrant exterior. Both the bedrooms are fully air-conditioned, and the kitchen is stuffed with all the equipment. The outside area is designed for cheerful barbeque sessions and some sun-soaked hours.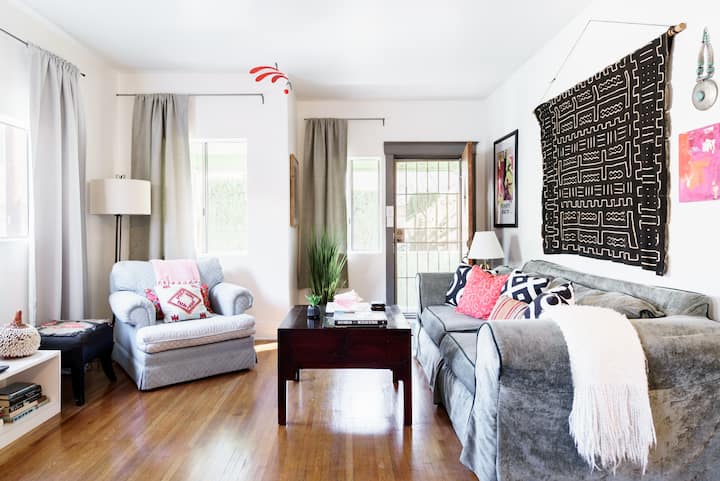 Apartment in A Historically Diverse Neighbourhood
Just ten blocks away from downtown Long Beach, this house has two bedrooms with a capacity of accommodating four visitors. There are two comfortable queen-size beds, with lovely cushions all over.The living room has a slouchy sofa for an effortless television watching session. It also features some books for whoever finds them interesting, and the entire place is decorated with charming fittings and indoor plants.
Tranquil Family Home with A Landscaped Yard
This is an exquisite three-bedroom home, ideal for six guests. Two out of these three bedrooms have a queen-size bed, and the third one comes with a king-size bed. There is a separate living room with an indoor fireplace, much suited for a cozy winter day. A family room, with a TV set, and a formal dining space are also included. The kitchen has everything you might need during the stay, from an espresso machine to the dishwasher.
This massive bungalow has a front and backside garden, decorated with beautiful, and equally comfortable furniture. The barbeque grill is an amazing add-on. The lush green views right from the comfort of an artistically designed interior space, or from a sun-soaked outer area, are a great package for your leisure time.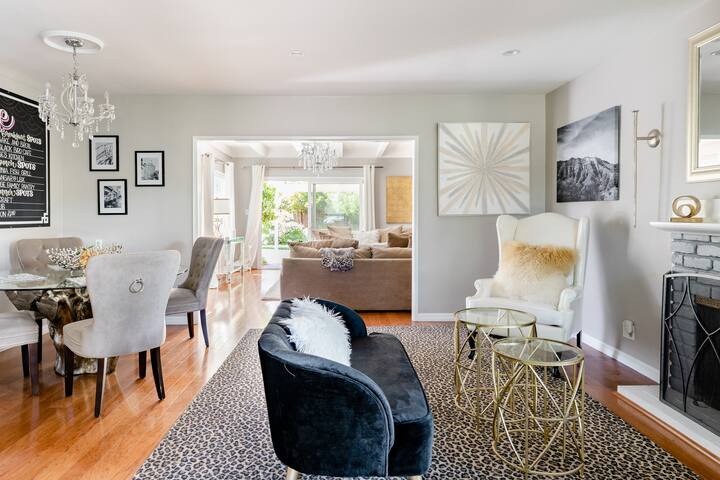 An Elegant and Contemporary Room in A Glamorous Home
Decorated with all the royal fittings, glamorous is indeed the word for this house. From a vibrant chandelier to an island snack bar, with a variety of wine glasses, and plush linens, the house has everything that you might need to feel like a nobleman.
Located in a quiet street, this house is in one of the oldest neighbourhoods of Long Beach - the Bixby Knolls. It is very close to all the coffee shops and restaurants. The house offers a private room, and other shared spaces like the living room, utility room, kitchen, and the outer garden area. There is an exclusive in-suite bathroom, designed on an all-white colour scheme. Reviews on the Airbnb site say that an attentive service is ensured while also taking care of the visitor's privacy in a shared space. This place is perfect for a solo or a two-people trip as it is quite affordable as well.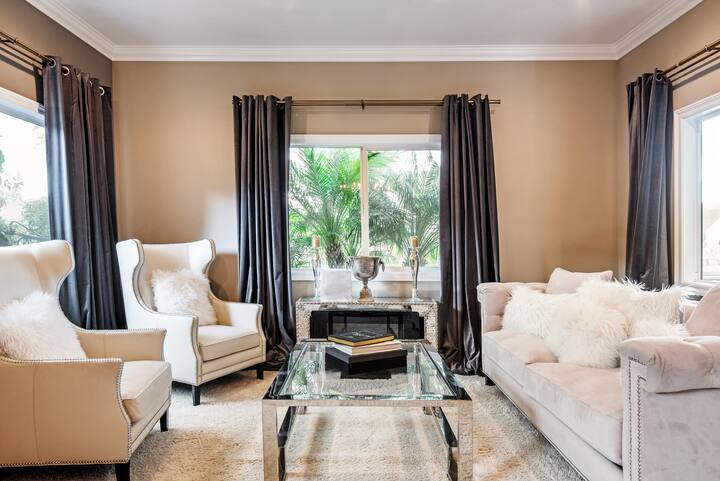 Warm Retreat in Tree-Lined Belmont Heights
This house is a haven for all those who seek a place to work in solace, or simply, wish to change their daily setup for a while. It is definitely a wonderland where you can stretch yourself on a king-size bed, and relish home-cooked meals in the gourmet kitchen. There is a reserved parking, Wi-Fi, cable TV, air-conditioning, and soft linens to ensure your utmost comfort. One perk of staying at this property, if you are traveling with a little toddler would be that there will be a stroller, pack and play, and a high chair waiting for you.
The kitchen has all required stainless-steel appliances and is completely equipped to offer you your morning coffee without any extra efforts. The beautiful dining area has a full floor-to-ceiling mirror, and the inviting patio is fit with basic furniture.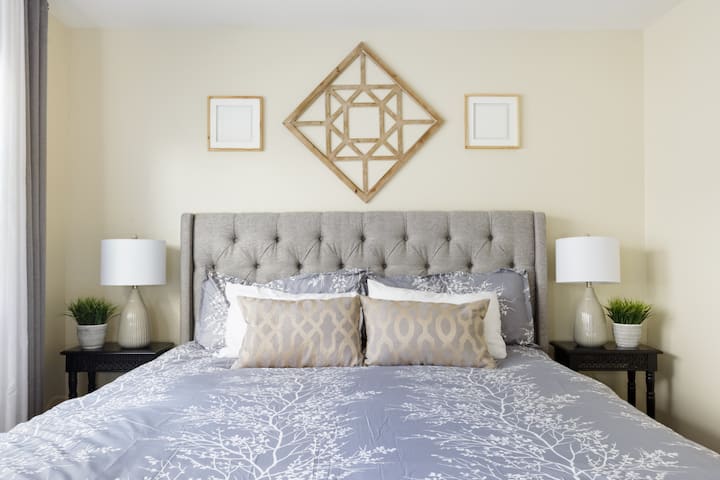 Californian Casablanca Home with Spanish Arches
A few steps away from the Retro Row, the Queen Mary, and the Convention Center, this eclectic home welcomes you with its vintage articles and other objects from around the world. It is a two-bedroom house, suitable for 5 people, with two additional sofa beds in the living and family room, respectively. There is a separate study room for all the work-from-home sessions and a private garage that avoids any parking-related issues. The patio and the back garden with comfortable furniture gives a soothing outdoor experience.
Nevertheless, the most eye-catching elements of the house are its carefully collected pieces of art that are so diverse in nature that you will not be able to restrain yourself from giving a few moments of adoration to them. Besides that, there is a bigger possibility that you might end up collecting ideas for your own home while staying at this Casablanca Airbnb.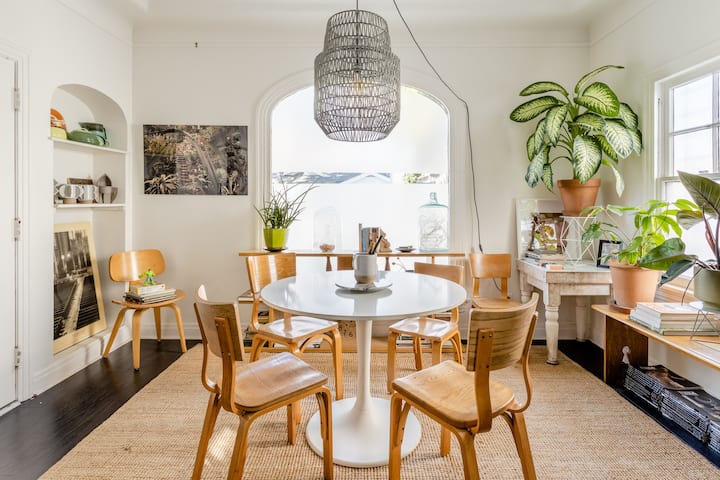 Crisp Ocean Air at A Chic Retreat in Alamitos Beach
The hosts of this modern home welcome their visitors to the "gorgeous Southern California weather", best experienced from the spacious outdoor balcony. Centrally located, this place is closely linked with Long Beach and many quality restaurants, coffee houses and pubs. The good news for all the fitness enthusiasts is that the nearby beach has everyday morning yoga sessions.
This home extends a single bedroom but has two beds as the living room sofa converts to a queen-sized bed with a memory foam mattress, making it an ideal location for a group of four people. There is a large 55 inches smart TV in the living area, coupled with the slouchy sofa and aesthetic wooden chairs, for smooth video streaming.
To make your days a little more pleasing, every corner of this haven will greet you with a little plant pot, so make sure you leave this place, having made a lot of green friends to come back to. Not to forget, there is an attached balcony with a downtown view, made to suit your morning coffee schedules on the comfortable furniture.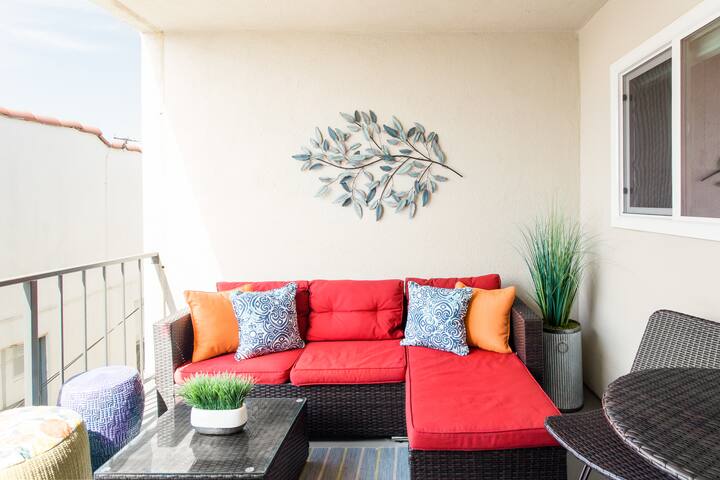 Appealing Apartment with An Artistic Touch
This single-bedroom house can host a maximum of two people. One's favourite place in this entire apartment could be the living room which features a smart TV, huge windows for natural light, and a great collection of books for all the book lovers, out there. There could be a perfect evening with a hot cup of coffee, one of your favourite books to read, and a comfortable sofa to lean on, all in this compact living room.
The apartment has an available parking space in a private garage. This is surely a peaceful escape from the noisy city life as the neighbourhood maintains a calm character. Located at a walkable distance from all the city's attractions, this house could be a great comfort zone after a hectic exploration of the city.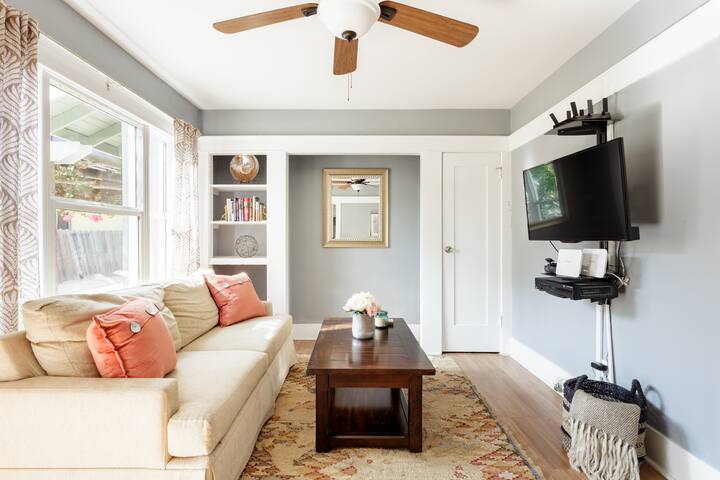 A Restful Home Few Minutes from Downtown
At the very entrance of this house, you will be greeted by a beautiful lemon tree, waiting for you to gaze at it with an eye filled with love. Heading right into your bedroom, the subtle shades of the room and the linens are definitely going to leave you in delighted spirits.
Then, there is a living room for watching Netflix in an air-conditioned zone and a view of the outside greenery. The kitchen is fully functional and there is a breakfast table as well. Noticeably, there is a sweet little frame in the kitchen that states, "Live for the moments you can't put into words", and undoubtedly, this warm home will add such moments to your already magical life.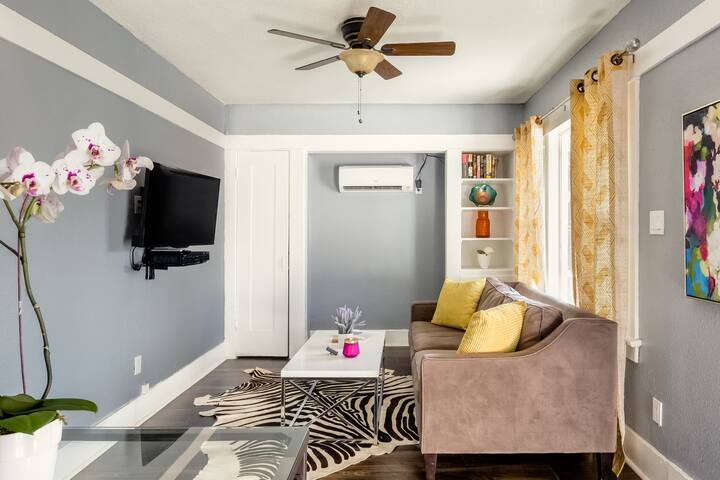 Geographically 15 minutes away from the Long Beach on foot, and just 5 minutes from the nearest clubs and restaurants, this cottage is a luxurious getaway spot.
Here, the kitchen is stuffed with dishes and ready-to-eat snacks for a quick bite. While there is just one room in the cottage, there is an additional wall bed in the living area, apart from the comfortable sofa, placed for television streaming hours. Thus, it is an ideal place for four guests. The dining room in the house is based on the beach house theme, with green and white colour variants.
Early morning breakfast at this spot could lighten up your mood for the day to come. The memory foam mattress in the bedroom is a great asset for a smooth sleep throughout your stay. There is also an outdoor patio for workouts and a fresh breeze.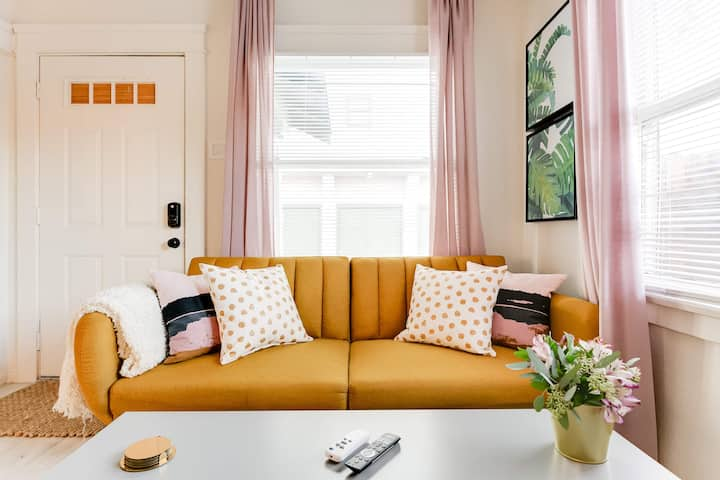 Historic Downtown Apartment
Dwell into the "lush velvet furnishings, rustic Spanish architecture and the romance of this historic California apartment". Built-in the Willmore City district of Long Beach, this house is full of character, right from its pretty lightings to paintings, and other fittings.
Lodged with three beds, including a wall bed in the living area, this two-bedroom space allows four people to stay in here. The kitchenette retains its traditional charm even after being modernized for a pleasured cooking time. There is a separate smart television and Amazon Echo in the two bedrooms and the living room. While there is a double bed in one bedroom, the other one has a single bed. Nevertheless, both are featured with the memory foam mattress.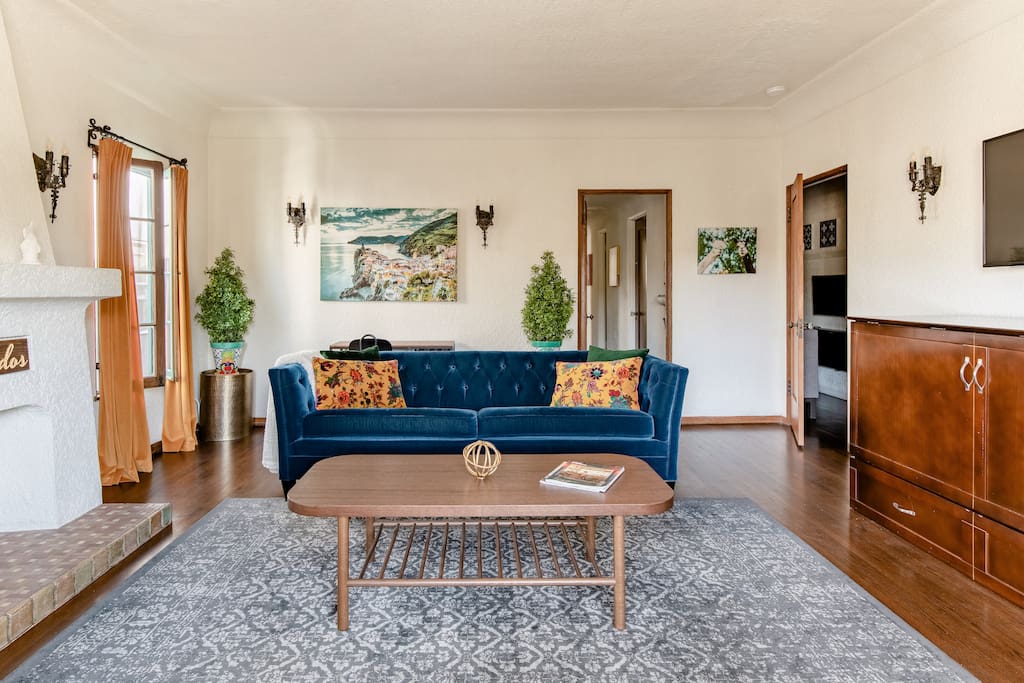 An Art Studio with Lounge in The Pool and A Spa
The interiors are no less than pure magic, but we cannot place them above the outdoor space of this wonderful villa in the city of Long Beach. Aesthetically laid with a combo of a swimming pool and a hot tub, nothing can beat this house while you are enjoying a glass of wine, soaked in these water spaces, surrounded by the pretty flowers and tall trees, right in the comfort of your own private space. Adding more to this luxurious haven, a fire pit is encircled with comfortable chairs for a warm gathering after the pool fun.
Moving to the indoor space, there is a private room with two queen beds, attached bathroom, and a smart TV. The colour schemes and the overall designing is beyond perfection as everything soothes the state of being. This property can accommodate four people, and you should definitely grab at least a day's relaxation in this haven.