15 Best Airbnbs in Huntington Beach
Nicknamed as the "Surf City", Huntington Beach is renowned for its vast stretch of coastline, beach life, moderate weather, and above all, an exceptional surfing atmosphere. The ocean tides of this city in California are very ideal for this famous adventure sport and is one of the greatest reasons for tourist attraction.
Some of the most loved surfing spots in the city include the Huntington Beach and Pier, Newport Pier, Bolsa Chica State Beach, Huntington Dog Beach, and the Bolsa Chica Ecological Reserve.
Nonetheless, there are a few other attractions in the city of Huntington Beach that marks a place in the tourists' list of the places to visit. For instance, the International Surfing Museum, Mile Square Regional Park, and the Huntington Beach Public Library are quite popular.
The variety of recreational activities that might tempt you to straightaway travel to Huntington Beach are endless. The whale watching tours, a glimpse of the migratory birds, exceptional surfing lessons, the oceanfront eateries, and an amazing view of the sunset, collectively make this city a go-to destination for travel enthusiasts.
Let's proceed with all these plans by choosing a luxurious, yet affordable accommodation for a remarkable stay in Huntington Beach. Here are some of the top-rated Airbnbs in the city, carefully compiled to help you with your travel itinerary.
Affiliate Disclosure: As an Airbnb Associate, we earn a small commission when you book through links on this page.
Downtown Guest Room
A half-mile from the downtown main street, this property offers a private room with huge windows for a well-lighted space. There is a private entrance through the backyard and ample space for vehicle parking.
If you are looking for a temporary work-from-home space, this room will serve you well as there is a separate dedicated workspace. In its entirety, this space is featured with all the required amenities. There is a smart TV, a mini-fridge, a wall hanger for clothes, and a comfortable bed for two people.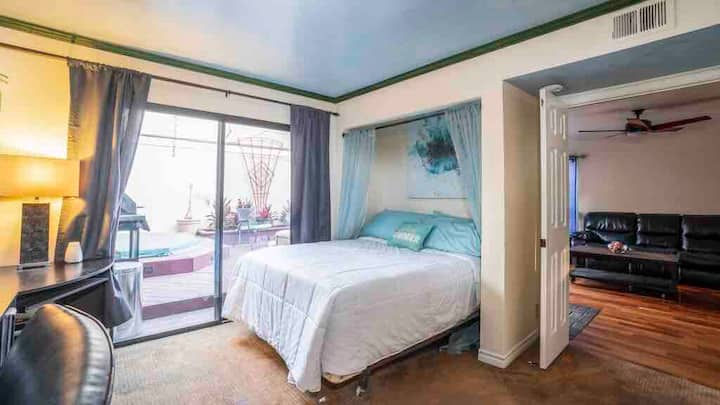 Private Room in A Two-Storey Home
Located a couple of blocks away from Huntington Beach, this Airbnb offers quick access to a variety of shopping marts, pubs and restaurants. The room has a single queen bed, ideal for two people, and a television. There is a balcony in the upper storey for basking in sunrays.
The host of the property is acclaimed as friendly and generous. She has mentioned that there are bikes at her place and they can be borrowed for a quick ride to the nearby beaches and other spots. Other than that, she also has beach chairs and an umbrella for a beach-like experience at home.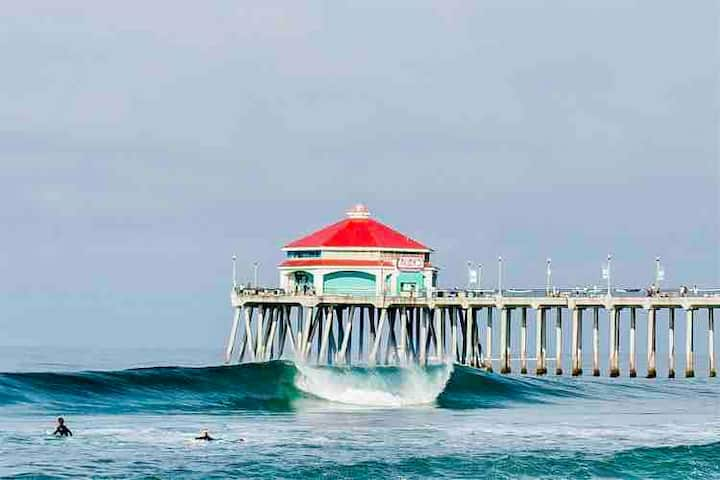 A Quiet Haven
Equipped with high-speed Wi-Fi and smart TV with a Netflix subscription, this private room is set in a quiet and quaint neighbourhood. If you are looking for a peaceful atmosphere to work in a focused manner, this cozy place will be a perfect choice.
According to the host, there is always an available parking spot in the driveway or on the street. There are a few theatres, eating outlets and mega marts in the vicinity. The guests are also welcomed to access the living room, kitchen, dining room, backyard and patio of the house. Overall, this Airbnb is a tidy, comfortable place, beautifully decorated with basic daily utilities and stylish furniture.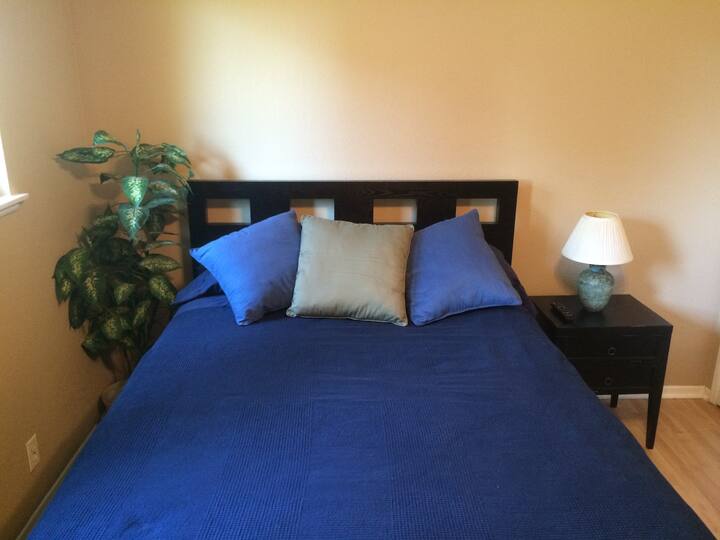 Newly Renovated Contemporary Home
Designed with the capacity of hosting six guests, this two-bedroom apartment showcases a blend of white décor and royal blue feature walls. A television in the stunning living area and some board games (Monopoly, Jenga, Sequence and others) provided in the house ensure hours full of relaxation to its guests.
There is a queen size air mattress with comfortable bedding and pillows in the living room for two people to fit in. Besides that, there are two bedrooms, fully air-conditioned with private washrooms. There are separate study desks as well. The full body mirrors in the rooms are an add-on perk.
There are a lawn and an outside space with furniture to enjoy the weather with a cup of coffee. The entire apartment has a very subtle tone with minimal decorations. It is a very soothing spot and will serve you greatly if you are seeking a calm get away from the hectic routines of everyday life.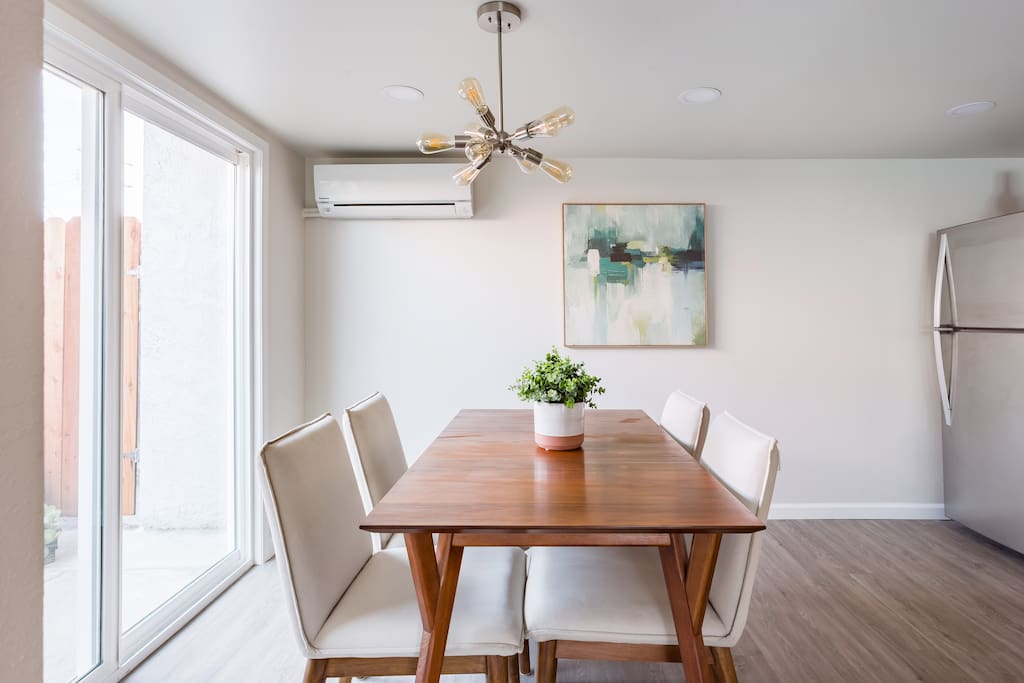 Cozy Family-Friendly House
This modern house has three bedrooms, two of them covered with queen beds and two single beds in the third one. Thus, it holds a capacity of accommodating six guests at a time. The apartment is a 15-minute drive from the beach. As you return after a tiresome day at the beach, you will be greeted with vast patio decorated with pretty sofas and a table, a great spot for energized mornings.
Moving in, out of the two bathrooms, one is fitted with a soaking tub and the other one has a walk-in shower. The living room has an indoor fireplace and a stretched-out couch for a relaxed television streaming. This is definitely a very luxurious space with a kitchen flooding with modern appliances, beautiful bedside lamps and little green pots at every end of the house.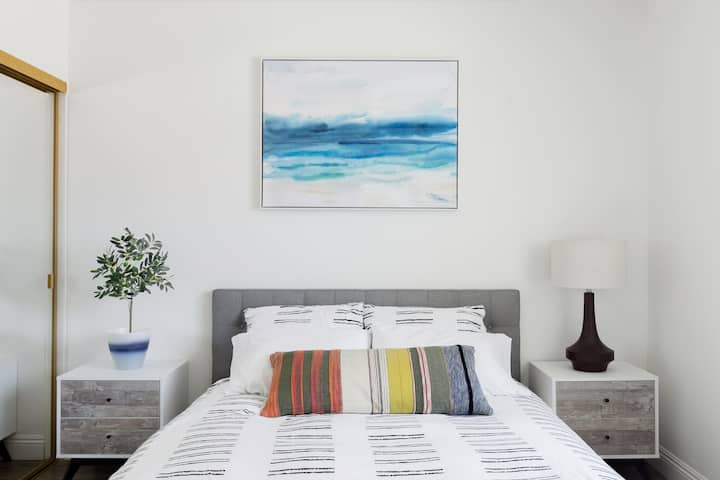 Townhouse in A Gated Community
Take a break from your monotonous life in this two-bedroom townhouse with leather chairs and memory foam mattress for your utmost comfort. A personal garage will save you from the parking hassle.
The French doors of this home open into a patio with outdoor furniture and a barbeque grill. There is a lovely lime tree out there to meet you every morning. There are two televisions in the house, one in the living room and the other in one of the bedrooms. Moreover, there is a good collection of books as well. It is a treat for you if you happen to be a book lover. The townhouse is artistically furnished with paintings, wooden shelves, shiny floors and bright lightings.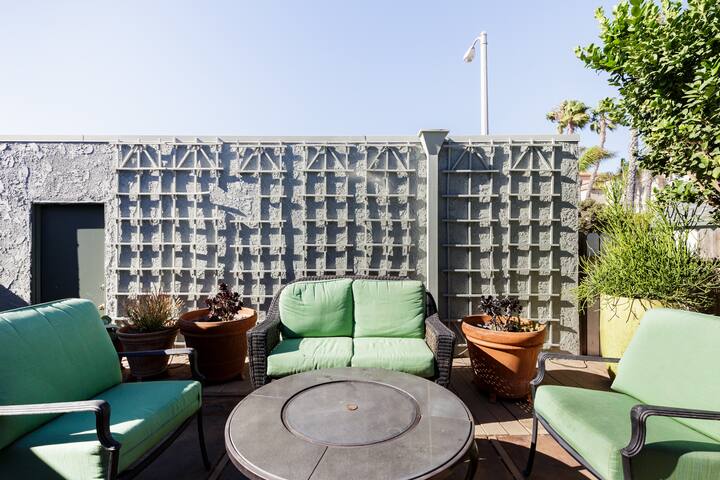 Captain Jack's Surf Shack
As the name suggests, this two-bedroom, five-bed house welcomes a maximum of six guests in its majestic beachy zone. A combination of turquoise and white décor, coupled with wooden floors and other exquisite furnishings, give a beach-like vibe to this apartment.
One of the two bedrooms has a king bed for two people and the other one has two bunk beds, convenient for four people to fit in. There are memory foam mattresses and air conditioning all over. The scenic paintings of ocean and the dominant colour theme add to the liveliness of this cozy shelter. Whether it is the living room's large cushioned sofa, the rain shower or the study tables for working guests, all kinds of amenities are very well taken care of in this house.
Adding to the list, there is a private patio with a fire pit, an outdoor seating, a barbeque grill and to top it all, a beautiful sunset view right from the comfort of your home.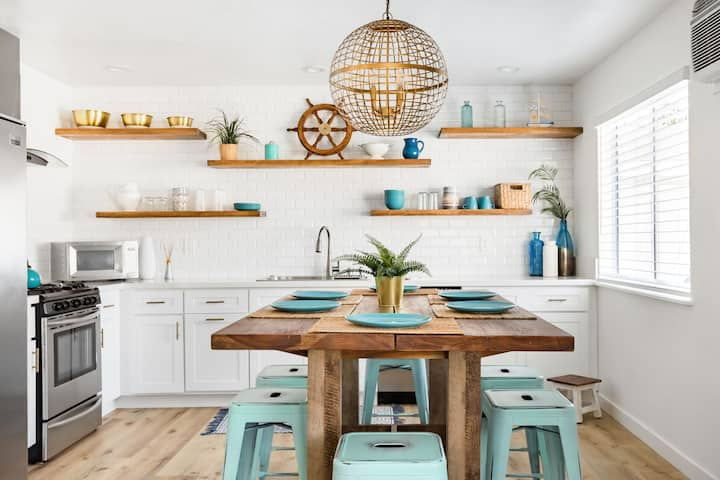 Listen to Ocean Waves from A Beautiful Beach House
"Have a glass of wine by the fire pit just after sunset and listen to the waves crashing" – this is how Eric; the host of this house welcomes you to his little wonderland. You are being extended to a private room in this bungalow in a quiet neighbourhood.
The room has a black and white tone and features a queen bed with a personal television. There is a private bathroom as well. Apart from this private space, the guests are encouraged to access the living room, set with comfortable sofas, shared kitchen, a dining room, a patio with a fire pit and BBQ grill and the back garden where bicycles are parked. All these spaces are shared and the host has kept them open for the guests who wish to join in.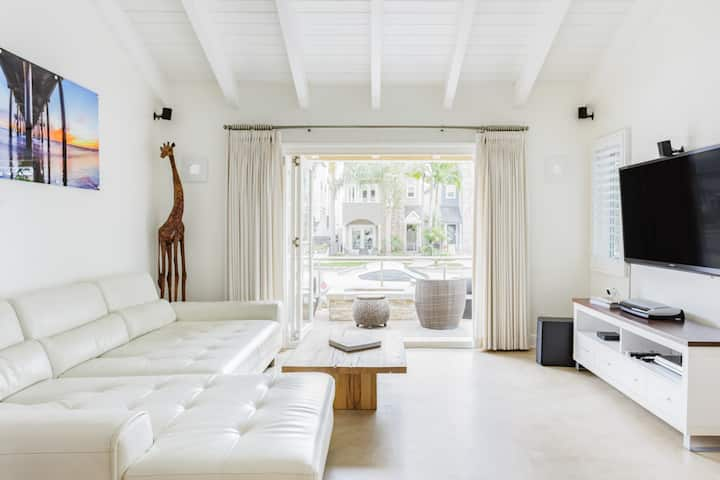 Feel the Ocean Breeze at A Warm, Quirky Home
Located at a walking distance from all the major highlights of the city like the US Open of Surfing, Volleyball Tournament and the Air Show, this private room is a part of a luxurious vintage house.
This room is a fine choice for a solo or twin trip to Huntington Beach. The compact space has a queen bed, television, attached bathroom and the host is courteous enough to welcome her guests with a tray of bottled water and fresh fruits. A closet with hangers is provided to keep your clothes in good shape, especially during work trips. The entire house can be accessed by the guests, from the living room to the kitchen stocked up with best-in-class coffee. However, an evening meal with a taste of ocean breeze in the patio is something you should not miss out on.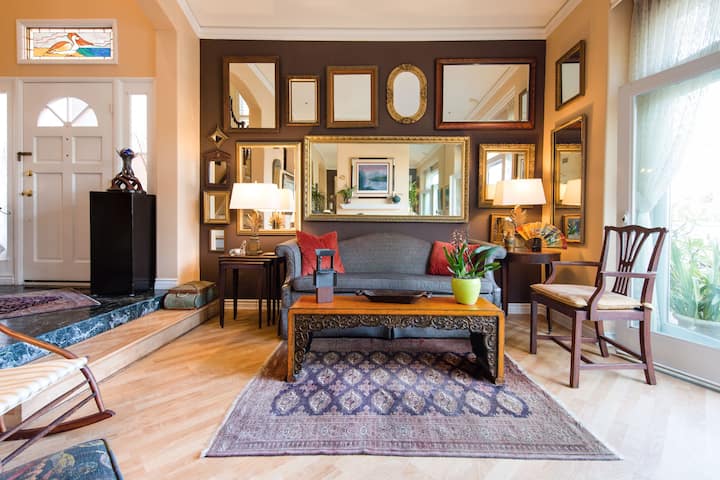 Bungalow with Private Zen Fiji Vibe
If you are looking for an entire house and you are just a duo, this is where your search ends. This one-bedroom apartment is just a block away from the beach and is furnished with all the basic amenities that you might need for a wholesome stay.
There is a yard outside, full guarded by a gate. It has a tropical vibe due to the lush green surroundings. There is an outdoor kitchen with barbeque grill and it is a unique component of this house. Cook your favourite meals while soaking up the sun and inhaling the fresh sea breeze.
The bedroom has a queen bed and the windows allow a clear view of the greenery outside, it is well lighted as well. There is a TV in the room. The French doors add an aesthetic value to the cozy room. You must enjoy the sight of tall tropical trees and sweeping sounds of the wind from the comfortable chairs in the patio.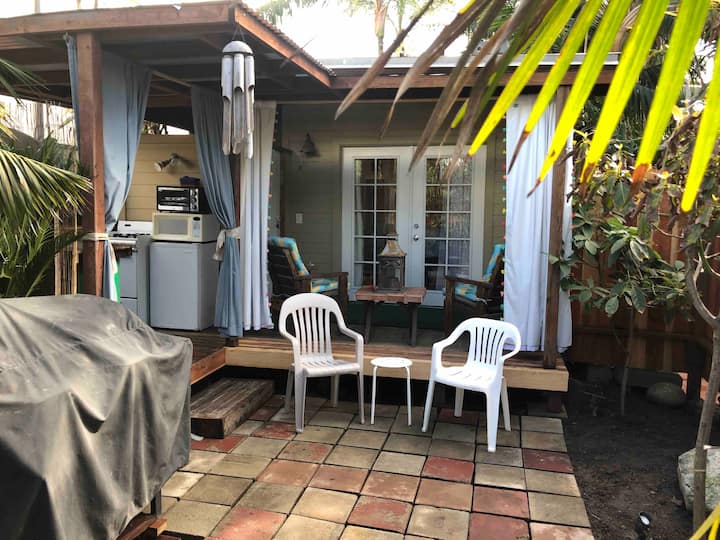 Beach Bungalow with A Resort Feel
This place functions as an "everyday resort living" with all the charm of an old fashion beach bungalow. The backyard has a bamboo bar and a jacuzzi hot tub. There is also a 140-degree dry sauna, great for detox after hitting all those bars and restaurants, located nearby.
The master bedroom in the house is laid with original "California Redwood floors, custom-built raised beam ceiling, skylight, wood cabinetry, queen size Alder wood Murphy bed", and its French doors open up to the incredible back yard. There are always a few bikes available for a quick ride to the beaches and other great spots.
The other room has a bunk bed and serves as a perfect sleeping area for kids or a group of friends who can easily accommodate in a comparatively limited space.
The outdoor hot tub and the stylish resort-like look of this cottage are surely an amazing deal.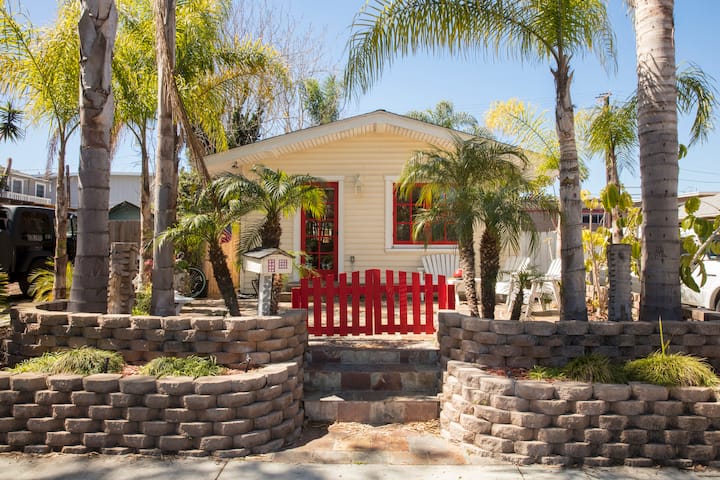 Downtown Huntington Beach Cozy Room
Drown in the modern and shabby style of this private room. The place is very detailed in its composition. This is a great spot to unwind and relax with the fresh beachy air as it hits the ocean waves and runs through the streets.
The room offers a comfortable bed and a large amount of closet space. There is also a nightstand and a dresser with many drawers. You can enjoy the side patio with wicker furniture and a swinging chair.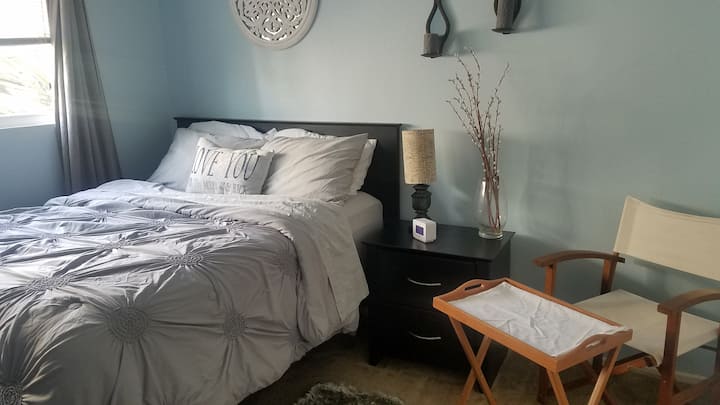 Large Private Room For a Cozy Escape
The room is close to the beach, restaurants and dining, family-friendly activities, nightlife and public transport. It is ideal for couples, solo adventurers, and working professionals on tours.
The room features an art collection of beautiful Californian Landscapes and furniture that has been custom designed. It has a dedicated study area, an attached bathroom, a personal television and a comfortable couch. There is also an oven for heating your food at any hour of the day. There is absolutely no interference at this property, however, the host will be more than happy to help you in any way possible.
A Bright and Sunny Private Room
This one is a private room with personal television, mini-refrigerator, an oven and most importantly, a decent workspace. The room is extremely well lighted with huge windows. It is preferable for a work-from-home stay for two people.
The room is decorated with beautiful paintings. There is free street parking in the neighbourhood. A convenience store, laundry area and a pizza counter are just a few steps away from this property.
Craftsman Style Beach Studio
We gladly introduce you to this quaint, newly-remodelled, close to beach, cottage-style studio. It is nicely designed to meet all your basic requirements. A comfortable bed, a study corner with a proper desk and chairs, a couch, an attached fully equipped kitchen in one corner, and a bathroom make this studio a complete package for a weekend getaway or a solo trip. The room is a simple and sober space with a hassle-free vehicle parking.