15 Best Airbnbs in Houston
Houston has a certain appeal to the tourists – not only is it is the most ethnically diverse city in the nation but also comes with its unique selection of amazing tourist spots. You can see that diversity is the essence of Houston. This essence has seeped into its Airbnbs, as the amount of variety you'll see in these properties is astounding! Going to Beyoncé's hometown suddenly sounds appealing now, doesn't it?
Affiliate Disclosure: As an Airbnb Associate, we earn a small commission when you book through links on this page.
Concrete De Luxe
Living in a modern house is something of a dream, especially if you are travelling to a foreign land. This is exactly what Concrete De Luxe promises, a beautiful Airbnb, located quite near to John F Kennedy Blvd. The property consists of the master bedroom of the house, and a huge bathroom, with a walk-in shower and tub. Rebeca, the 'Superhost' makes sure that the place is clean and comfortable for the arrivals. This room has a private entrance for the guests, which makes moving in and out of the property easy and efficient. Ideal for two people, it comes with a lot of amenities, including a workspace, TV, air-conditioning, refrigerator, coffee maker as well as WiFi and free park on-premises.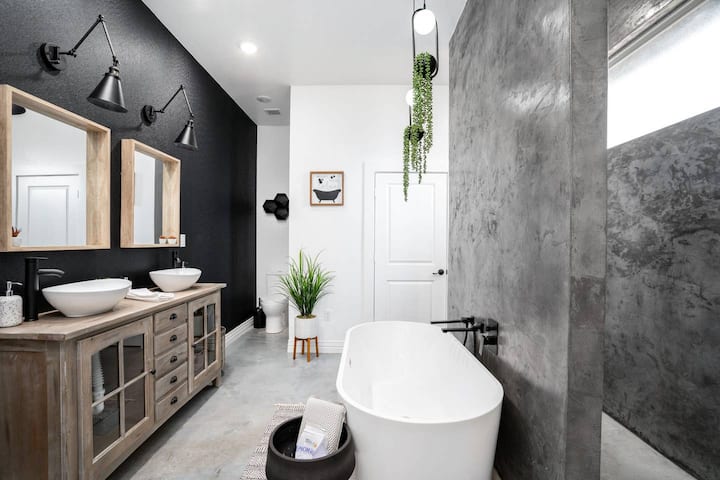 Bohemian-Vibe Guesthouse with Outdoor Swing Lounge
There is no other Airbnb that is as amazingly located as this Bohemian Guesthouse! Surrounded by the neighbourhoods of Montrose, Medical Center and the Museum District, this entire cute guesthouse, perfect for four guests, is up for grabs. It has a living room with attached terrace, a full kitchen with an espresso machine, a bedroom with queen bed, desk and ensuite bathroom, a full bathroom and a tastefully decorated outdoor furniture with hanging chairs and a Papasan swing. Your Superhost, Haruko, stays on the property and will be quick to answer all your questions. With modern wall art, pink Eames dining chairs and house plants peppered all over the property, the place is a cute as well as a stylish affair.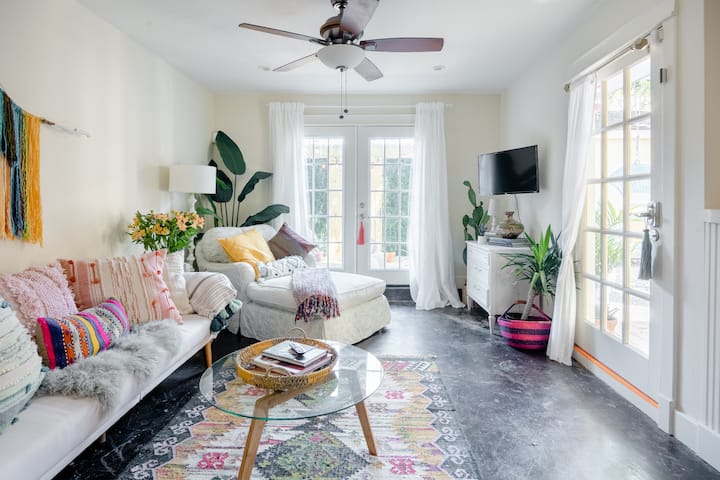 Montrose Stylish Studio | Medical Center 45
Just at a walking distance from Downtown Houston, in the beautiful Montrose neighbourhood, Superhost Philip hosts an amazing Airbnb, i.e. Montrose Stylish Studio. An absolutely simple but gorgeous studio, it consists of one bedroom, two comfortable beds, a bathroom and a well-stocked kitchen. The place is fully furnished, complete with Smart TV and WiFi and is perfect for two guests, especially couples. The shared Courtyard, laundry room and pool area are free to use as well. A number of restaurants, bars and entertainment options are just at a few minutes' walk away from the Airbnb. With the promise of a comfortable living experience and a handful of benefits rolled in one, Montrose Stylish Studio is one of the best choices for travellers.
Comfy & Convenient Private Room at Central Location
A beautiful property in the International District in Houston, this Airbnb is a really convenient and comfortable place, where you can rent out a private room. This room comes with a queen bed, a nightstand, a full closet and cosy access to the common areas of the house. Since the house also accommodates a long-term tenant, the guests will have to share the bathroom. However, Superhost Camy always makes sure that the place is clean and sanitized. A delightful addition to the place, as dog-lovers would say, is the host's Shih-Tzu, Missy. Not only is the Airbnb close to the shopping centres, restaurants and recreational areas, but it also gives easy access to the major freeways. A paradisal Airbnb or what?
Galleria Urban Oasis
Located right in the heart of Houston, this Airbnb – Galleria Urban Oasis – is like a piece of nature in the middle of urbanization. The house comes with four bedrooms, seven beds and two bathrooms as well as guest access to the house's spacious backyard and the pool. A number of amenities, including a sound system, hot tub, BBQ grill and WiFi are provided for the guests as well. Superhost Paul is super friendly and makes sure that your visit is perfectly comfortable and enjoyable. A number of restaurants, cafés and entertainment options are close to the property, all thanks to its strategic location. Ideal for groups of 10-12 people, Galleria Urban Oasis can make your vacation go from better to best!
Urban Cowboy Inspired Apartment with Back Porch
Located in the Neartown area of Houston is an elegant but comfortable apartment, complete with a back porch. This Airbnb consists of a spacious living room, a full kitchen with a dishwasher, might I add, two bedrooms, two full bathrooms, a dining room, a BBQ grill and a well-maintained outdoor space with free parking. The apartment has a cowboy-inspired look and feel, featuring vibrant colours over grey interiors and wooden fixtures. It is also strategically located from key places, including the important bus routes, grocery stores and other amenities. This super clean and amazing Airbnb – kept so by the Superhosts Katy and Mehdi - is perfectly ideal for groups of seven people. Get on your cowboy boots and get your fill of Texas through this Airbnb!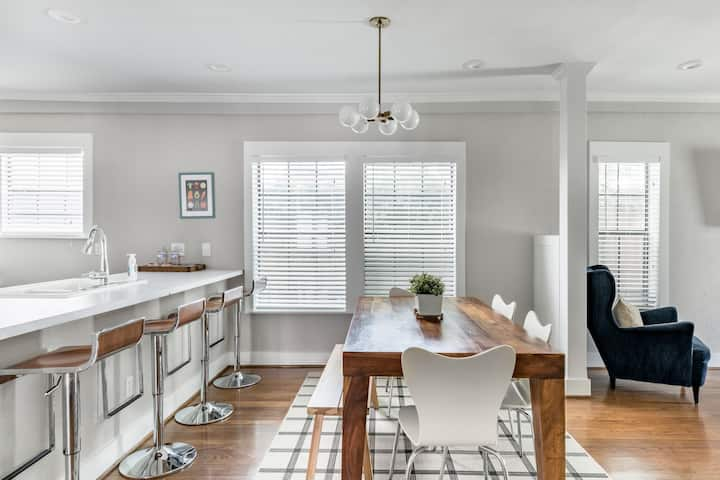 Modern Luxury Loft
A loft straight from heaven, this Airbnb is one of the best Houston has to offer. This Modern Luxury Loft, located in the downtown area, consists of two bedrooms, two bathrooms with huge bathtubs, an open concept kitchen, a high and beautiful two-story living room and a colourful and comfortable terrace. The condo, with its white walls and brown fixtures, is just brimming with natural light, which gives off warm, energetic and inviting vibes. Guests will have access to the smart TVs, WiFi and a number of other facilities. A plus point of Kaelee's – the host – the loft is that it is located in the walking distance of cafés, restaurants, markets and other important amenities.
Montrose Pool House with Pool & Soothing Spa
How would you like a place which comes with its own amazing pool and a spa even? If your answer is, "Oh God yes!" then this Airbnb is the one for you. Located in the heart of Montrose area of Houston, Montrose Pool House is an amazing property, hosted by an attorney and 'Superhost' James. He lives in the main house, while the guests are free to use the guesthouse and the adjoining pool. There is a comfortable bed, a bathroom and not to forget the pool and spa. You will have access to the laundry room, hot tub as well as the walk-in closet, among other facilities. A compact but cosy space to live in, Montrose Pool House is something of a dream house.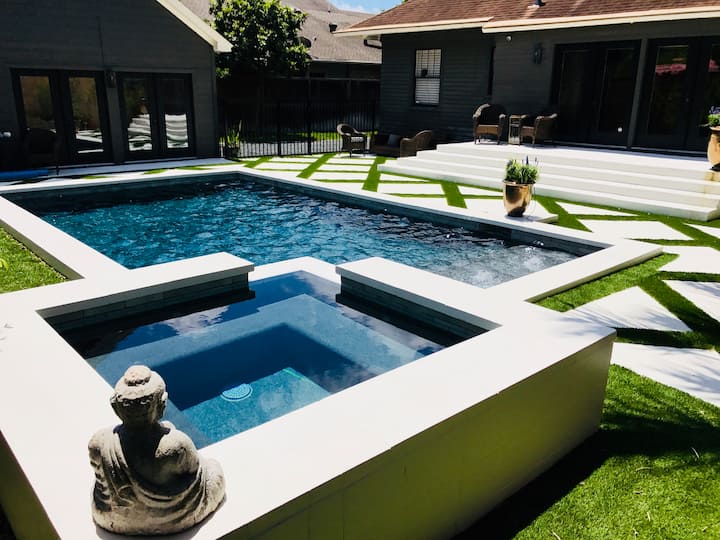 Renovated 1940 Bungalow with Covered Patio
When a classic, 1940s brick house gets a wholesome renovation, you get a gorgeous, modern house with a vintage charm, to live in. This is exactly what this Airbnb wholeheartedly offers. Located in the Eastend of Houston, the property consists of a beautiful living room, a full kitchen, dining room, two bedrooms, complete with spacious beds and smart TV in one of them, full bathroom with a soaking tub, a patio with BBQ grill and the airy and large front garden. The place boasts of hardwood floors, flowing living areas and even a cosy fireplace! This Airbnb – hosted by Superhost Torey - is perfect for four guests and can be their relaxing getaway, right in the middle of the city.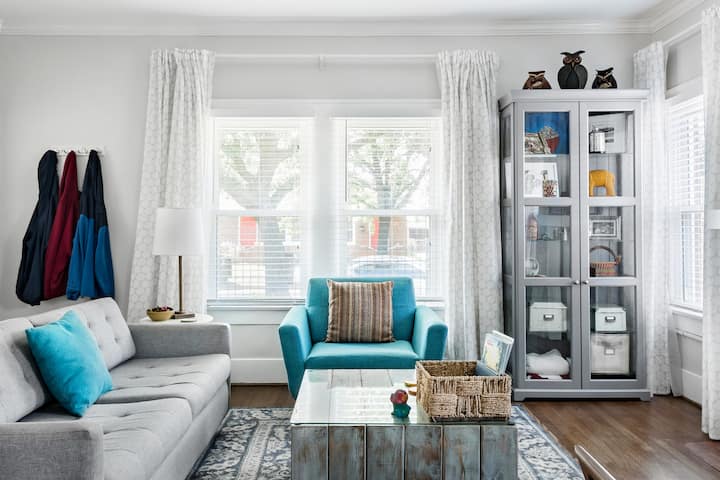 Stunning Townhouse Private Courtyard-Museum-Medical Center
It is every travellers' dream, to choose such an Airbnb that will give them privacy but also be centrally located. This dream is fulfilled by this Stunning Townhouse Airbnb, in the folds of the Museum District, quite close to Medical Center and Mid-Town. Great and comfortable for groups of five, the property consists of a fascinating living room, a full kitchen, dining room, two bedrooms, two bathrooms, common space and a well-maintained patio. The house has beautiful terracotta tilework, wooden fixtures and earthy tones, giving it a boho-chic feel. Superhost Alton definitely makes sure that your stay goes by comfortably, with minimal disturbance. It's a great catch, this Airbnb!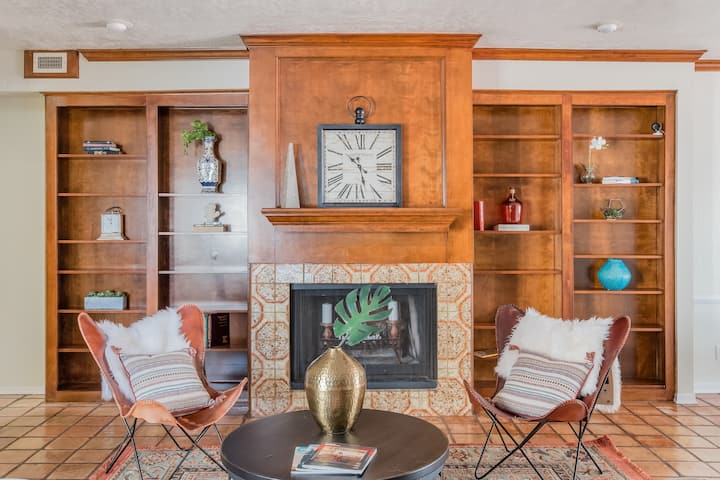 Early 20th-Century Style Bungalow with Front Porch
Almost all of the Airbnbs in Houston are big on accessibility – that, it is accessible from major landmarks of the city. This Airbnb, located somewhere between Downtown Houston and the beachside of the Galveston Island, is an early 20th-Century style Bungalow. Perfect for four guests, this entire house can be used by you to your heart's content. You will get easy access to the living room, full kitchen and dining room, two bedrooms and full bathrooms, a study, garage as well as a beautiful patio and outdoor space. With the repointed brick walls, leather fixtures, wood finishes and wrought-iron adornments, the place has a warehouse-style charm. Superhost Trent is very thoughtful and hospitable – so much that you'll wish to come back again and again!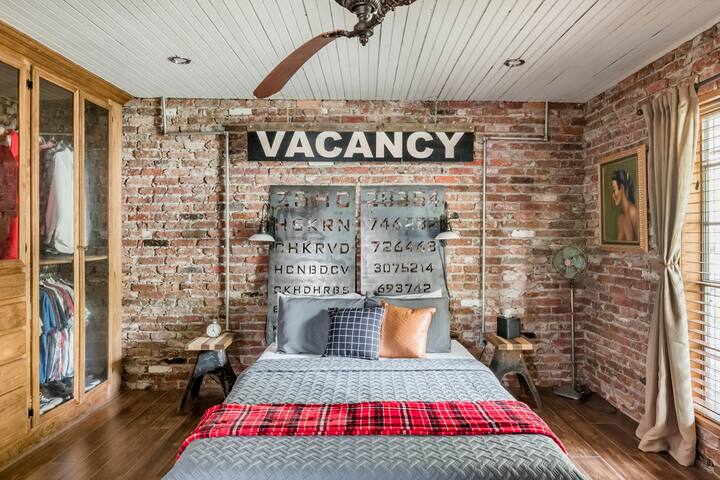 Vintage 1930, ozone sterile home, minutes from Downtown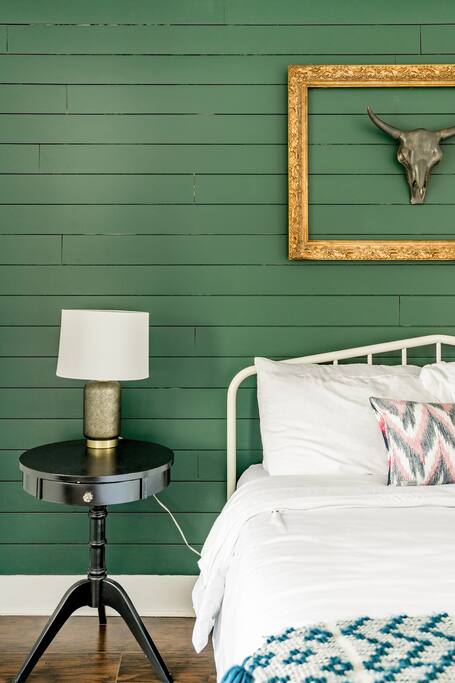 This might not be one of the first Airbnbs to be extremely clean, but it is one of the firsts to be ozone sterile! Located in the historic neighbourhood of Eastwood, this Airbnb is the 1930s, vintage house, perfect for two guests, especially couples. The house comes with a living room, full kitchen and dining room, a bedroom and full bathroom, cosy outdoor space and a furnished patio. The dark floors mesh beautifully well with the contrasting white interiors, while green fixtures complement this contrast really well. The Superhost Jennifer, and her husband Ivan, live right on the property and will be present there to facilitate a smooth living experience for you. Nestling in the shade of century-old Oak trees, the house is a piece of past in the present.
Elegant Colonial Home Texas Medical Center / Museum District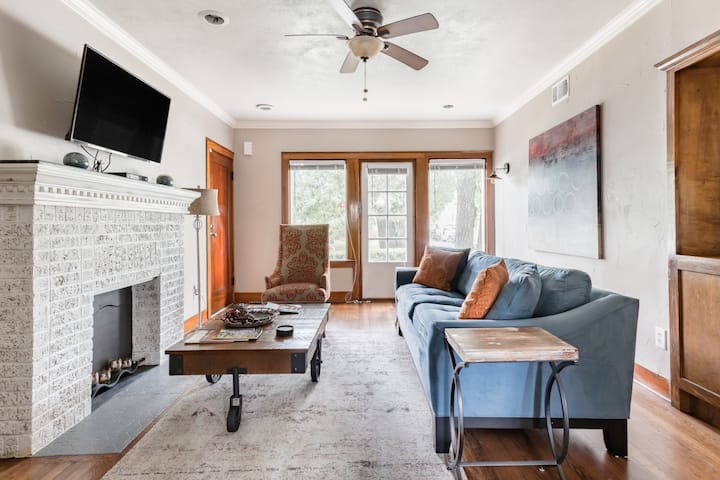 The Museum District of Houston has an amazing selection of Airbnbs – and one of the best happens to be this Elegant Colonial Texan-style home. It is a two-story vintage house, a historic 1930 duplex, where groups of six are free to rent the lower level. The spacious outdoor common area lets you step in the well-furnished living room. There are two bedrooms, two full bathrooms, a full kitchen and a dining room, not to forget, the open space of the backyard. The house has amazing rusty chic vibes, which mesh surprisingly well with the southern colonial architecture. The Superhost, Jaa, is friendly and efficient, available for your needs 24x7. With a wonderful assortment of amenities at your service – and every important facility within a walking distance – this Airbnb is a piece of heaven on Earth.
Heights Hike & Bike Studio Guest Apartment Walk-Up
Centrally located in Houston Heights is a cute little Airbnb, perfect for couples. This Heights Hike & Bike Studio Guest Apartment comprises of a well-equipped full kitchen with a dishwasher and breakfast table, a bedroom with a queen bed, a full bathroom with a large soaking tub and an amazing addition – garage. Amidst the neutral shades lies a quality selection of modern fixtures and furnishings, a private entrance for easy access to your Airbnb. Superhost Bruce will be available on the property all the time and is, according to the many guests' testimonies, a friendly but an efficient host. He also offers bikes with the suite, meaning you can roam around on the cruiser bikes with your partner. Doesn't this Airbnb seem like a catch?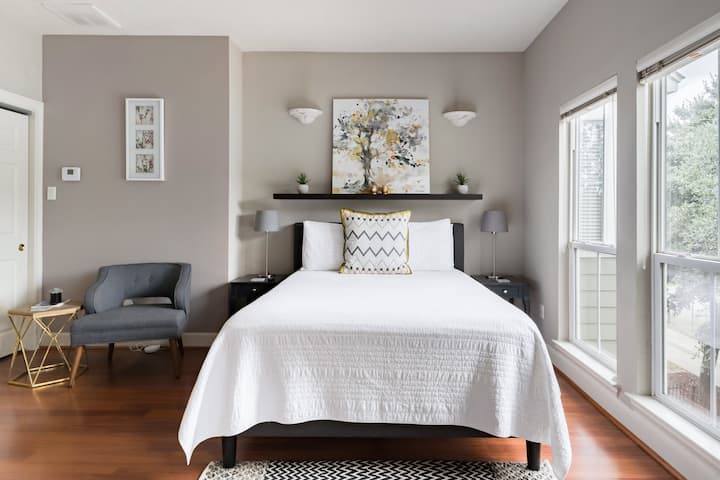 Right from a sleek modern spa-included place to a Rubik's cube-esque studio, Houston offers some of the best Airbnbs for its visitors. Every place promises such a great living experience for the guests that they are actually seen going back to them again and again.