15 Best Airbnbs in El Paso
Although El Paso has always been present on the map of Texas, it is only recently that the town has been catching tourists' eyes. Known as the 'Sun City', it gets the amazing sunny weather for almost 300 days of the year. It is one of the 10 safest cities in the US, famous for its Tex-Mex cuisine and as a border town to Juarez, Mexico. So, if you ever decide to visit this up-and-coming tourist spot of Texas, look at the below-mentioned list of amazing El Paso Airbnbs to kickstart your planning.
Affiliate Disclosure: As an Airbnb Associate, we earn a small commission when you book through links on this page.
Private Detached Guest Suite in Historic Area
No other Airbnb in El Paso is as comfortable and as aesthetically pleasing as this one! A private guest suite in the historic Austin Terrace District, this Airbnb is great for couples, solo travellers and even a family of three. This space has a small but well-equipped kitchen, a huge double bed and a bathroom. Adorned with amazing artworks, the studio apartment is a cosy confluence of pastel blue and soft cream shades. Since the place is a part of a bigger house, you also get a perfectly private entrance and free parking around the house. Superhosts Celeste and Travis are super hospitable and accommodating, taking care that the place is not only extra clean and disinfected but also perfect to live in.
Jacuzzi Tub Bungalow - Central EP
An entire 400 sq. ft. studio apartment Airbnb is all yours to be the base from where you can explore El Paso! It comes with a neat little space, filled with a spacious sofa, a comfortable bed and a small but full kitchen. Step through the door by the bed to see the beautiful bathroom, equipped with an actual jacuzzi tub. Along with this, the apartment boasts of refrigerated air, a smart TV and free on-street parking, among others. The backyard of this Airbnb comes as a shared one with the main house, where Superhost Tony lives as well as hosts as one of his listings. The neighbourhood – Austin Heights – is a safe one and quite close to important El Paso landmarks, making this Airbnb quite a catch.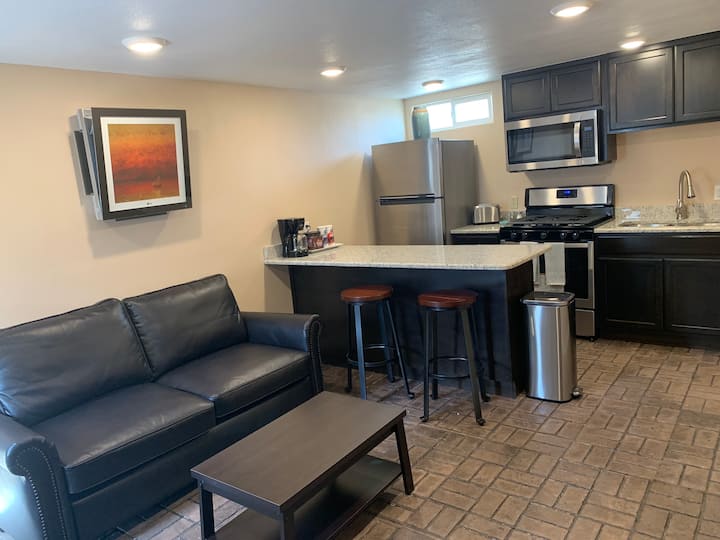 Beautiful fully refurbished 1950's Vintage Home
Superhost Victor has always received positive reviews about his Airbnb listings – and this 1950s refurbished Airbnb is no different. Fairly close to I-10, Airport, downtown and other El Paso areas, this full house is up for grabs. It comes with a spacious living room, which leads right to the comfortable dining arrangement and the full kitchen. The house also has two bedrooms, complete with two beds and one full bathroom, all of which are tastefully decorated. There's also a back patio attached, where you can enjoy some quality time with your loved ones. You can park your car in the garage or keep it outside the house – the neighbourhood is extremely safe. This vintage and charming home is a perfect retreat for five people in El Paso.
Art Oasis Casita Aurora (Air Purifier, Clean)
El Paso is also home to a number of beautiful Airbnbs, including a converted garage filled with cute and artsy stuff, all of which are locally sourced. This Casita – named Art Oasis Casita Aurora – is an amazing Airbnb in Manhattan Heights. It is a large space, where you get a double bed, a comfortable couch, a big round table, a small kitchenette – with a refrigerator, coffee maker, hot plate and a sink – and not to forget, a well-equipped bathroom. The shared courtyard of the place is simply amazing, adorned with cute stuff, cosy furniture and a grill. All of the Airbnb's artworks come from the host Jason's own local shop, Jackrabbit Trading Co. Convenience and comfort rolled in one, this Airbnb is pure paradise.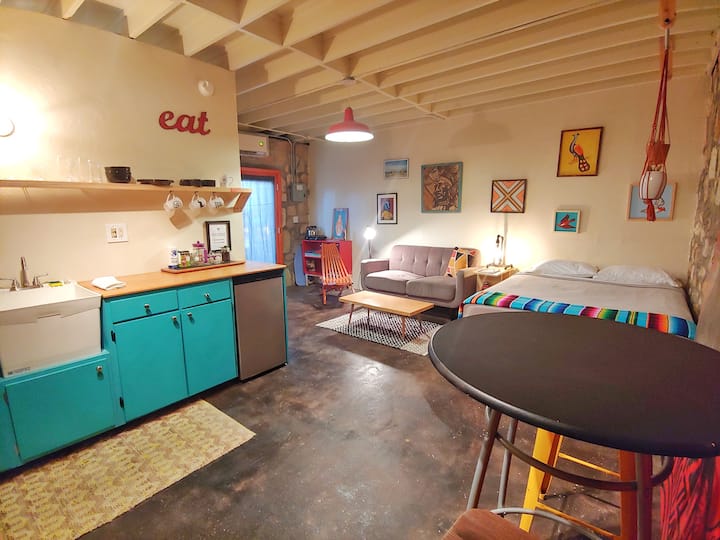 Spanish Style Mountainside Suite
Nestled in the folds of the Upper Mesa Hills area, this Airbnb is, according to its previous guests, a 'topnotch place'. Ideal for couples and solo travellers, this private guest suite comes with a 400 sq. ft. of space, adorned with a double bed, a comfy leather chair, a full kitchen and a neat and clean bathroom. Not only you get a private entrance to this newly constructed place, but also two back patios, Jacuzzi and a pool, which, however, will also be shared by Superhost Fred and his family, who lives in the main house. Extremely close to I-10, you will just be located mountainside, at a few minutes' distance away from the true El Paso experience.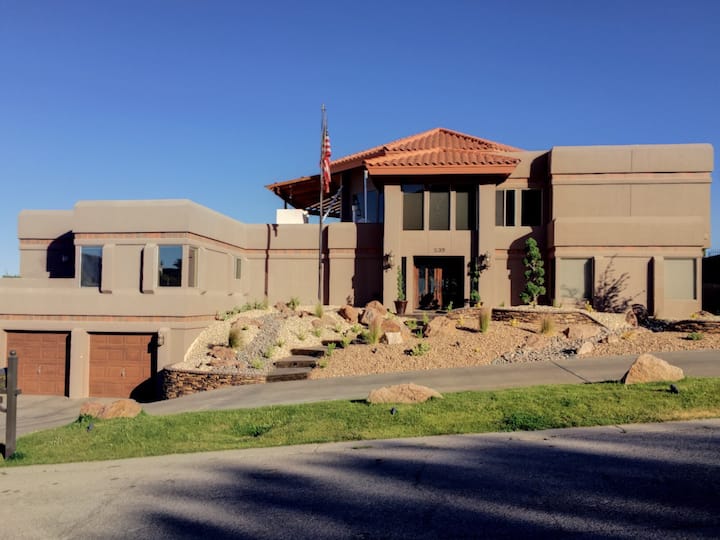 Campbell Cottage
Located in the Historic Rim neighbourhood is this enchanting Airbnb, i.e. Campbell Cottage. This guesthouse is spread over 275 sq. ft. and has recently been renovated to offer a seamless living experience. Though the kitchen is not available, you will get access to a double burner cooktop, mini-fridge and a microwave to make up for that. The guesthouse contains an aesthetically decorated bedroom – with a comfortable double bed - and a bathroom, fully packed with modern amenities. To name a few of them, there's a closet, ironing board, WiFi and a dedicated workspace. Superhost Nancy and her husband have developed a habit of remodelling old houses – and this little Airbnb is one of their best projects ever.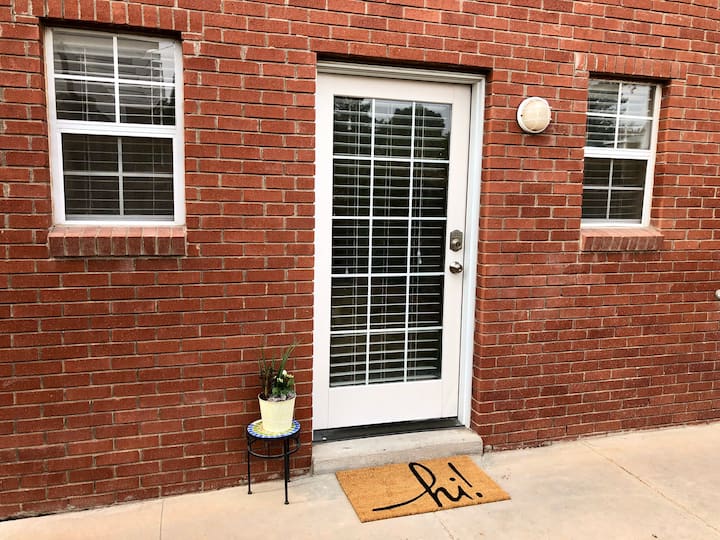 Stylish Studio Near Downtown El Paso
Sunset Heights is one of the oldest but coolest neighbourhoods of El Paso – and this Airbnb is exactly like its neighbourhoods. Known as the Flamingo Studio, it is a beautifully decorated place, complete with a large space with a bed, a kitchenette and a bathroom. What immediately grabs your attention about this is the aesthetic vibes of the place, which is achieved by white walls, which are in turn soothingly contrasted by splashes of colours. The house sports a small front porch, which is shared with the other units of the complex. Since host Marina's place is really very close to downtown, there will be no moment of yours that will go slow or boring here!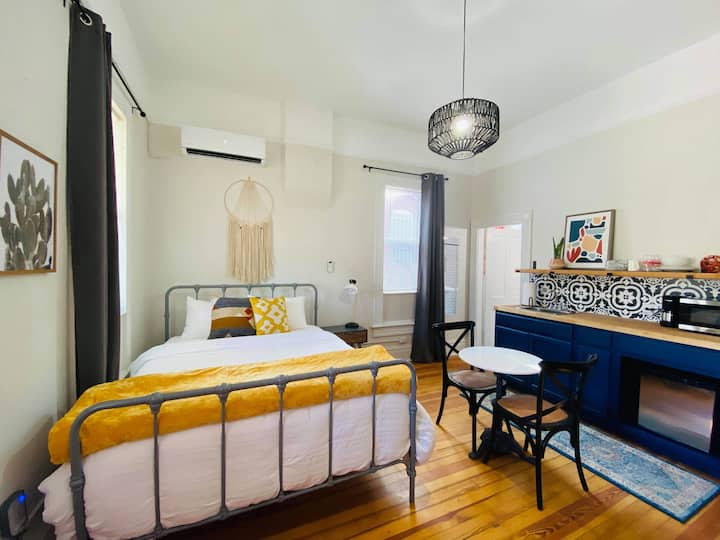 Historic Building and The Perfect Airbnb
With museums, theatres, the new baseball stadium, international bridge and restaurants surrounding the place, this Airbnb is a beauty sitting in a renovated 100-year-old building. An extremely comfy queen bed sits by the window of this apartment, which also comes with a full kitchen, a sofa, a dedicated workspace and a bathroom. The wooden floorings, modern fixtures and stainless appliances are just some amazing additions of this Airbnb. Superhost Memo is friendly and considerate, always making his place feel like home to all his guests. His place is praised for its immaculate condition, cosy quality and its convenient location, making it quite a catch and that too, at a pocket-friendly price.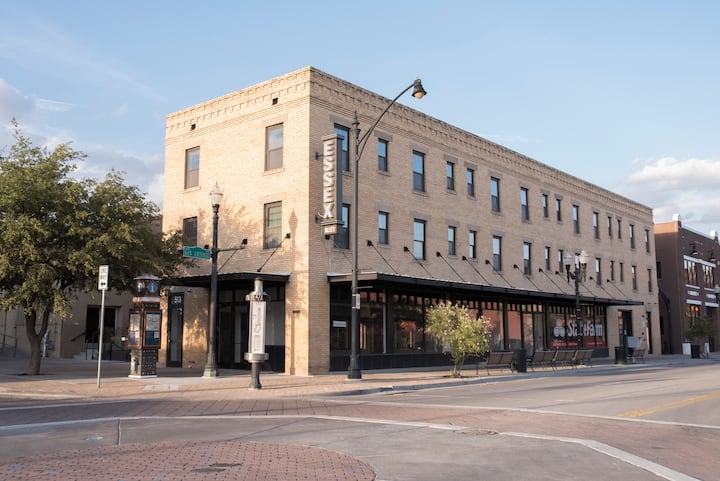 Penthouse at Casa Wheeling
Casa Wheeling is an award-winning residential space in Central El Paso – and you get to live there, thanks to this Airbnb. The Penthouse boasts of an open floor plan, designed as a contemporary loft and can accommodate up to four people. The living area contains a full-sized futon, whereas the bedroom has a queen-sized bed, both of which are divided by a central wall and can be accessed separately. The bathroom and the kitchen have every basic thing the visitors would need. As for the outdoor space, the south-facing balcony is peaceful and quiet and offers sweeping views of the city. Superhost Edoardo is very hospitable and his place, with its contemporary feel and a variety of amenities, offers an equally comfortable stay.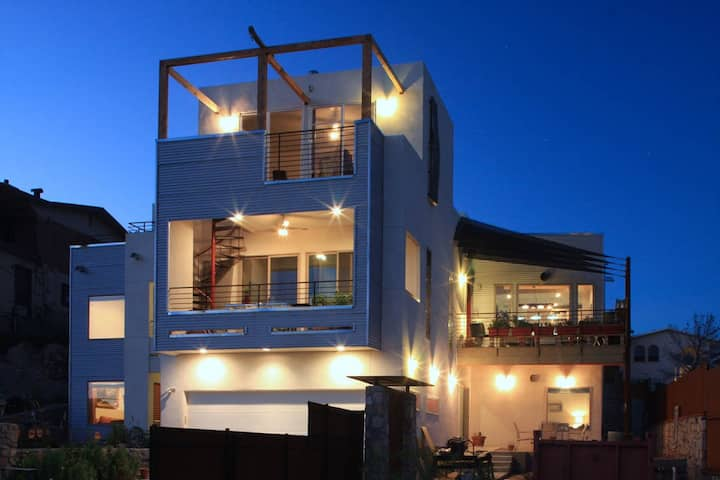 "mi Casita"-Entire One-Bedroom Apartment Near I-10
This cosy and comfortable one-bedroom apartment would literally make you feel as if you have stepped in a wooden paradise! Located in West Central El Paso, 'Mi Casita' provides a spacious living space, a well-equipped kitchen, a bedroom with a double bed, and a bathroom. Since there's also a sofa bed, the Airbnb can accommodate up to four people. Step outside the apartment to enjoy the amazingly designed backyard, where you can enjoy some amazing time with your loved ones. You also get access to a washing machine, a smart TV, and a refrigerator, among other things. Superhost Glen gives away his place for long-term stays as well, which is beneficial as not only is it an amazing Airbnb, but also is close to other important landmarks.
Private and Safe Studio Apt
If you are looking for a flat just by El Paso Airport, then look no further! This Airbnb is conveniently located and comes with a private entrance. It features a small kitchenette, private bathroom as well as a king bed and a futon. The property is a garage converted into this apartment and is perfectly equipped to provide a relaxing time. The window lets enough sunlight in the place, while thoughtful and much-needed amenities are spread here and there. The patio is also available to use and is minimally decorated to provide a relaxing time to you. Superhosts Christian and Sabrina have thought of everything to make this Airbnb perfect, including adding a desk for work and bassinet and toys for children.
Stylish Mini Studio, Close to I-10 Central Private
This Airbnb, located in Central El Paso, is a cosy getaway for two, equipped to provide you with a great stay. There's one bedroom with a bed, a full bathroom and an amazing kitchen. The home has a distinctly Indian feel, with colourful décor and unique artworks spread around the space. The mini patio is not only private but a secure one, surrounded by wooden fences and security lights. Superhost Adria is super sweet and hosts the place in honour of her cousin and others who lost their lives in the Walmart Shooting, donating 10% of the bookings to charity. Once you park in the dedicated parking space, get your keys from the secure lockbox at the entrance and make yourself home!
The Tiny Stone Home - Remodeled Historical Casita
El Paso's real charm is hidden in its remodelled homes and in this case, Airbnbs. This beautiful Airbnb is a Tiny Stone house, located in the unique and historical neighbourhood of Manhattan Heights. The green and brown shades of the outside world are actually replicated inside the space, where you will get access to one amazing bedroom, a well-equipped bathroom, a small but proper kitchen and a cute little backyard, complete with a BBQ grill. There's a dedicated workspace, high-speed WiFi and you get to park your car on-premises for free! Since Superhost Martha lives in the main house, she's literally one call away from her guests, meaning your stay will be as perfect as possible.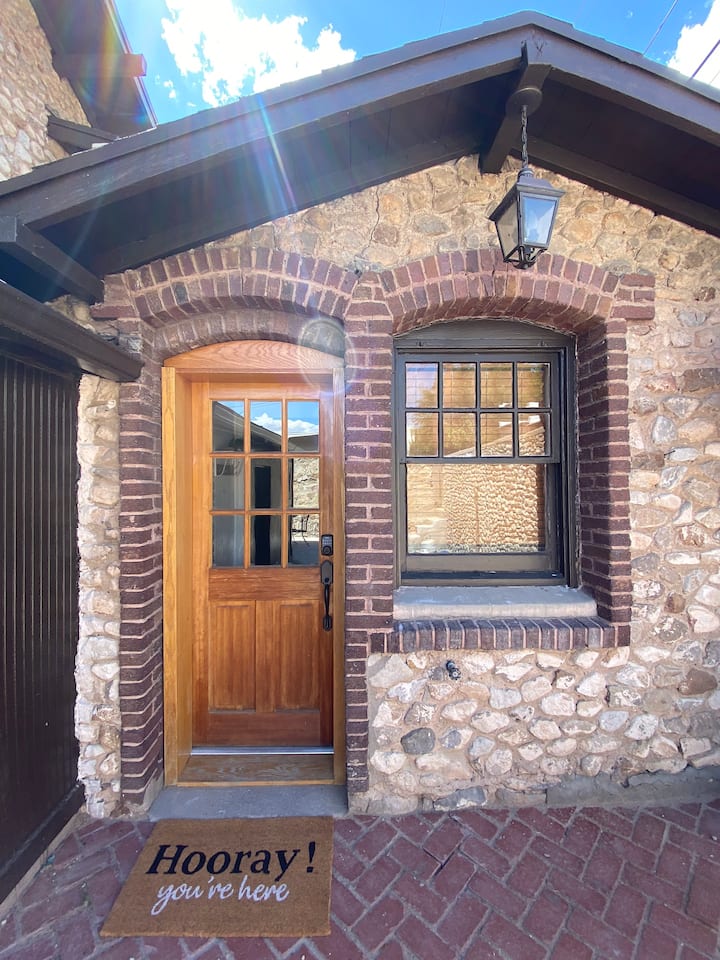 Historical Spanish Casita!
This amazing historical Spanish Casita Airbnb promises to offer an authentic El Paso experience to all its guests! The 400 sq. ft. of space is adorned with a queen bed, a wooden cupboard, a cushiony loveseat to fall back on, small kitchen space with the necessary appliances and a compact Talavera-tiled bathroom. It is detached from the main house - which is really 100 years old and boasts of Spanish Colonial history - and comes with a keypad for entrance. The studio is filled with beautiful fixtures and artworks, all of them having Spanish origins. Superhost Patricia not only keeps her place clean and charming but also provides detailed information on El Paso's attractions and dining options, making her place especially preferable for people visiting the city for the first time.
S.O. Mexico Home Experience
Looking for a true Mexican living experience? Worry not, this Airbnb has got you covered! This spacious place, located in the vicinity of Sunland Park Mall, can house up to seven guests comfortably. The house contains a comfortably designed living room, three bedrooms, two full bathrooms, a full kitchen and a seating arrangement, all coloured with bright shades and plenty of sunlight streaming through the large windows. You get access to Roku TV, washing machine and even children's books and toys, among others. As for outside facilities, there is a beautiful patio, overlooking the background, where you'll get access to the BBQ grill. You won't get a chance to complain to Superhost Alex & Raquel, as they keep this Airbnb absolutely perfect.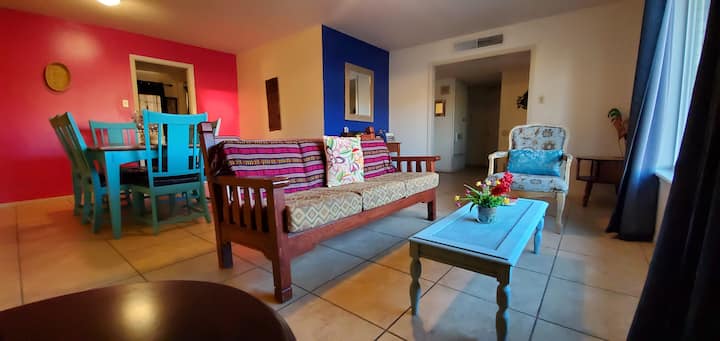 From the renovated ones to stylishly decorated ones, all of the Airbnbs have one thing in common – that of offering a comfortable and seamless living experience. Whether you are a couple travelling or a group of friends visiting El Paso, the Airbnbs are stylish, accommodating and simply put, amazing.