15 Best Airbnbs in Buffalo
Roughly 16 miles from the Niagara Falls, renowned for attracting a million tourists every year, Buffalo in the state of New York is a city significant for its art and architectural wonders. Aside from this, the city also offers a taste of its rich culture, historical remnants and delectable delicacies.
It is definitely a tedious job to shortlist a few out of the many things-to-do in Buffalo, whether it is an exploration of the Albright-Knox Art Gallery, a ride through the Buffalo Zoo, a reminiscent visit to the Theodore Roosevelt Inaugural National Historic Site or a walk in the Buffalo and Erie County Botanical Gardens and Delaware Park.
Hey, wait! There is more. The city will not disappoint the adventurous beings, set out on a traveling trail as there are water bike rides at the Erie Canal and a setup for ice-skating during freezing winters. Besides that, there are riverboat tours, throwing light on the city's past and how it evolved with time. Another tempting reason for visiting Buffalo is its scrumptious food. From a variety of savouries to a wide range of creations for the sweet-toothed, the city has it all.
Well, ultimately, this magnificent city cannot be appropriately praised in words and thus, we recommend you to experience its charm whenever you could. In an attempt to pick up some load off your back while you do so, we are here with a few finest Airbnbs to stay at in the city.
Affiliate Disclosure: As an Airbnb Associate, we earn a small commission when you book through links on this page.
Magazine Featured Home
Designed to catch your attention, this magnificent apartment is located in the Elmwood Village of Buffalo. According to its host, the property is generally occupied following its ideal location, accessibility to many restaurants and supermarkets and the modern interiors.
While the front portion of the house is occupied by the host, the entire back portion is kept for the guests with a special emphasis on maintaining your privacy during the stay. This one-bedroom space has a glossy wooden flooring, stunning yellow lights, a king bed, and if you are on a work trip, you will have a personal study space to yourself.
There is also a stocked-up kitchen, a living room with a television and comfortable furniture. For some outdoor time, there is a balcony upstairs and a beautiful backyard, decorated with plants and hanging lights.
Modern Carriage House
Wrapped in a modern vibe, this one-bedroom loft can host around five guests. The bedroom has a double bed, and the flexible living room sofas are ideal for a relaxing nap time.
Adding to that, there is a fireplace in the living room. Now, you might fight over the issue of who will sleep right in this warm space, leaving the proper bedding of the room. Moreover, there is ample space in the closet, an iron and a bunch of extra linens.
The kitchen is gushed with natural light and has everything to help you with your meals. There is a pair of orange bar chairs next to the kitchen counter for a quick bite before you set off for your city adventures.
Modern and Bright Elmwood Village Loft
Aesthetically washed in an all-white theme, this two-bedroom loft has an upper hand for being very close to the Niagara Falls (20-minutes car drive). On top of that, the neighbourhood is a social space with many restaurants and bars in the vicinity. You would be astonished to know that the Albright-Knox Art Gallery, Harbour Center Ice Rink Complex and the downtown's Canalside are all at walkable distances from this property.
Despite being a minimalistic house, it has all the luxuries that you would possibly need during your stay. There are cushioned sofas with a smart television in the living room, ceiling windows for natural light and ventilation and dining space with a bookshelf. The master bedroom is a larger portion than the other bedroom, both fixed with queen beds, shelves and spacious wardrobes.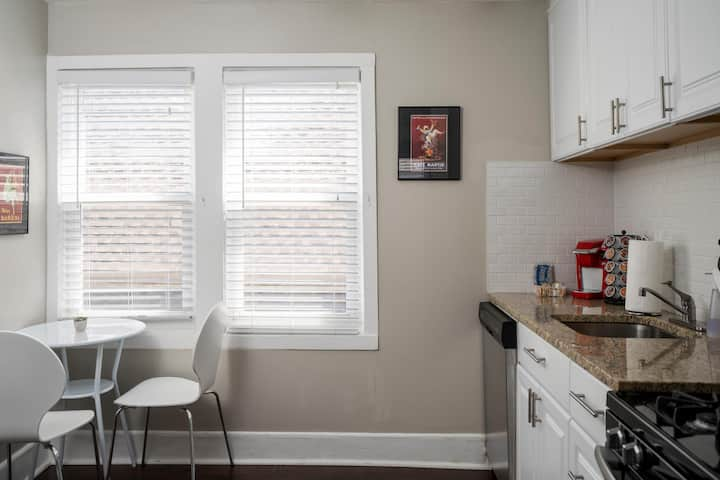 Mid-Century Eclectic Apartment
The very impression of this house that caught our attention is the specimens of art, beautifully embellished on its walls. The description of the apartment reads that the host collaborated with the "local artists to capture the history and energy of the amazing city of Buffalo". Although this 19th century home drowns you in the history of the city, it does not refrain from serving you with the best amenities according to your modern needs.
To begin, there are three bedrooms, enough for a large group or a family of eight as there are four beds and two couches in the living room. Stylish room lamps, wooden chairs, room heaters and many planted pots cover the house in the liveliest way. There is an indoor fireplace for warmth in the dining room, and lighted ceiling fans can be spotted all over the place. The bathroom has a jet tub for a refreshing shower, and the kitchen is fully stuffed with appliances. Besides that, there are chairs in a spacious balcony for some fresh air and sightseeing.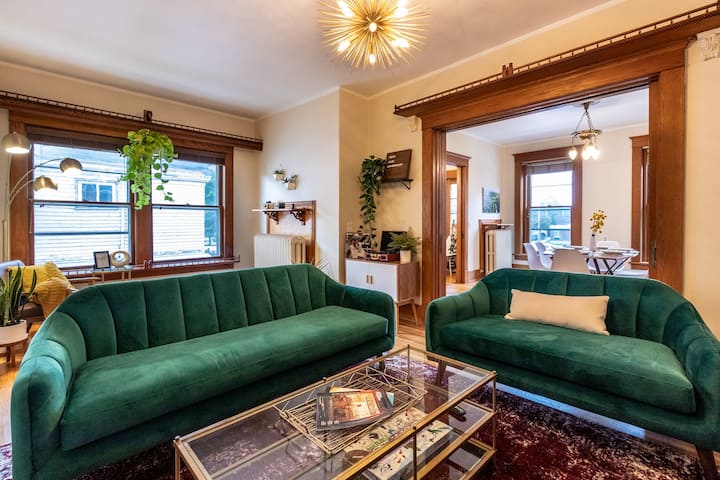 Centrally Located Flat
This red-bricked building is at the center of Buffalo and has quick access to all the interesting locations. There is one bedroom with large television for a cosy streaming session and no fear of falling asleep in the living room, although there is another one attached in there, too. The living room also has bed-like sofas with cushions and dining space next to it. On another corner, there is a small kitchen featuring all the basic facilities. This home is a great destination for couples or a short work trip.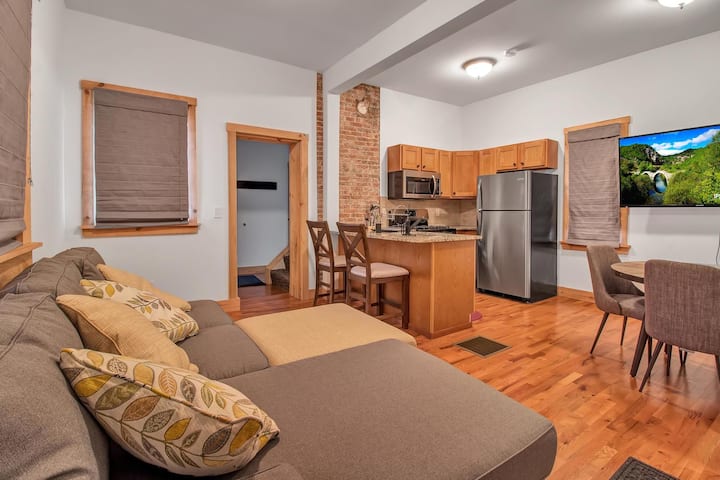 A Fully Renovated Home
Sparkling new furnishings, appliances and a polished wooden floor are going to welcome you in this two-storey apartment, centrally located in the city. We are sure you will not be able to resist yourself from falling for the grandeur of this luxurious three-bedroom space. All the beds have memory foam mattresses and the rooms have huge closets and dressing areas.
The house very creatively takes care of the guest's comfort and that is evident in some of its unique features. For instance, there is a benched area, designed specifically for working or studying or a meeting with some of your colleagues. Then, there is a large living room with two-bed sofas, a recliner chair and a television. There is an indoor electric fireplace as well. The dining table is beautifully decorated with candles, so make sure you have your dreamy candlelight dinner in this cosy spot.
There is no chance that you to get bored while you are being hosted at this home. On the one hand, there is a foosball table (yes, exactly like the one from our favourite show Friends) and a dartboard inside the house and a corn hole and football in the private backyard on the other hand. The patio also has a barbeque and grill with fine seating arrangements.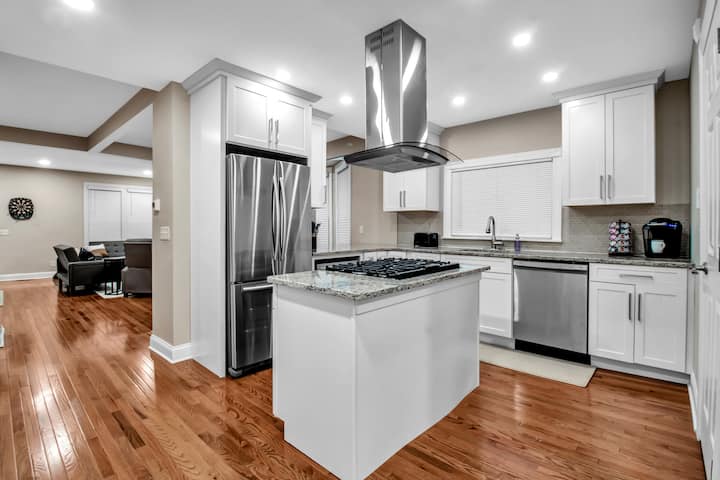 Joe's Urban Haven
One of the sweetest features of this townhouse is that it has been dedicated to its former owner - Joe's grandfather. They remember him as a loving person who hosted "memorable events where everyone was eager to visit, and he made each guest feel like they were in their own home". The hosts of the property, Joe and Jon celebrate their grandfather by keeping his legacy alive as they serve their guests with sincerity and affection.
The living room has a sofa and a dedicated workspace. The main bedroom has a king bed, and the second bedroom has a queen bed with another single bed for the fifth guest. There is a separate dressing room with a charming mirror and hanging hooks, a wine fridge, and a back patio to enjoy the weather while you sip your wine or a hot coffee.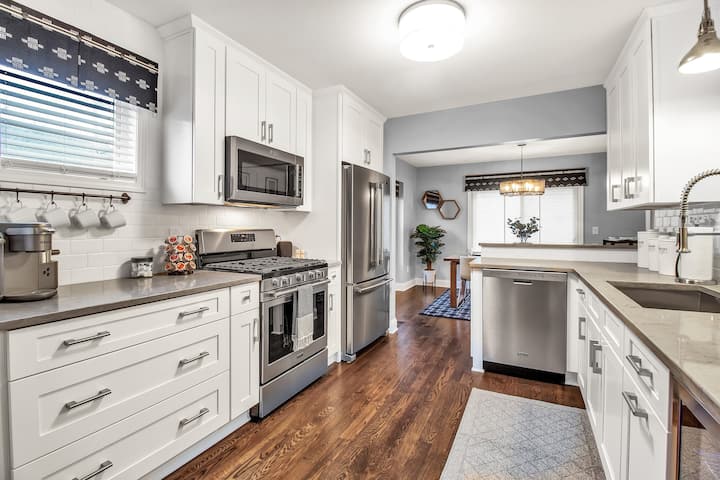 Huge Sunny Loft in Allentown
According to the host, Juliet, this house has been preserved by her family for about 30 years and to add a modern vibe for the guests, it has been recently renovated. There is no doubt that this house will occupy a corner in your heart once you leave it after an amazing stay. It is a blend of simple traditional living and a modern approach as there are little adorable plant spots and a windowed dining nook, decorated with a handmade ceiling lamp.
The main bedroom has a wonderful view of a maple tree from one of its windows, what a great way to start your day! Both the bedrooms are decorated with appealing pillows, side lamps with yellow lights and spacious wardrobes.
Sunlight and green pots are the two things that will keep greeting you at every corner of the house, and all this will sum up to nothing but a magical experience.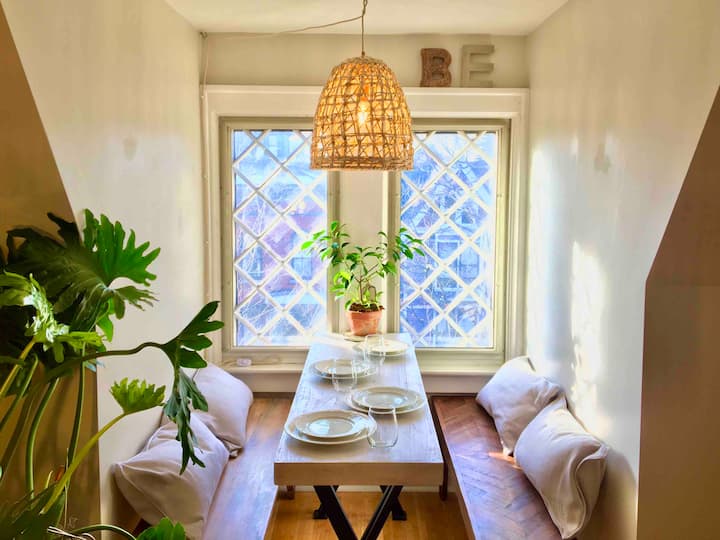 Downtown Buffalo Oasis
In this large house, guests are invited to the second and third floors with three bedrooms, a living room and a kitchen on the second storey and a separate set of the sleeping zone, entertainment area and a small kitchen on the third storey for additional guests. The house can host 7-8 people at a time.
This stylish haven has a large collection of books in the living room, an indoor fireplace and a balcony with shaded seating space for a brunch or an evening gossip session.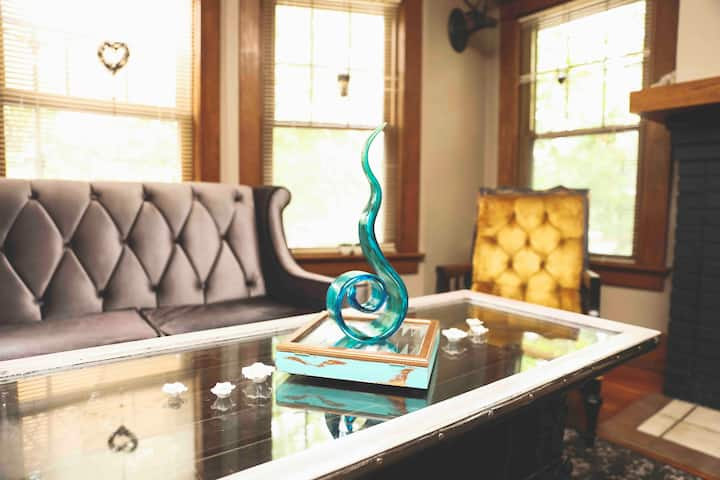 West Side Artistic Dream with A Sauna
This house has a very vibrant vibe attached to it because of the choice of mats, wall decorations and other accessories that complete it. As the title suggests, a Sauna is right next to the master bedroom, and a tub is fixed in another bedroom.
Right above the kitchen, there is a balcony loaded with plants. This fills the kitchen with abundant skylight. The bedrooms have spacious closets and study desks. There is a fireplace with slouchy sofas and a laddered bookshelf with many novels to check out while enjoying a cosy day. Further, there is a little pond, chairs to relax and hanging lights in the patio.
Modern Apartment in Allentown
Enjoy your favourite web series on the large blue sofa in the living room or relish your meals while having a look around the neighbourhood from the dining counter fixed at the windows, facing outside. That is not all! Rest in your spacious bedroom with a fireplace right next to you and do not forget to read a book provided in the living room with a fine glass of your comfort drink.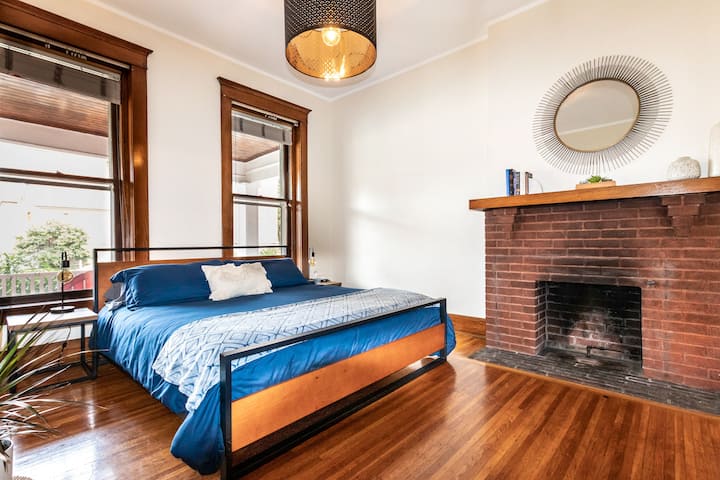 Upper-Level Apartment in A Revitalized Historical Home
This is a Casablanca house with a living room next to a wood fireplace and many intricate showpieces, a television and stuffy sofas. The furnishings are all very modern with a special emphasis on artwork. Wall paintings and tiny sculptures can be seen scattered graciously, all over the place. Topping it all, there is a balcony with fresh green views of trees and gardens in the vicinity.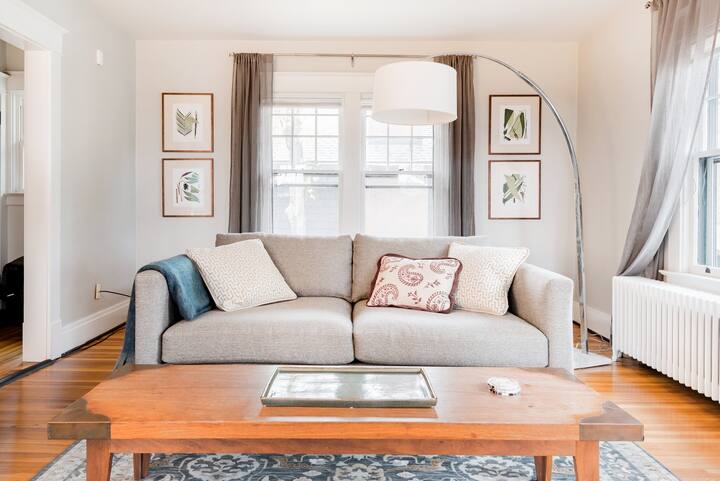 Urban Modern Design Home
An ideal getaway for large family trips of about eight people, this house has four bedrooms. It features stylish wooden cabinets and cushioned couches and beds. The bathroom has a fixed bathtub and is a well-lighted space to avoid dampness. There is an entire corner for dining and work purposes. In its entirety, this house is an extremely well-maintained space, credited for providing a soothing effect to its residents.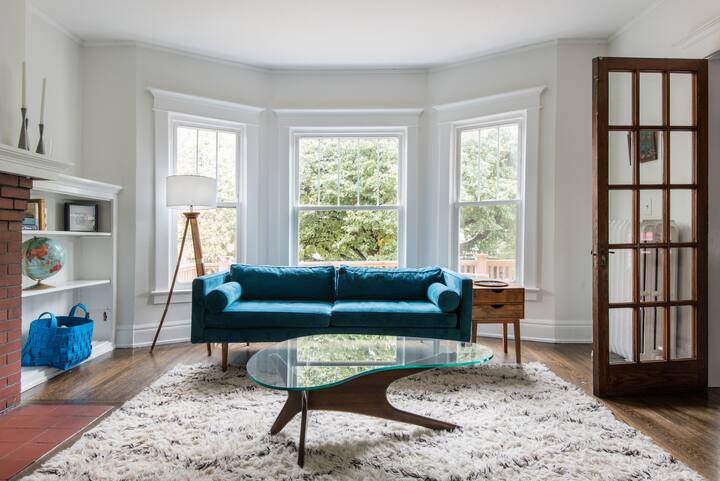 Elmwood Family Home with A Perfect Location
All the decorations in this house are cautiously planned around a stunning colour palette with all the linens, curtains and furniture, synchronized with the wall shades. For all the musicians out there, you will find a guitar waiting for you to pull its strings in the living room. There is also a common space fixed with a work desk. Moreover, one thing that will surely excite the child inside you is the wooden swing in the balcony. As you swiftly sweep in the swing, make sure you leave behind all your worries, one swing at a time.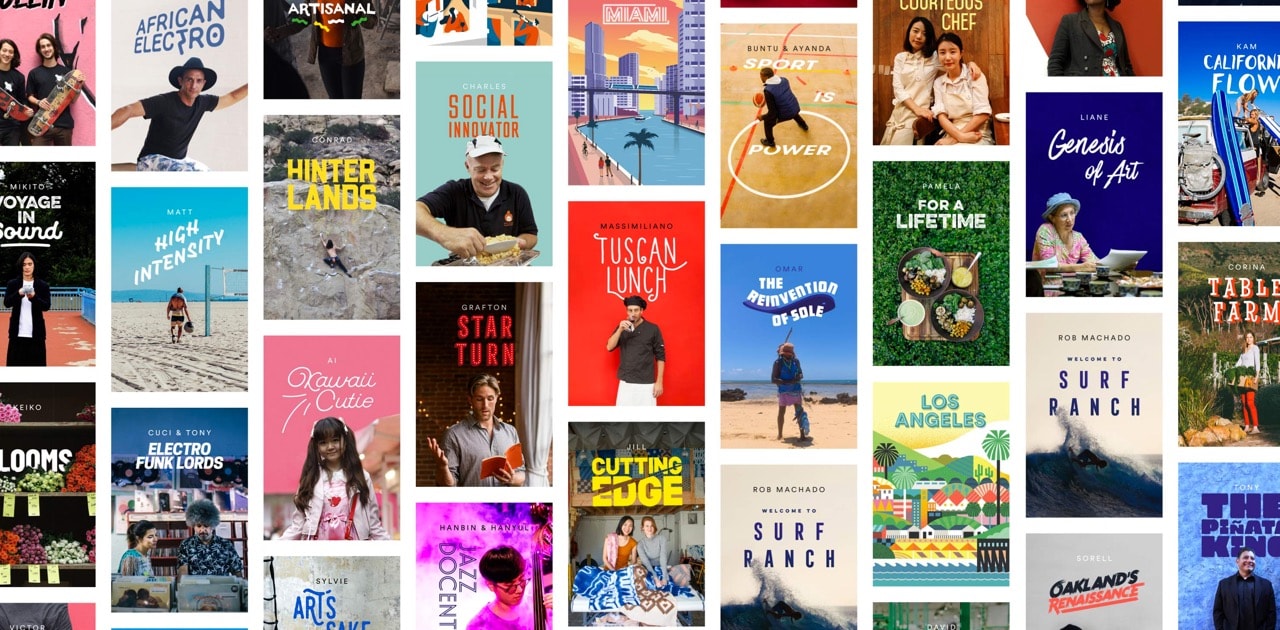 Charming Apartment in A Hipster Neighbourhood
This trendy apartment comes with two rooms having a king bed and a queen bed respectively, a living room with a fireplace and a formal dining space. The entire house is covered with shiny hardwood flooring that reflects the generous amounts of sunlight in every corner. To top it all, the balcony is an ideal spot to revive back to a lively mood after enjoying a sun-soaked hour or a view of the neighbourhood.