15 Best Airbnbs in Bangkok
Krung Thep Maha Nakhon, or as we all know it; the city of Bangkok in Thailand is one of the most popular tourist destinations in the world. Its temples, street culture, art and business ventures are the major contributors to its worldwide recognition.
Some of the renowned Buddhist temples in the city include the Wat Pho, Wat Phra Kaew, Wat Arun and Wat Suthat. Besides that, it also hosts the famous Grand Palace, the Giant Swing, Jim Thompson House and the National Museum of Royal Barge.
Apparently, the most suited time for a visit to Bangkok is during winters in November to March as the weather is generally at its best during this time frame. Even though the temperature is consistent throughout the year, there is a little relief from the humid atmosphere in this phase.
Follow this list of some of the best Airbnbs in Bangkok to make a wise choice of accommodation without any painstaking efforts.
Affiliate Disclosure: As an Airbnb Associate, we earn a small commission when you book through links on this page.
An Adorable Cocoon in The Lively Heart of Bangkok
This stylish one-bedroom property can accommodate five guests with the availability of a king bed in the bedroom and a queen bed and bunk bed in the living room. The house really knows the art of using extra space efficiently as there is a cosy spot in almost all its corners.
The extended living room also features elegant sofas, a television and gorgeous ceiling lights. The bedroom has access to a balcony with skyscraper views, and it fills the entire apartment with generous amounts of light throughout the day.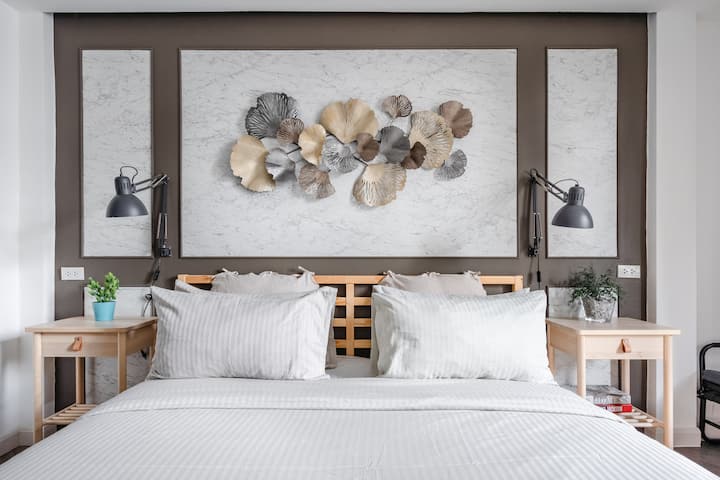 Architect's House Near Chatuchak Market
This two-bedroom house is fully air-conditioned and comes with a stunning living and dining room. The living room is equipped with a flat-screen TV, and there are huge windows that light up the entire house. The dining room is attached to the kitchen, and both have an incredible view of the outdoor garden through the glass windows extended up to the ceiling.
The first bedroom has a mini-fridge to store snacks for midnight cravings, and the second one comes with a study desk for work purposes. The exterior of the house is loaded with greenery and there are benches for a relaxed time in the lap of nature.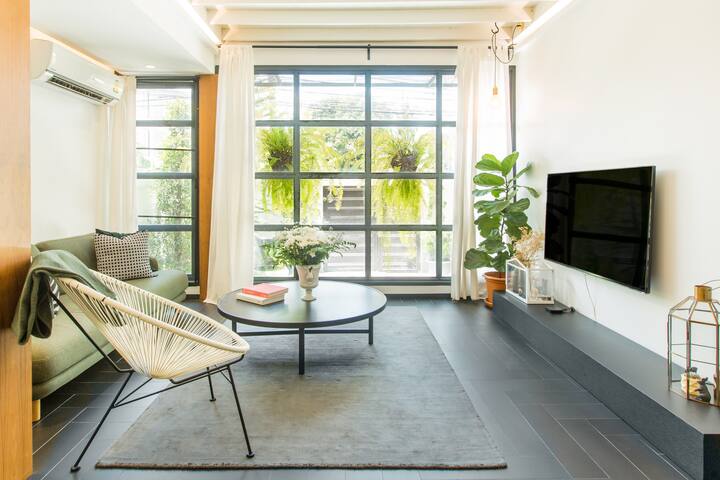 Upmarket Loft Apartment
First things first, this modern apartment stands out from the rest due to its recreational area including an indoor, fully equipped gym and an outdoor pool. The gym is loaded with all the machines essential for workouts, and the pool has sparkling clean water for full-on vacation feels.
There is a television in both the bedrooms of this luxurious house, and both have access to floor-to-ceiling windows decorated with matching curtains. The entire house is air-conditioned, and the kitchen has an espresso machine to take care of your morning coffee.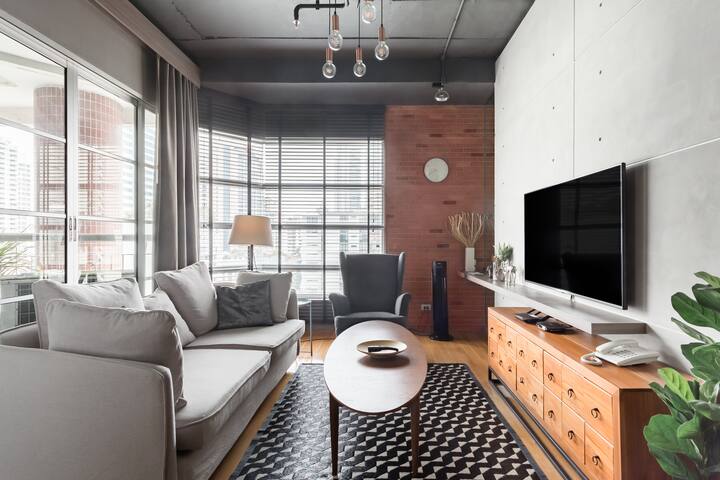 Lighted, Airy, Family Loft Near Sukhumvit Road
The very entrance of this single bedroom house will win your heart with its little slouchy chairs and stools arranged under a lighted tree. There cannot be a better spot for a brunch or an evening snack time.
While the bedroom has a king bed for two people, there are additional bunk beds in the living room, in case you are traveling with kids. The kitchen has adorable jars and wooden seats, carefully shortlisted to compliment the theme of the space. Moreover, the walls of the living room are decorated with stylish clocks of different kinds.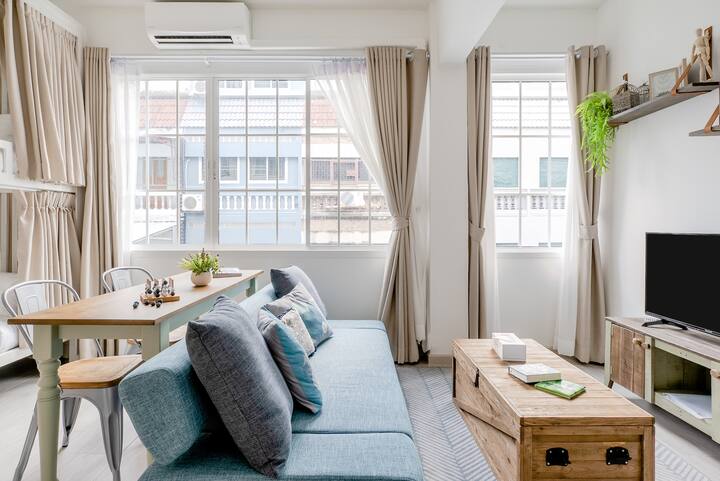 Peaceful Poolside Villa Guest Suite
Located in a calm neighbourhood, this property is bound to give to resort or a farmhouse vibe following its lush green exterior. The master bedroom has glass walls all over, opening to the outside patio and serving the guests with garden views for a fresh morning. Both the bedrooms are designed with additional armchairs, desks and wooden closets.
The kitchen and the dining area are in the open space with a roof. This is the best way of savouring your meals while enjoying the weather after some fun at the private pool. There are beach chairs near the pool for soaking in the sun, and the yard is gushing with beautiful trees and other small plants. The walls are embellished with carved stone frames, adding to the beauty of this haven.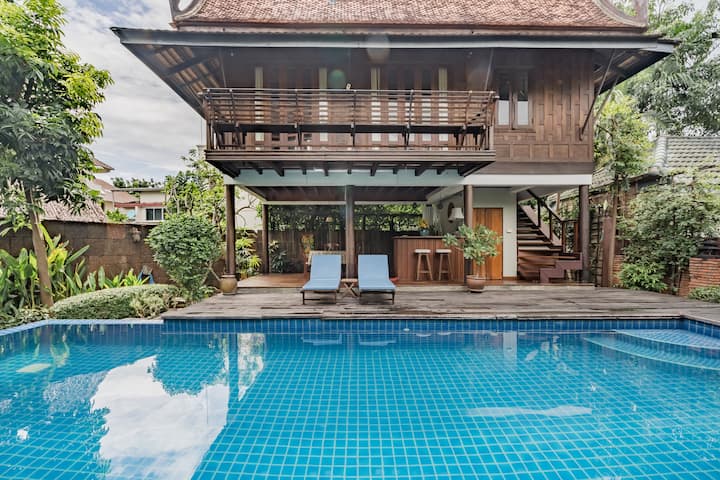 Modern Loft Near the Nana Skytrain Station
This glamorous apartment in Beverly Tower has a single bedroom with a capacity to host three guests. The bedroom is fixed with a king bed, a sofa bed and an additional twin fold bed. The living room offers a very modern vibe with its fine wood floors, LED ceiling lights and artistically fragile collections of shelves, coffee tables and so on. The multiple windows are designed for some wonderful views of the city.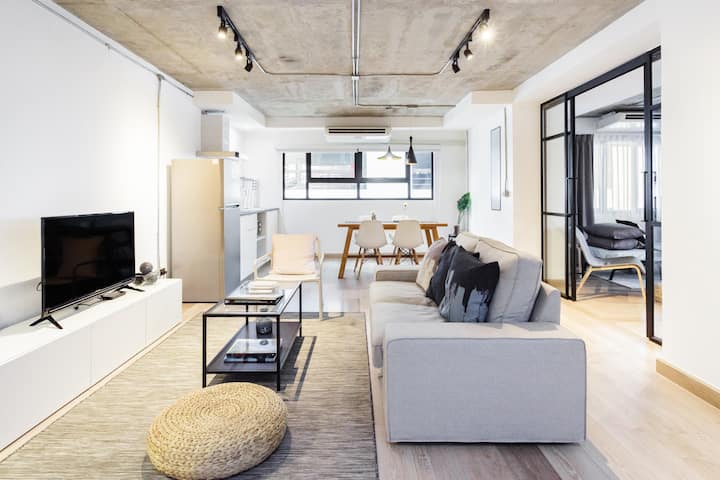 Minimalist Studio with A Pool
Yes, you read it right! This house comes with an outdoor shared pool, a gym and a balcony with skyscraper views. Yet, the hanging lights in the dining area win the battle of impression. This little space is lovingly decorated with many picture frames, consolidated around a black and white colour theme. This place is a perfect choice for couples or a solo trip due to its compact set up.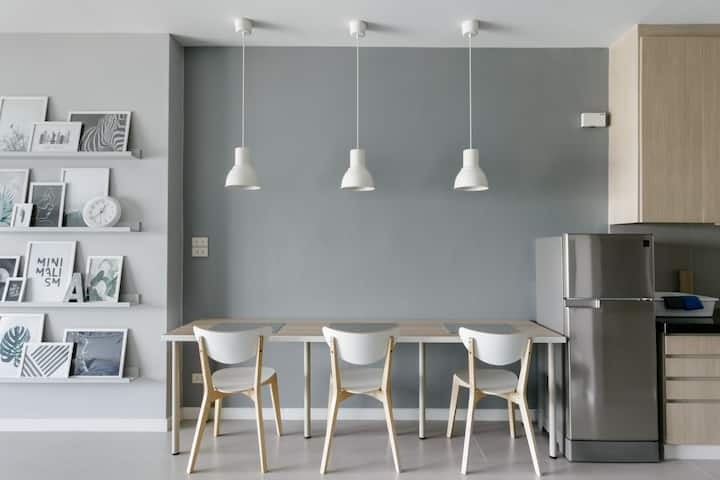 Stylish Private House
Gather your entire gang and unpack in this rustic private villa for an ecstatic stay with a lush green cover, chirpy birds to wake you up in the morning with their sweet melodies and all the modern amenities.
There are two bedrooms with televisions and study desks. The living room is a vibrant space with colourful cushions and a variety of symmetrically arranged photo frames. The house is nurtured with colours, artistic fittings and some green foliage. Nonetheless, there is also a seating arrangement in the garden area for some detox hours. Another benefit at this property is that you will have access to free parking in the premises itself.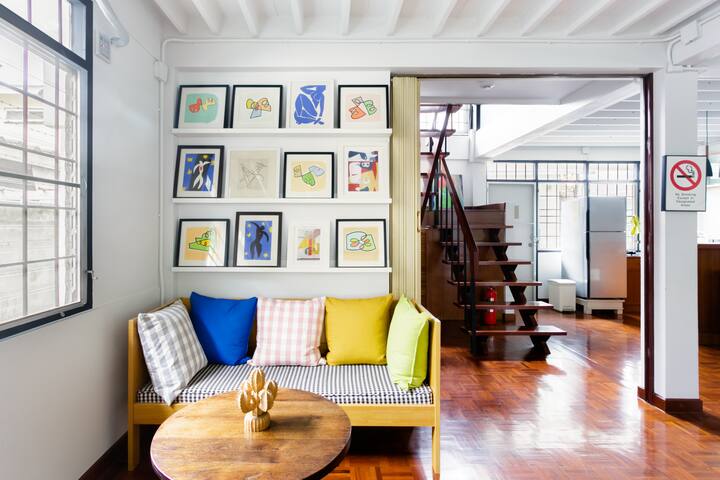 A Designer Condo Near the Local Market
The interior of this studio extends a wide couch in the living room for comfortable television streaming, an espresso machine in the fully stocked kitchen, a rain shower and an artistic touch in the décor with huge windows for lush green views.
There is a big, glossy table next to the windows for studying or reading a book, paired with a fur-covered chair. In such a limited space, this apartment marvels at the art of efficient interior planning and thus, every corner will serve you in the best way possible.
On the other hand, the exterior has a sauna, workout space, free vehicle parking and a shared swimming pool with deck chairs. It is time for you to rest and wash off all your routine stress in this fully packaged Airbnb.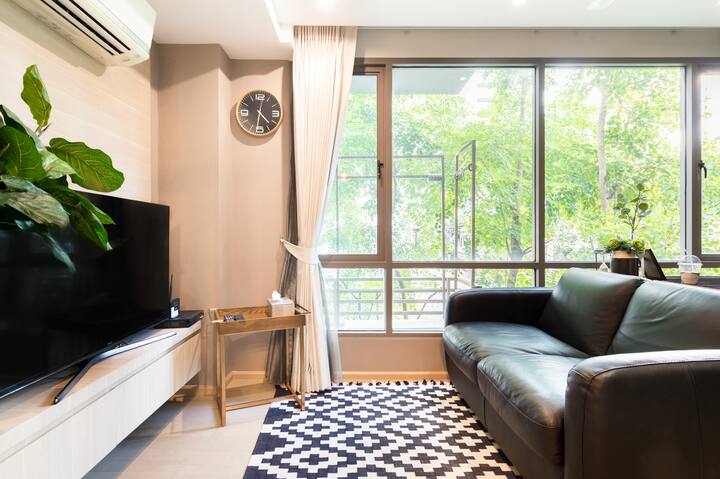 Sun-Filled Quiet Condo
The very first impression of this house is its striking grey theme. The walls, furniture and floors are all designed to complement each other in the best way possible.
Sit back in its living room while watching your favourite series on the television and let the sun peep into your zone through the full wall windows. Do not forget to check in with a bunch of friends and make use of the queen bed in the first room and bunk beds in the second one.
The building premises also have a recreational area, including a gym and a pool. Make sure you dive in the sun-kissed water and follow your daily workout routines without missing out on any of those extra calories.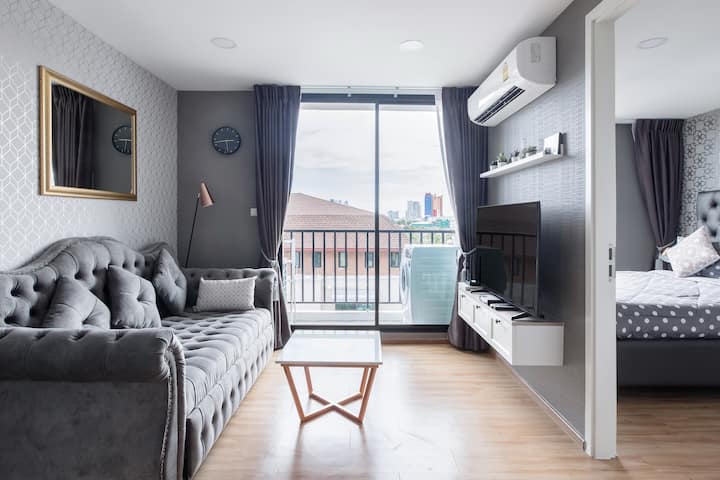 Bangkok's Small Luxury Apartment
Move into this dazzling house for a lively stay with a tidy living room and a single bedroom with bedside flower vases. Two people can effortlessly accommodate in this space with an attached dining area and a compact kitchen.
There is a common space in the compound area, featuring stylish furniture. You can organise your work meetings or gatherings with your friends in this cosy area without inviting them to your personal condo. Besides that, you will be able to try yourself at the pool table in the recreational room. Beat your friends and keep a record of some memorable times to look back at once you leave this wonderland!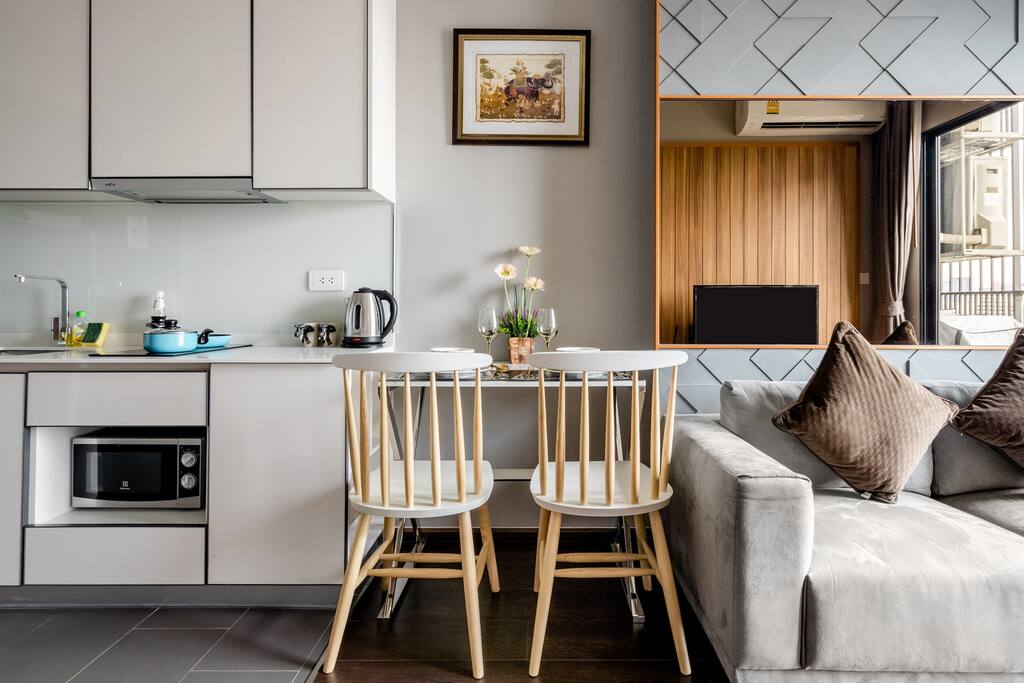 Entirely Customised Loft with A Rooftop Pool
Are you worried about your stay in Bangkok as you are traveling in a large group? Does the idea of staying in different apartments and missing out on the midnight conversations and a chance to steal one another's finest clothes bother you? Well, here is a massive apartment by Airbnb, designed to rescue you from all such worries.
The house offers five spacious bedrooms, four bathrooms and a living room. All the five bedrooms feature a total number of 7 king or queen size beds with additional single beds. This space is thus, recommended for 15 people. There are separate dressing tables, work desks, closets and a set of artistic pottery pieces in the living room and the common room. There is a shared pool with sun loungers on the terrace coupled with delightful views of the blue sky and tall city towers.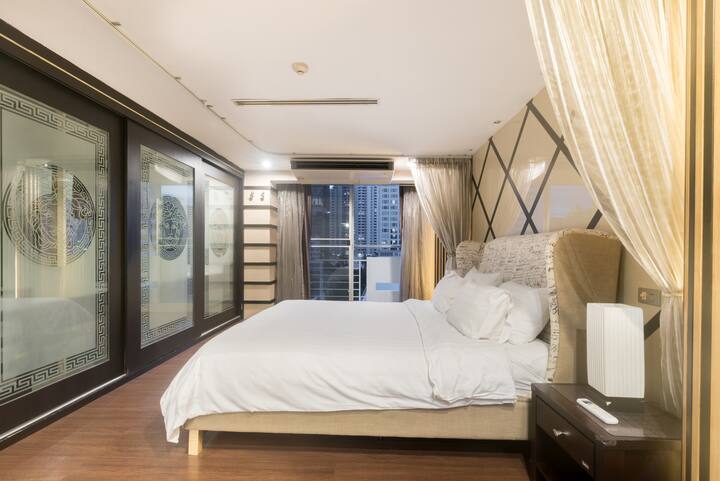 Laid Back Bangkok Living in A Retro Chic Retreat
Once again, here is an accommodation suitable for about 10 guests, offering 5 bedrooms, 4 bathrooms and 7 beds.
A recliner chair, grey sofas, smart TV and some stylish lights are the attractions in the living room. There are dedicated dining room, and a study room for working professionals as proper postures are often compromised. The bedrooms are phenomenally decorated with wall mirrors, adorable light lamps and some amazing photo frames. This house has a captivating effect, thanks to its modern furnishings, massive area and abundant amenities.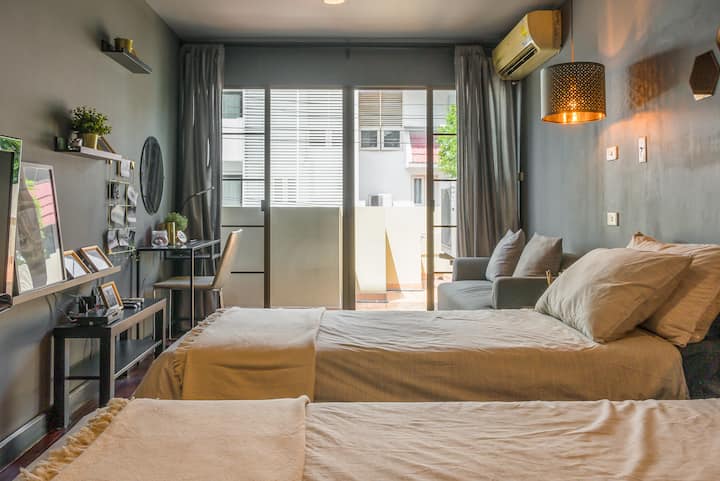 Designer House on A Quiet Road in Chinatown
Loaded with a variety of subtle colours in its cushions, doors and flooring, this white-washed house has 4 bedrooms. Natural light keeps pouring in through the full wall windows, and you will find a flower pot and a scenic photo frame at all the spots in this gorgeous haven.
Intukarn, the host of the property says that the neighbourhood of this apartment is known for its trade in spices and herbs of different kinds. Since you will be staying here, the aroma of all these local spices will rejuvenate you and might help you with your appetite. This is definitely a win-win package!
Nonetheless, this place is very closely located to some good food corners and breweries for a fun time in the city. So, whatever you choose, staying in or exploring local venues, this house is a great choice for its pleasing interiors and a central location.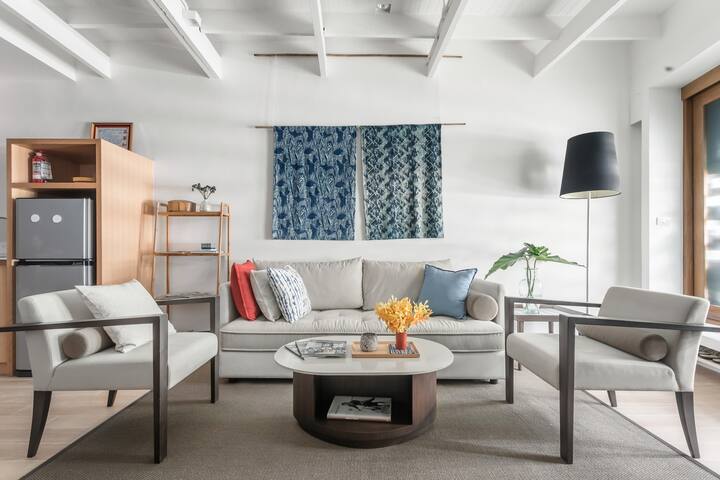 Charming Family Villa by The Canal in Bangkok
This noise-free, rustic bungalow has a vintage code of style. All the rooms have access to floor-to-ceiling slide doors for serene views of the outdoor greenery. There is evidently no spot in the house that compromises with the natural light or the seamlessly blowing fresh breeze.

The living room has an attractive standing grandfather clock, painted with black and some hints of gold. There are wooden walls and flooring in this room that adds to the aesthetic value and comfort. The three bedrooms are fully air-conditioned, and there is an attached balcony in one of them. Simply slide a door, and there you are at the most beautiful sight in the house, the yard. All you need now is a meal to be savoured while basking under the sun. There is an outdoor kitchen for a countryside cooking experience.
The formal dining space is designed indoors, but there is also a generous seating arrangement in the exterior area. Besides that, there is a spacious garage in the house, so now your vehicle will be right in front of your vigilance with no extra charges. Unwind in this splendid Airbnb and add a layer of bliss to your overwhelming travel diaries.