15 Airbnbs in Amsterdam
Amsterdam is a dream for the ones who love to live in wonder. The canal houses, cafés, and the very special Anne Frank House! It is a perfect destination if you are planning a vacation. However, your stay in this rich city can be a bit expensive if you choose restaurants and hotel rooms. You can choose the Airbnbs! There are plenty in Amsterdam and are available with many facilities guaranteeing a comfortable stay. Here is a list of a few Airbnbs in Amsterdam if there is where you are planning your next trip to.
Affiliate Disclosure: As an Airbnb Associate, we earn a small commission when you book through links on this page.
A one-bed apartment right in the heart of Jordan
Again one of the many apartments located near the Anne Frank House is this one apartment with one bed and is a perfect place for a total number of three guests. You are also able to find yourself near to many shopping streets and canals to plan your visit. Your privacy is completely protected as the room that you are allotted has a separate entrance and a separate bathroom. You can enjoy the neighbourhood as the owner provides you with a bicycle for you to roam around and explore the place. You can book this apartment online and it can also be easily spotted as it is very close to the Central Station.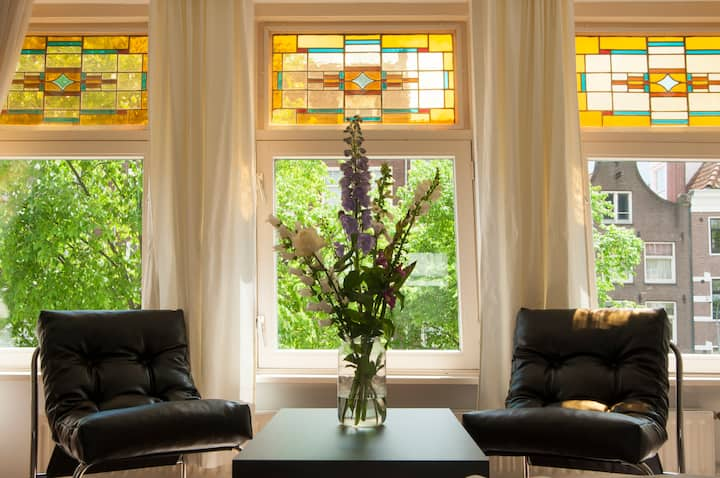 Huge brewer's loft
You should not worry about the security here as the neighbourhood of this apartment is protected by the UNESCO. It is designed with luxurious interiors and makes sure to organise a comfortable stay for you. It is a big space and can easily accommodate six people. Therefore, if you are planning to go on vacation with your gang and friends, this place is the perfect stay option for you. Since this apartment is located right beside a canal, the guests have easy access to many bars, cafés, and restaurants. Also, the Madam Tussauds is very close to this place and is worth visiting. So now you know where you can plan the big-size family vacation because this loft has 3 bedrooms and is amazingly an exclusive delight if you are searching for comfort.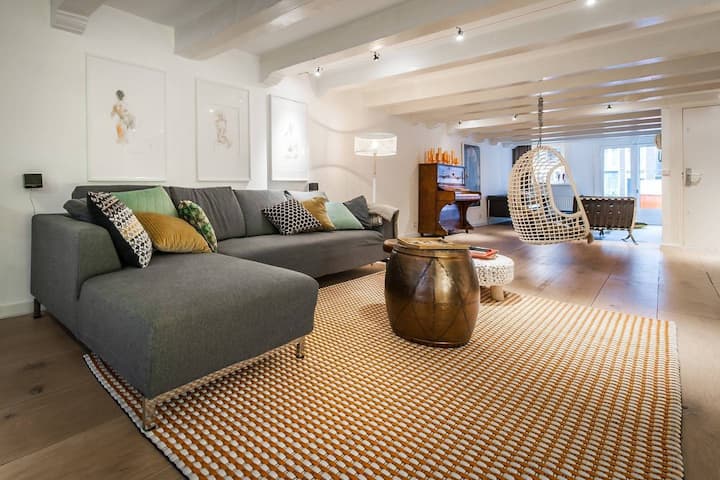 Lovely Hideout in the middle of Amsterdam
This room is like any of the small apartments that you will find in Amsterdam, cosy and comfortable! Since this Airbnb is located right in the middle of the city, it is surrounded by streets, bars, and restaurants and hence you know the exact city life here. It can accommodate 2 guests and they can have the entire apartment to themselves. It makes you feel like home as it is small and perfectly used to set all the essentials you need. If you are studying or planning a stay in Amsterdam for a few days, this studio room is the perfect place for you.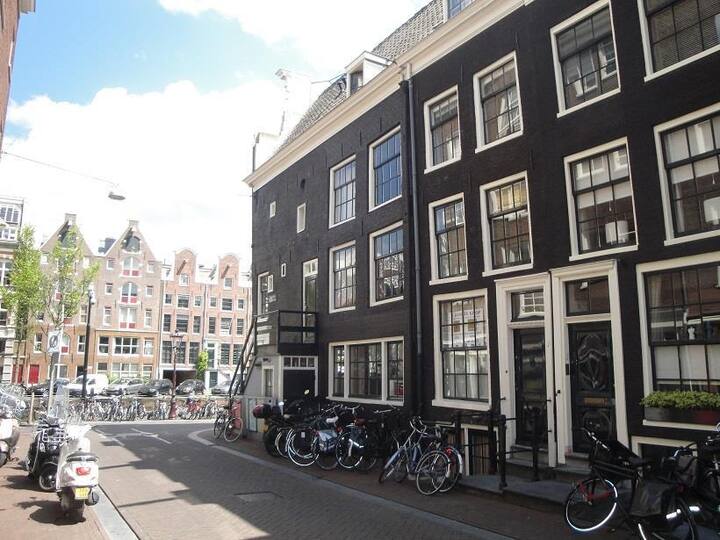 A boutique apartment
Located next to Vondelpark, this apartment is one small luxurious place that anyone can afford. The interior is modern and is absolutely soothing to the mind. It has a french bathtub and a cosy bed for you to relax. You have access to a small fridge which becomes handy storage for snacks and food items. Its design of a rich and deluxe room gives the ultimate feel of a hotel room. There are many supermarkets and stores in its proximity so that you do not go hunting for things for miles. This can be the best option for singles and couples too!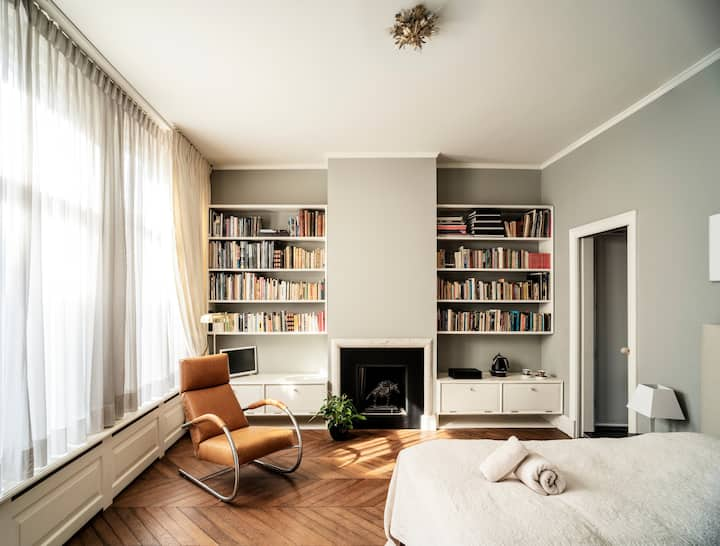 HOUSEBOAT NOVA!
Houseboats are fun and this one definitely is too! The owner allows you to have access to four bikes for you to roam and explore the city. It has 2 bedrooms with high-quality beds installed. You will have no problems with electricity as there are solar panels. It is a perfect spot if you are planning a vacation with your family. It is parked where you have all facilities in the closest vicinity. You can also visit the Olympic Stadium and the Amsterdam Lake as they are located close to this houseboat. Apart from all these facilities, you have the most amazing rooftop terrace where you can refresh and spend time. It truly gives you a relaxing experience for a picnic.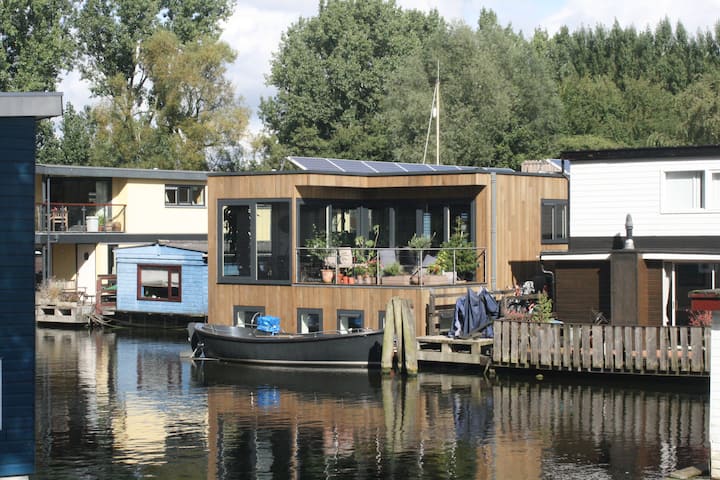 Get an apartment with a terrace too!
Yes, you read it right! This beautiful studio has a more beautiful rooftop terrace if you plan to sip your coffee and relax. This apartment rightfully speaks luxury as it makes you plan the most wonderful romantic evening you can ever have. The interior adds to the dreamy atmosphere that it creates and forcefully urges you to take your much-needed relaxation. Also, you have proper privacy as there is a separate washroom and also a private entrance to the apartment. You will have to maintain silence after 11 in the night as the apartment is in a decent residential neighbourhood and it demands silence.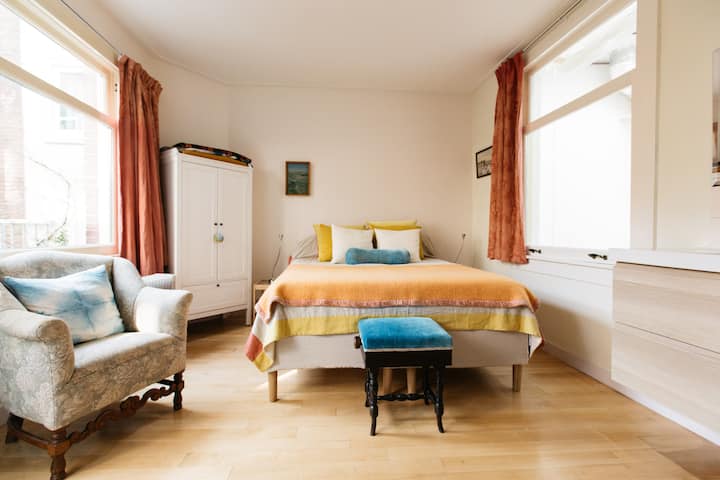 City Center Room with a Sauna
This apartment is a penthouse filled with flowers and is a getaway that you should son plan. Do not forget the exquisite canal in the neighbourhood for you to visit and elevate your touristic experience. All its furniture and the majority of its interior show the perfect amalgamation of modern and floral style architecture and are absolutely soothing to your mind. You can view the entire canal through your room where you also have a hammock chair to relax. This room is just the perfect stay for romantic couples!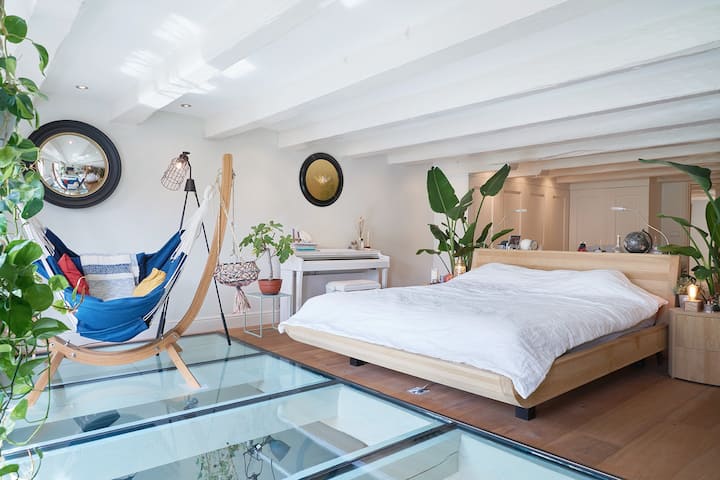 Another perfect houseboat!
This houseboat is just like a house for a stay. You can arrange your big family vacation as this boat provides you with everything you need. It has a beautiful view of the river Amstel. It is a comfortable space with a full set kitchen and a master bedroom. You have places like the Waterloo square flee market, the Hermitage museum, and many cafés very near to the boat. Therefore, you know that even if you are on the water, the city is a few minutes away from you. The safety rests assured as there are many other boats parked with yours. The host has also arranged a full air-conditioning and proper Wi-Fi facility to ease your stay.
A Convenient Stay
Almost a 2-minute walk from the tram, this place is definitely the one that provides you with the ultimate comfort. It is a perfect place for a big family and can accommodate four couples. The stay becomes very convenient as there are many restaurants in the vicinity. The apartment also gives you a very comfortable workspace and the owner lets you have access to Wi-Fi services. You also get a kitchen where you can cook your meals if you do not prefer the restaurants downstairs.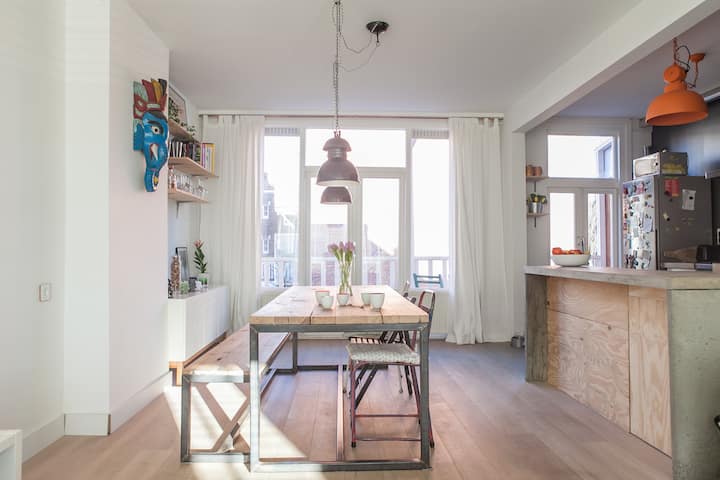 Centrum Penthouse
This is a penthouse that comes with a fireplace inside and a lavish rooftop setting. It is a few minutes' drive from the Rembrandtsquare and the Damsquare. You can also visit the Artis Zoo and the Stopera City theatre which provides an amazing view of the river. This apartment can be at the top in the list of your choices as you can travel to any tourist places very easily without consuming time. Do not forget to visit the Jewish museum which is also situated very near to this apartment. The museum is a treat to the eyes of a true historian.